This is a sponsored post written by me on behalf of Silk. All opinions are 100% mine.
If you've followed me for any amount of time, then you know I LOVE COLOR! Beautiful, colorful, delicious food just makes me happy! And smoothies are a huge part of our routine all summer long. They're such a great way to pack in a lot of nutrition in one small glass; and by focusing on all the rainbow colors, you really get a great variety of nutrients.
1) Smoothie Add-ins.
I always follow a simple plan when I'm creating smoothies (of any color): liquid, protein, fruit + veg, fat and seed boost. Pick at least one from each category and you'll end up with a delicious and balanced smoothie!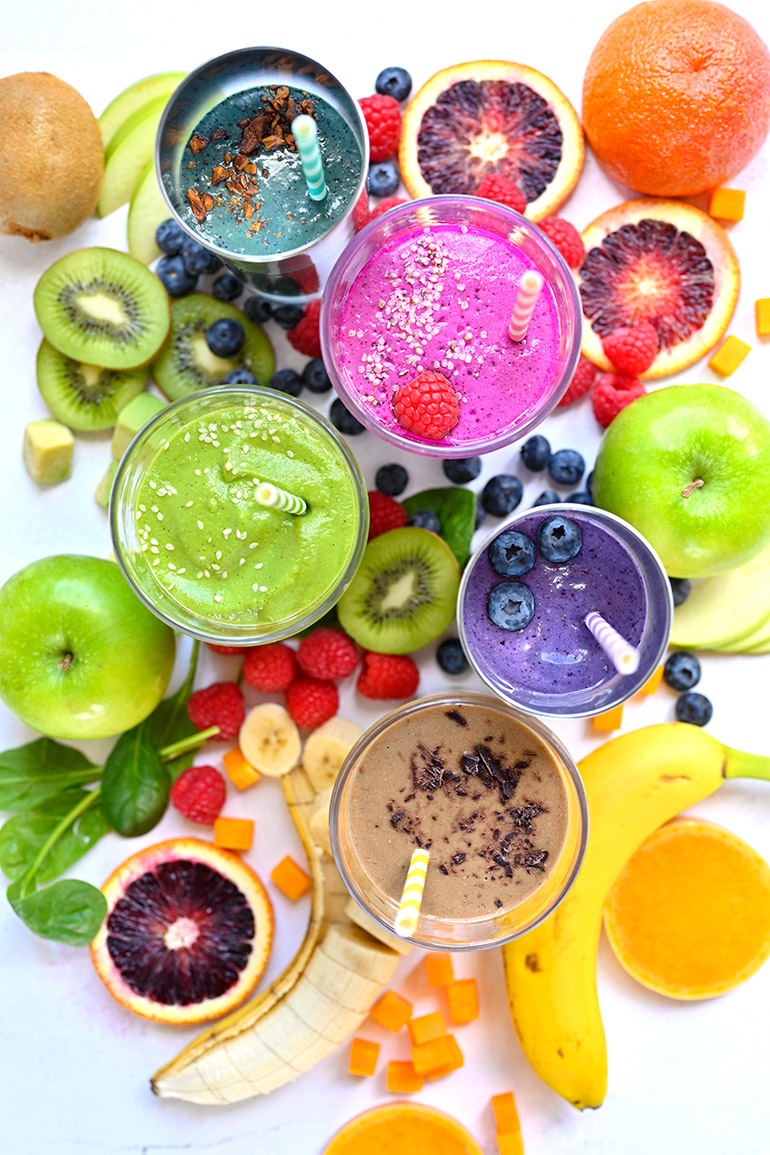 Liquid: We love Silk's creamy unsweetened almondmilk and their Oat Yeah! milks, both available at Target. You can also use coconut water or juice for a fruit-y twist.
Protein: our go-to is Vega's vegan protein and greens and dark chocolate.
Fruit + Veg: the sky is the limit here... tons of delicious combos; feel free to use whatever you have on hand!
Fat: coconut oil, fresh avocado, avocado oil, nut butters, etc.. 
Seed boost: I love adding a boost from sesame seeds, flax seeds, or hemp seeds. Just add in a tablespoon to complete your smoothie!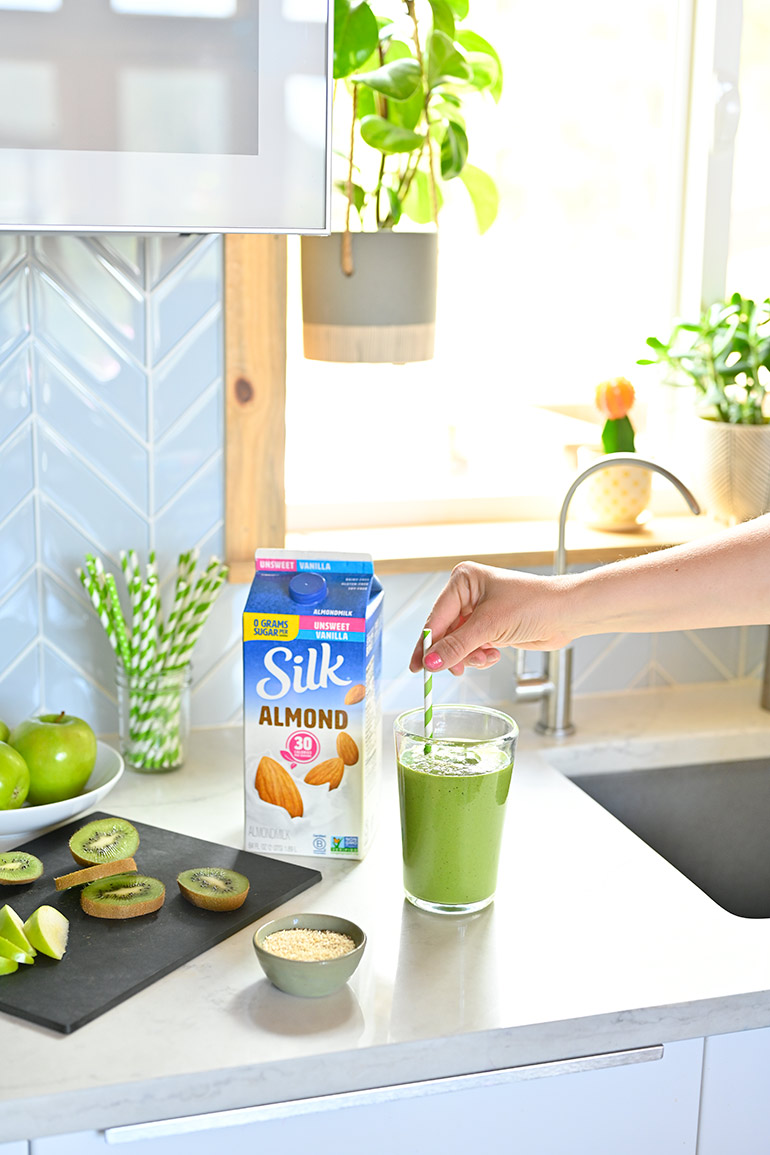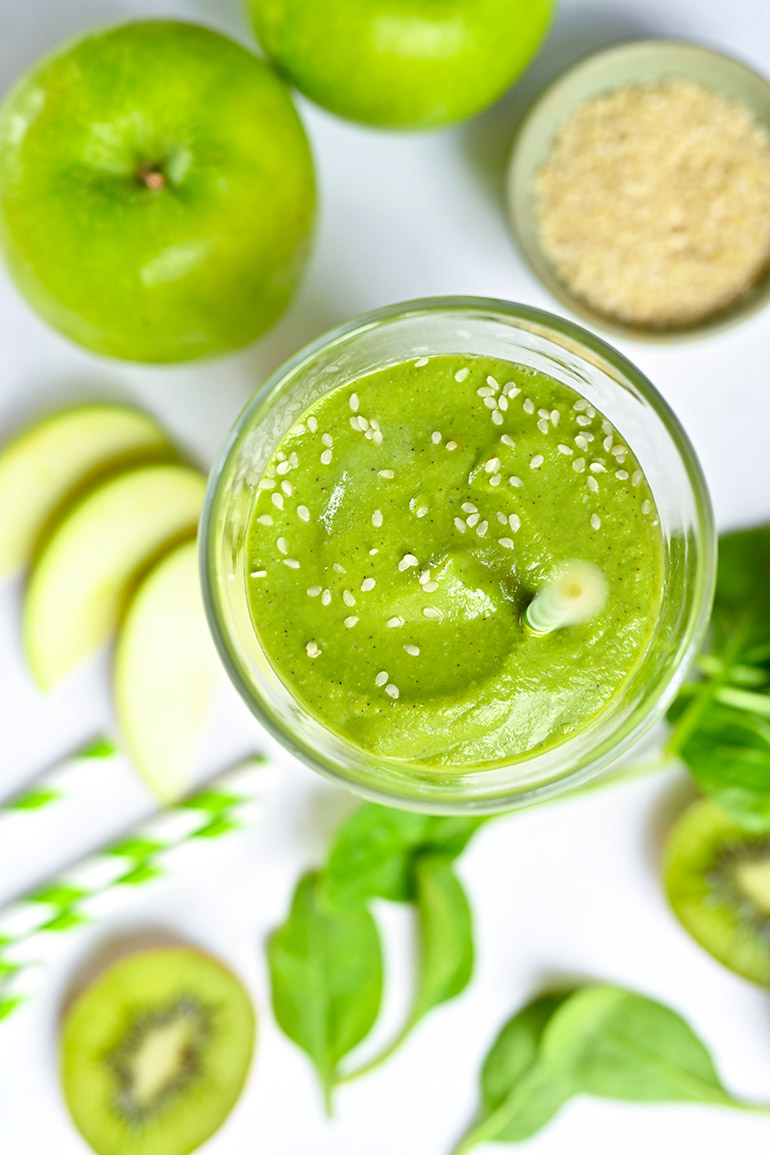 2) Fruit and Veggie Fusions:
Incorporate more plants into your diet by getting creative while mixing your fruits & veggies together. Like in the green smoothie above, there's spinach plus green apple and kiwi.
3) Get freezer-friendly:
Use Ziplocs to freeze and store extra fruits & veggies for later to cut down on food waste.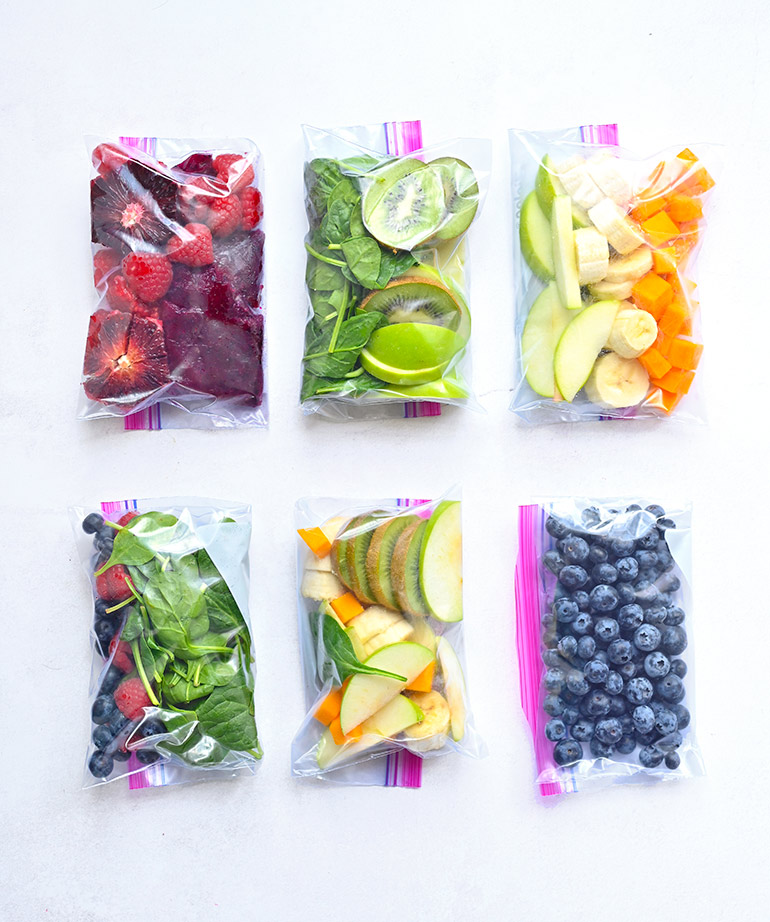 4) Go Halvsies:
If you're not that into smoothies, split one with a spouse or child! Nutrient boosts for BOTH of you! Now that's a win-win.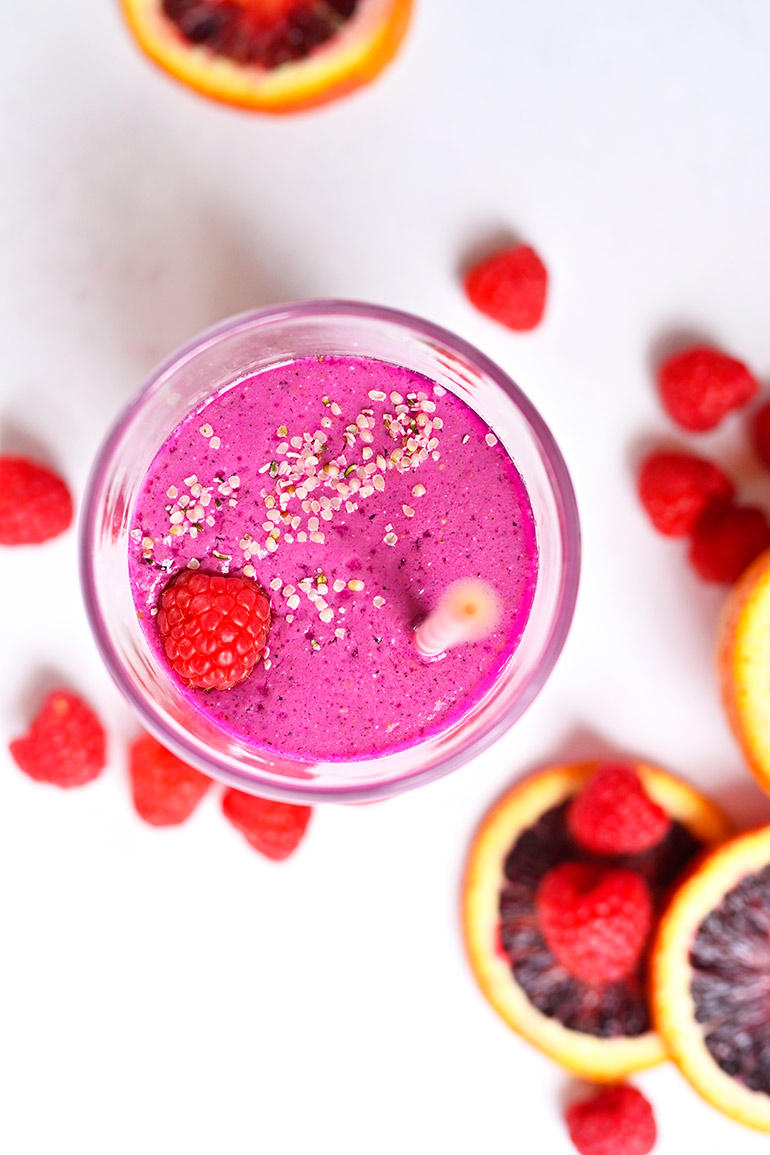 And exciting news... my colorful smoothies were featured in Mantra Magazine this month: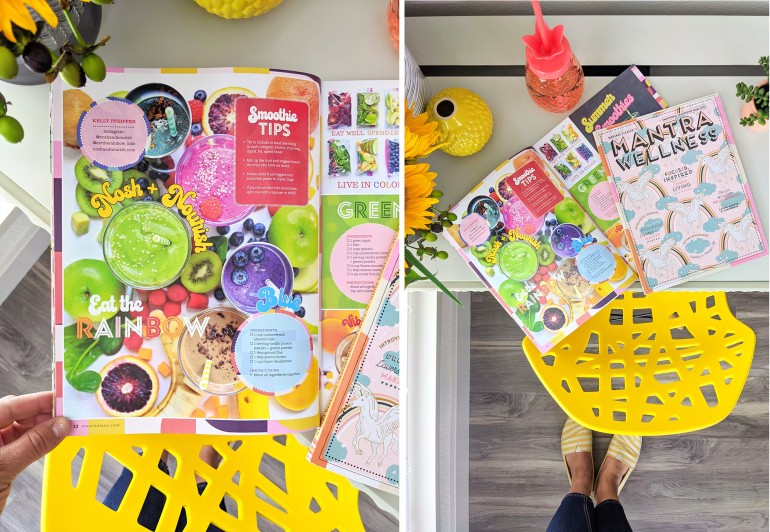 Here are the simple recipes:
GREEN ONE: 1 green apple (cored), 1 kiwi, 2 cups spinach, 1 cup Silk unsweetened almondmilk, 1 serving Vega Vanilla Protein + Greens,  1/3 cup frozen avocado, 1 tbsp sesame seeds, 1/4 tsp monkfruit (optional) *top with sesame seeds
PINK ONE: 3.5oz frozen dragonfruit, 1 cup frozen raspberries, 2 slices blood orange, 1/2 Tbsp avocado oil, 1 Tbsp hemp seeds, 1 cup Silk unsweetened almondmilk, 1 serving Vega Vanilla Protein + Greens *top with hemp seeds and fresh raspberry
CHOCOLATE ONE: 1 serving Vega dark chocolate, 1 frozen banana, 1/2 cup frozen butternut squash, 1/2 green apple, 1 1/3 cup Silk OatYeah!, 1 Tbsp chocolate peanut butter powder, 1 Tbsp flax seed *top with chopped dark chocolate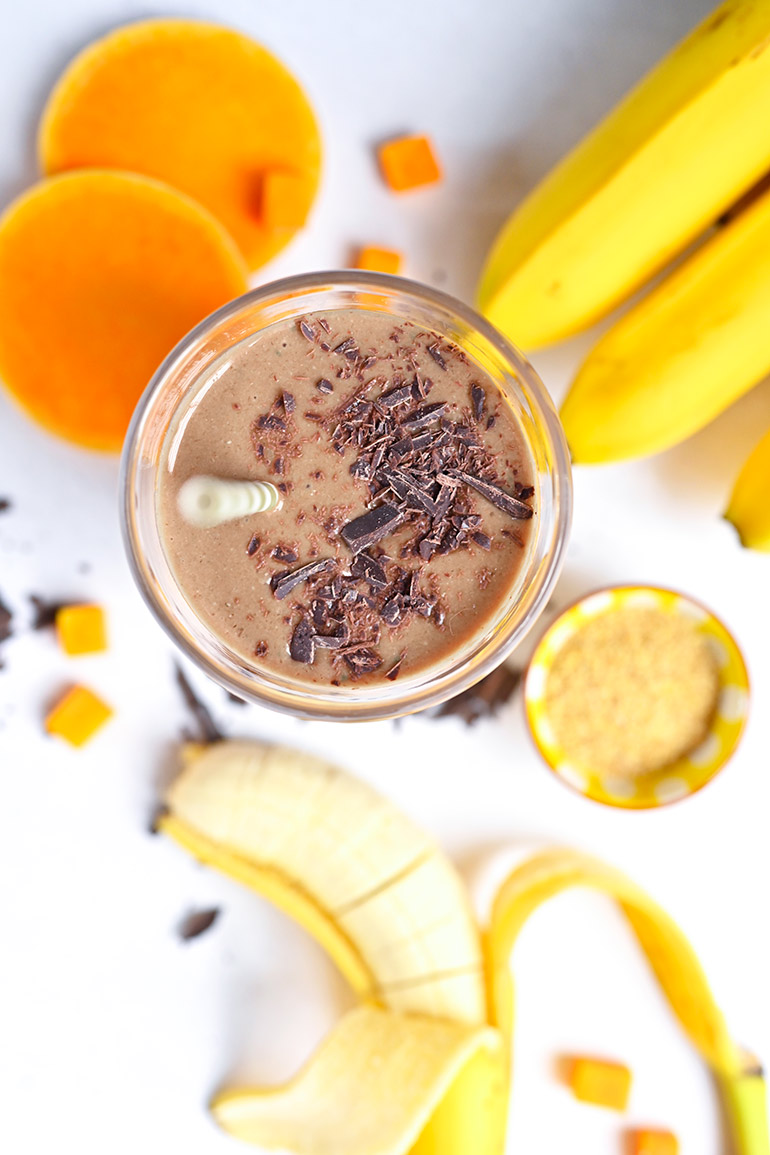 ///////////////////////////////////////////////////////////////////////////////////////////////////////////////////////////////////////
Want more smoothie ideas? Try my Green Smoothie Pancakes!