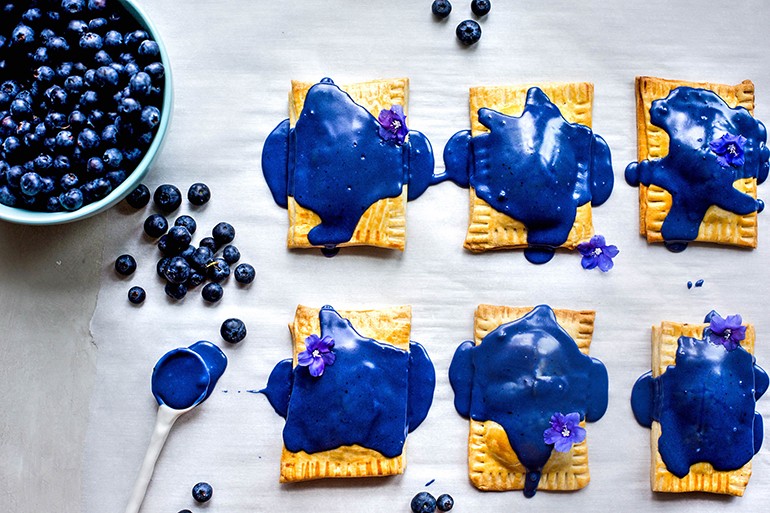 Hey y'all, it's Leigh Ann from My Diary of Us here and I have a nostalgic recipe to share with you today that you are going to love making right in your own kitchen. Growing up, I can remember my mom toasting up Pop Tarts and putting just a little bit of butter on them when they were nice and warm for breakfast and ohhhhh, how I loved them! And while I don't buy store-bought Pop Tarts anymore, I decided it would be so fun to make my own version at home for my family to create those same memories.
You will be surprised at how easy it is to make your own oven-baked pop tarts at home with a few simple ingredients and steps. These BLUEberry ones are sure to become a new fun summertime breakfast tradition at your house.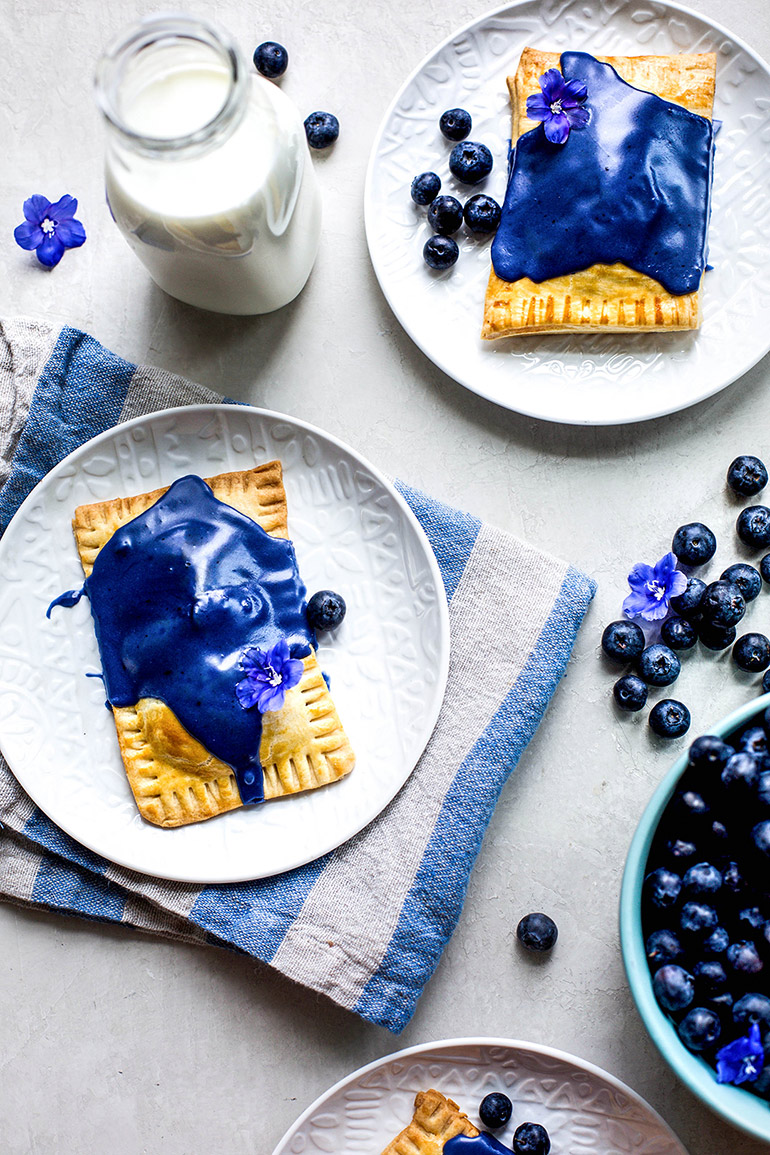 Besides the fact that these pop tarts are super fun to make, especially if you get your kiddos involved in the process, they are also absolutely delicious too. I make it easy for you in this recipe by using store bought pie crust that gets rolled out slightly, cut into rectangles, and then gets filled with a blueberry vanilla chia jam before getting baked to golden perfection.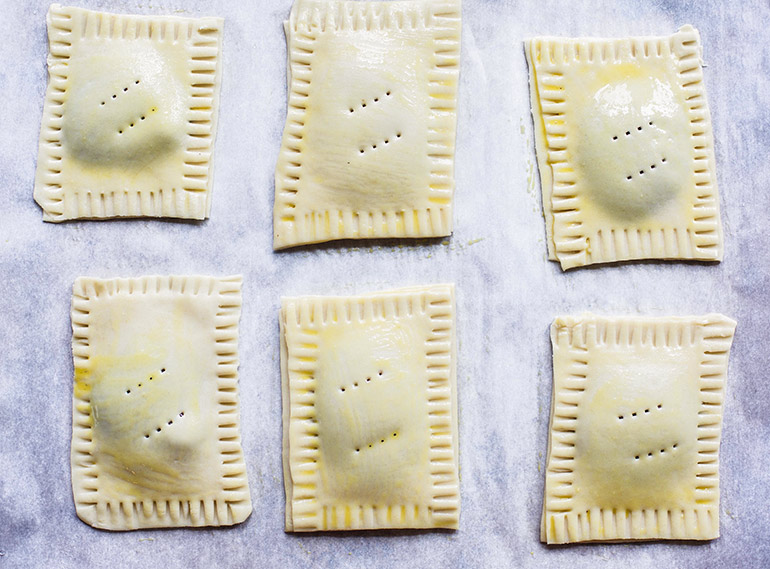 I used butterfly pea powder to make the icing extra blue, which my son is totally obsessed with! And the result is: one seriously gorgeous pop tart!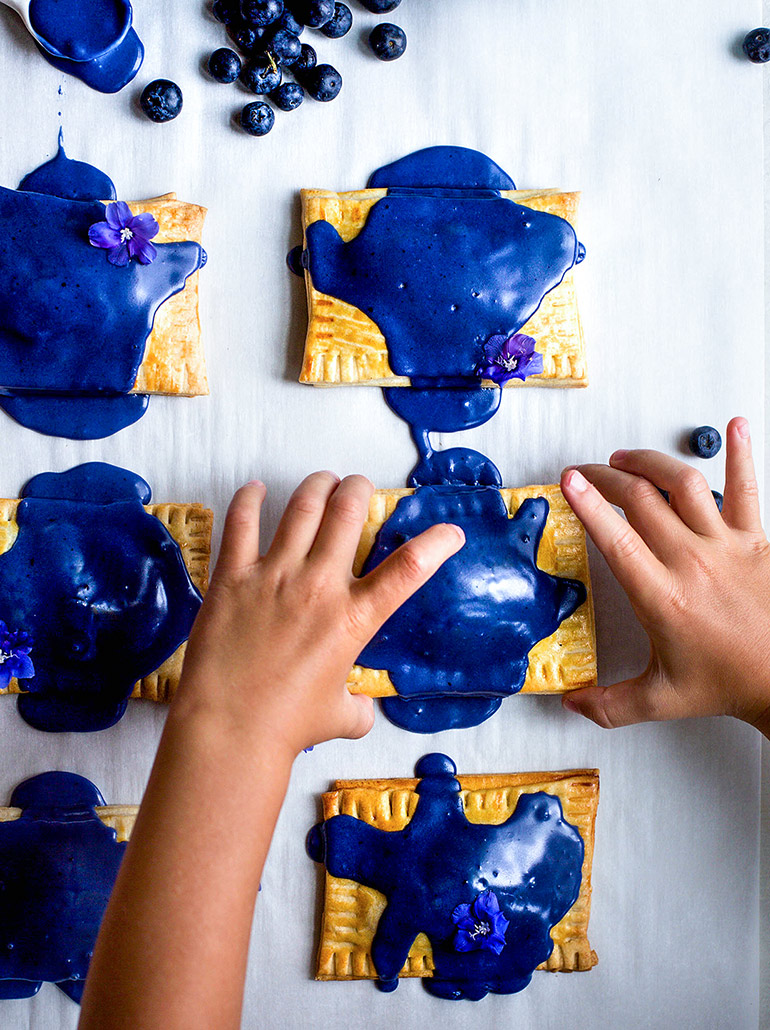 You can also make your own pie crust here if you have a recipe that you love, but I just find skipping that step and grabbing the store bought kind makes this recipe super easy to do any morning of the week! You can also keep the blueberry vanilla chia jam in your fridge for adding to oatmeal or spreading on toast so I like to double this recipe for that reason alone! It's such a yummy homemade jam recipe and is perfect for filling these blueberry pop tarts. I also love that while I wouldn't consider these pop tarts "healthy" they are made with minimal ingredients, which makes me feel better about serving them to my family.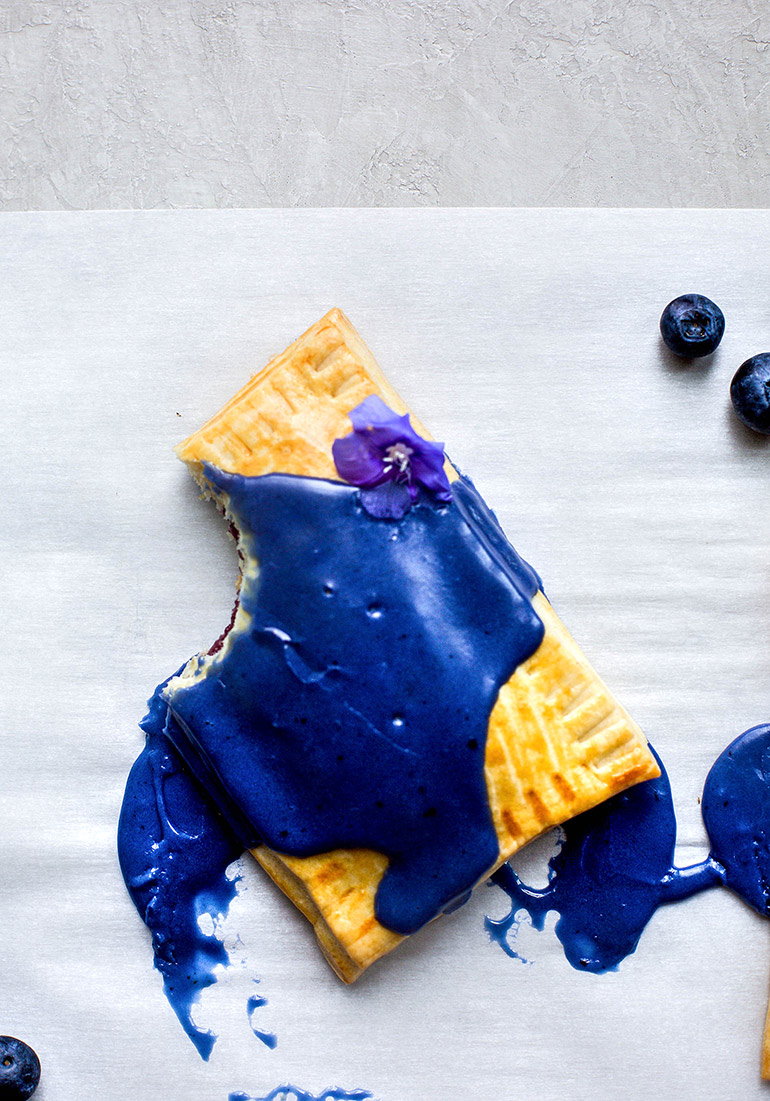 You are going to love getting your kids in the kitchen and making homemade blueberry pop tarts together! It will be something your kids will remember forever.
-Leigh Ann
/////////////////////////////////////////////////////////////////////////////////////////////////////////////////////////
PS. Want a more savory breakfast? Check out Kelly's waffles:
Homemade Blueberry Pop Tarts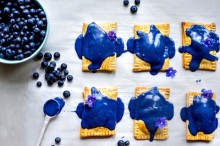 Description
Homemade Blueberry Pop Tarts
Ingredients
2 Store-Bought Pie Crusts
2 cups fresh blueberries (or sub frozen)
2 teaspoons Vanilla Extract
2 tablespoons non-dairy milk (or milk of choice)
1 tablespoon butterfly pea flower powder (link below**)
Notes
*These pop tarts are best served the same day.
** Here is the link for the butterfly pea flower powder
Instructions
• Leave pie dough out of fridge for 30 minutes to soften until workable.
• Meanwhile make blueberry vanilla chia jam by combining blueberries and vanilla in a saucepan and cook down for about 10 minutes until blueberries have softened and turn off heat.
• Using an immersion blender, a regular blender, or food processor pulse the blueberries until smooth. This step is optional if you prefer a chunkier jam.
• Add chia seeds to the blueberries after you turn off the heat and stir to combine. Chill for 15-20 minutes until chia seeds have thickened the jam.
• Roll out the pie dough just slightly and cut round edges off to create a large square. Cut the square into 6 rectangles close to the same size. (They don't have to be perfect, these are homemade after all.)
• Repeat the process with the second pie dough.
• Place 6 of the rectangles onto a parchment lined baking sheet and then place 1 teaspoon of the blueberry jam in the center of the rectangle. Don't overfill here or you will have jam that comes out the sides of the pop tart.
• Dip your finger in the water and run around the edge of the rectangle and then place a second rectangle on top of the bottom on and using a fork, go around the edge to seal and crimp. Repeat until all rectangles have been used.
• Beat the egg and lightly brush on top of each pop tart.
• Take the fork and poke in two spots on top of each pop tart before baking.
• Bake at 400 degrees for 12-15 minutes until each pop tart is golden brown on top. Let cool.
• While the pop tarts bake, make the glaze by combining powdered sugar, milk, butterfly pea powder, and remaining 1 tsp. of vanilla in a bowl and whisking until smooth.
• Once pop tarts are cooled, drizzle with blue glaze and let set for 10 minutes. Serve immediately.
Yields 6 Pop Tarts