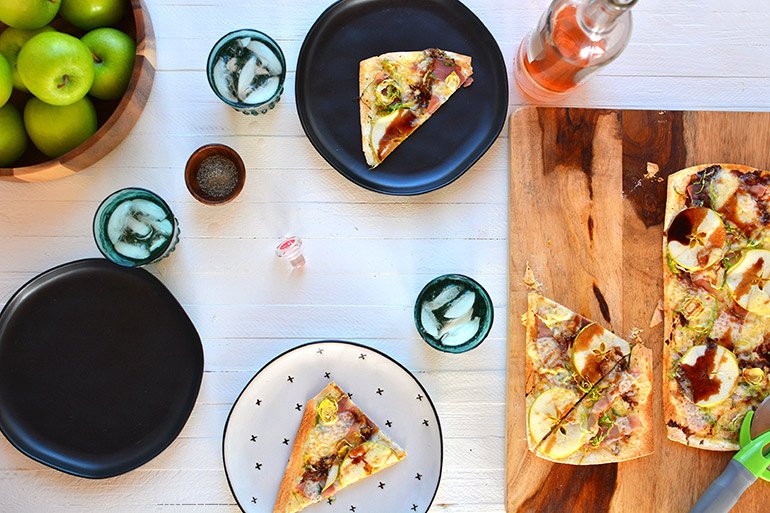 This Holiday Flatbread is party-perfect --- and the best part is, even though it's stunningly beautiful and such a crowd pleaser, it is soooooo easy to make! The base is my favorite rustic white pizza crust from Flatout. Then it's topped with truffle oil, prosciutto, shaved brussels sprouts, thinly sliced granny smith apples, havarti cheese, and a balsamic glaze. 
I'm all about simplicity. 
Especially this time of year!
I posted this pic on IG this weekend -- and it reminded me that this holiday season doesn't have to be a total blur, without intention. That we can even crush some serious goals! Whether it's a health goal, or a business goal, or a friendship goal --- small or big --- we can make progress even between Nov 20th and Dec 31st! 
It could be as simple as committing to drink enough water. 
Or to be on your phone less. 
Or to have one simple green smoothie a day <--- Dear Hubby and I are committing to this one!
Or to spend less time in the kitchen (I seriously LOVED the idea of theKitchn's crappy dinner parties!!!) and more time on the couch at the party talking with friends.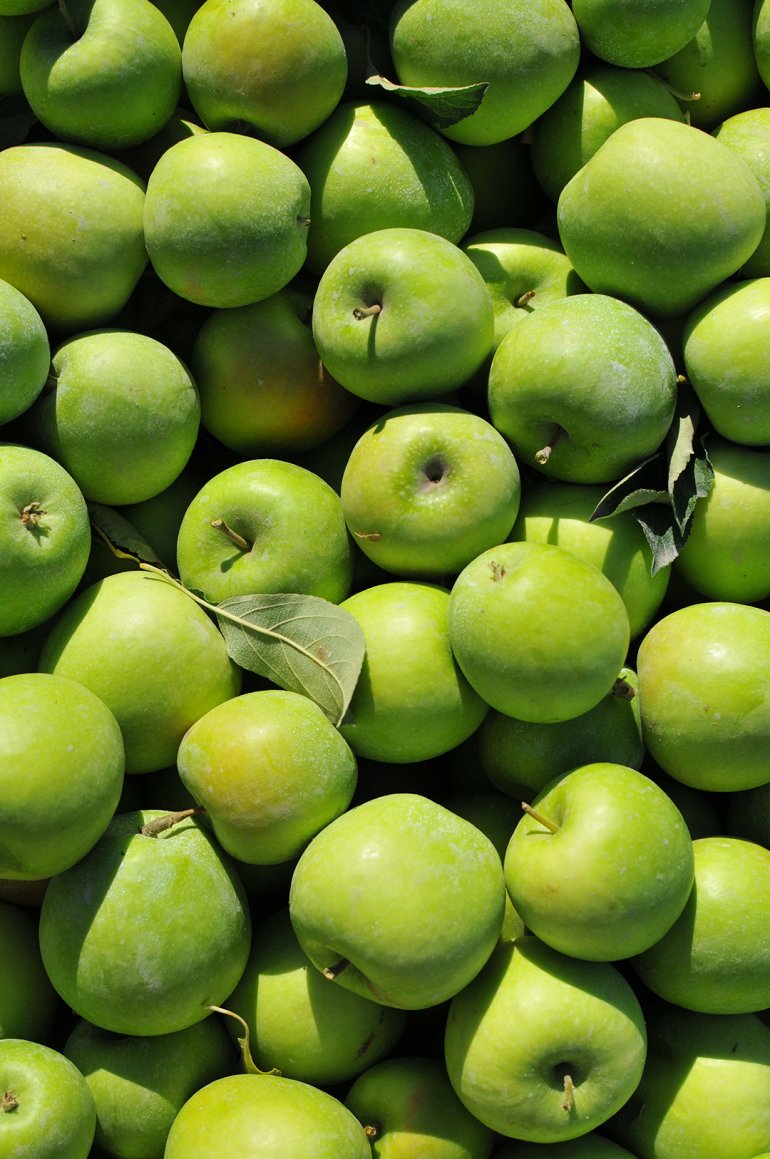 This Holiday Flatbread will help you with that goal above --- because you simply layer on the toppings and bake for 10 minutes. And you end up with this work of art. Sooooo darn pretty, right?!?!?!?!?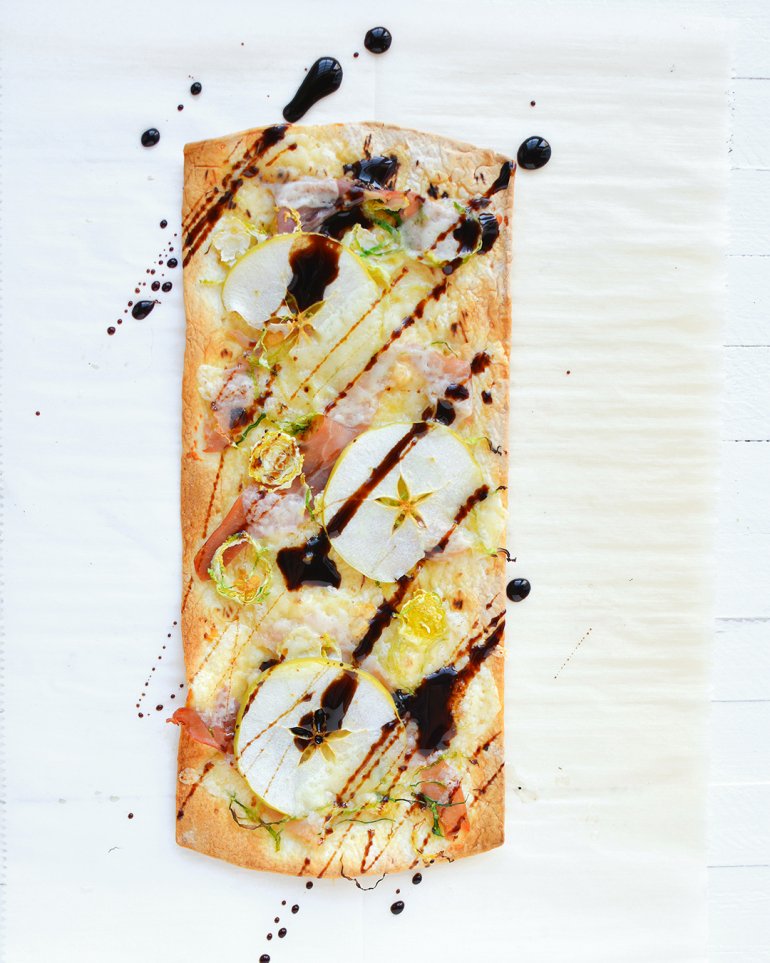 Then all that's left is to pour the rosé and enjoy time with your friends and family.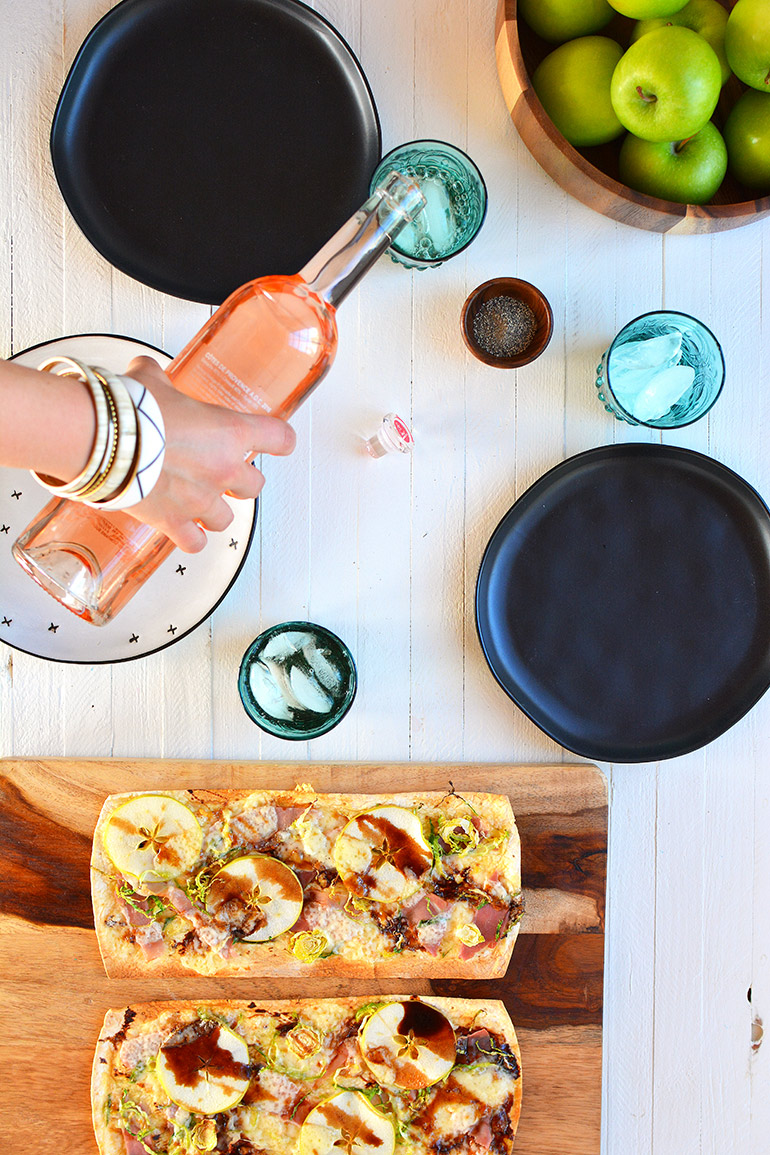 The best news is... 
Flatout is currently running a promotion on Amazon for their mutli-packs for Black Friday (11/20-27).  
Go here and use code: Flat2017 to get 15% off your order! Keep your pantry stocked to simplify your menu while staying healthy during the busy holiday season.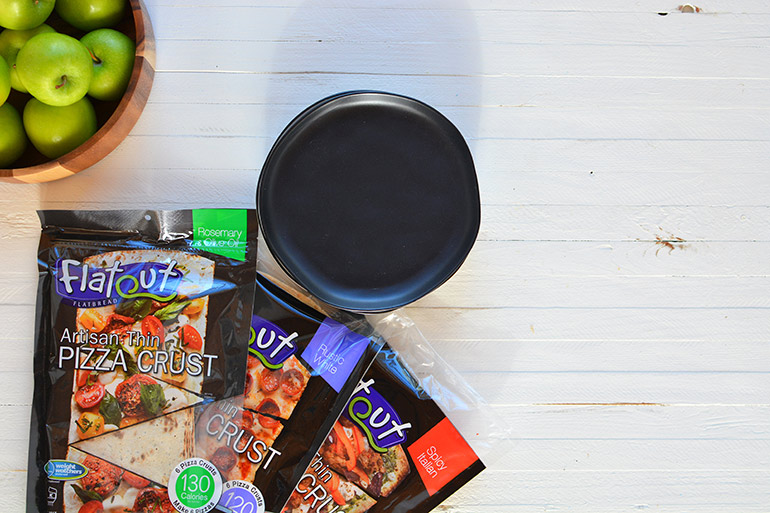 Other ways to use the Flatout thin crusts: for breakfast pizza with fried eggs or for double cheesy flatbread.
/////////////////////////////////////////////////////////////////////////////////////////////////////////////////////////////////////////////////////////////
Disclaimer: this is a sponsored post written by me on behalf of Flatout. The opinions, text, recipe, and beautiful photos are all mine. Thank you for supporting brands that support Nosh and Nourish!! I choose them based on what I already cook/create with and feel 100% confident in recommending to you.
Holiday Flatbread with Apples, Prosciutto, and Balsamic Glaze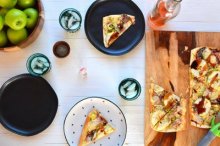 Description
Holiday Flatbread with Apples, Prosciutto, and Balsamic Glaze
Ingredients
2 Flatout Rustic White Artisan Pizza Crusts
2 tablespoons truffle oil
6 ounces proscuitto (cut into thin strips)
1 Granny Smith Apples (cut into 6 thin rounds*)
4 brussels sprouts (thinly sliced / shredded)
4 ounces havarti cheese (thinly sliced into small rectangles)
2 teaspoons balsamic glaze (the glaze is thicker than straight balsamic vinegar)
Notes
* I like cutting the apples horizontally, "through" the seeds... so that the beautiful star pattern can be seen. Make sure to actually remove all the seeds though after cutting!
Instructions
Preheat your oven to 400 degrees. 
On a large parchment lined baking sheet, lay 2 of the rectangle pizza crusts in a single layer. Brush each with a thin layer of truffle oil. 
Lay the strips of prosciutto on each crust in a sort of zigzag pattern. 
Sprinkle on the shredded brussel sprouts evenly. 
Lay the thin apple rounds flat, typically 3 per crust is best. 
Lay 6 - 8 small pieces of havarti on each crust, evenly spaced. 
Bake for 10 minutes. 
Then remove from the oven and drizzle on the balsamic glaze. 
Slice and serve!
Yields 2 Flatbreads