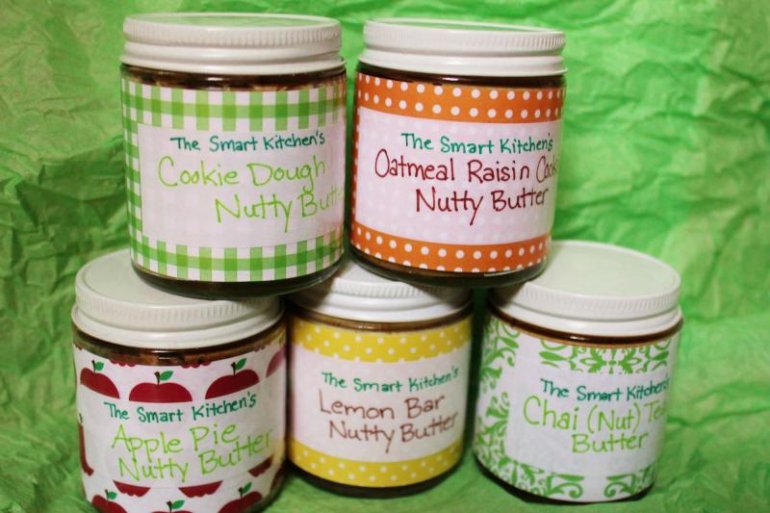 I hope you all had a wonderful weekend!  Mine was especially good with eats like Chocolate Chip Banana Bread (my newest and BEST banana bread recipe!) and Peach/Caramelized Onion Pizza, as well as a cooler weather, a long bike ride, Olympics, and running into one of my awesome readers at the local market!! I have one last guest post to share with you today - as my friend Sarah wanted to combine it with an awesome giveaway - of her incredible nutty butter!  I met her at the Blend retreat back in May, and since then she has gone from cook/creator to small business entrepreneur and even moved into a Commercial Kitchen this past weekend!
Meet Sarah: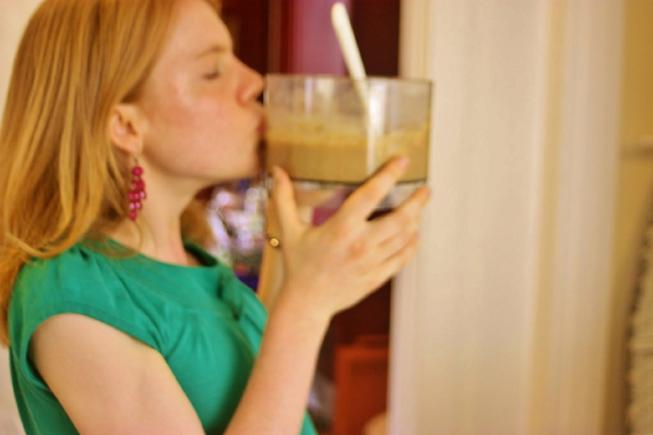 The other night, I found myself in the company of a group of young women (excuse the 'did I just turn into my grandmother?' turn of phrase there) where the conversation led, as it so often does, to our diets.*
*The frequency of this is fodder for a different post entirely. Let's just let it fall into the silent forest where no one is there to hear it right now, shall we?

I don't mean diet as in 'trying to lose weight for the gazillionth time' but rather 'what I eat on the regular' (excuse the 'I've transitioned from my grandmother to one of my tween-age students turn of phrase).  As a 'vegan with benefits' who is 'not eating meat right now but still finds the scent of pulled pork intoxicating' people are very often confused by what I eat, how I eat, and why I eat it.

Again, I've stumbled into territory that deserves its own essay-istic post, but what remains the same, inevitably, is the question I—and probably every other vegan--receive most often as an active (as opposed to athletic, which I never have viewed myself to be) 'mostly vegan:'

Where do you get your protein?

Depending on what food Ferris wheel I'm currently cycling through-- Ferris wheel sounds so much better than 'rut,' because no one wants to be stuck in a rut, but I'm usually quite happy to ride on a repetitive wheel of fun—my response varies, but usually delves into something along the lines of, "Right now I'm eating a lot of tempeh [and/or] tofu [and/or] beans, and did you know how much protein you can really get from grains like quinoa or even rice?"

And lately, well, I've been going a little nuts.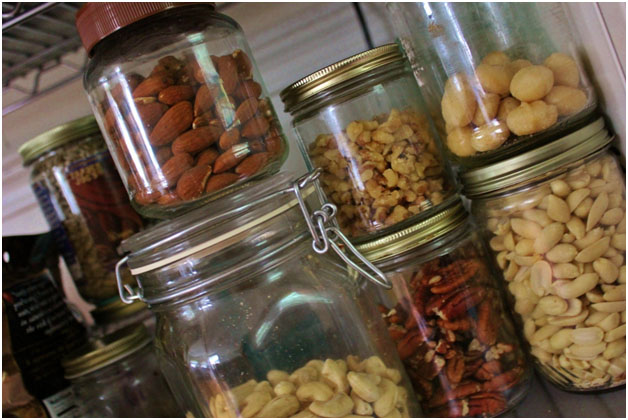 OK, to be honest, I don't so much eat nuts as nut butter.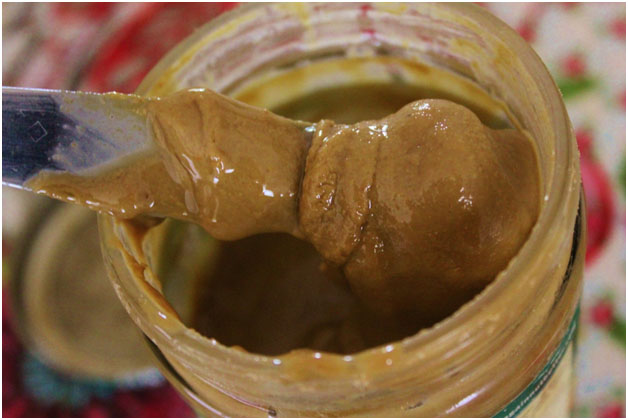 I'm sure it's not a shock that I love nut butter. If you are belong to this amorphous sect of the social media population labeled 'healthy living blogger' and DON'T like nut butter I beg you to please stand up (with the real Slim Shady) and proclaim your aversion—or allergy. Along with preferring your spinach processed with bananas, I feel like it could place high on the list of 'things I feel like I must do in order to be 'one of them'."

While I've never made a green smoothie, and am only now discovering that protein powder is actually pretty fun (see 'Ferris wheels of food' and 'protein sources for vegans' alluded to in the paragraphs above), I have always loved nut butter.

But I didn't think of it as a protein source so much as 'this tastes really good when I stick a chopstick into a jar and then lick it off like a peanut butter lollipop' treat.

But a protein source it is, and a pretty good one at that. [Not the best source. I won't even try to pretend that that is true.]

Nuts also have a lot of other amazing health benefits, which I'm sure you know by now, but—as I feel like this is a good opportunity to work on my sales pitch (more on that in a minute)—I will briefly outline now.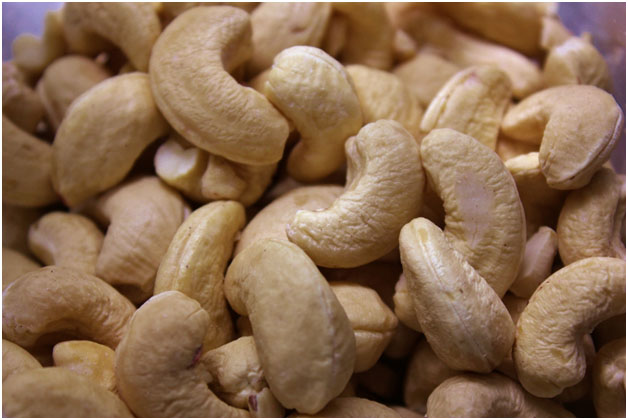 Nuts are a great source of unsaturated fats, the 'good' fats that we are encouraged to eat now that the 'anti-fat' brigades of the 80s and 90s have been vanquished and everyone embraces the idea that we need some fat in our bodies to help all of the other nutrients be absorbed and keep our bodies strong and vibrant.

Many nuts are also a good source of Omega-3 fatty acids, which, if you aren't eating sea life or the carnivorous parts of an omnivore's diet, you need to find in other places. Walnuts are especially good. [As are flax seeds. Not a nut, but technically, neither are cashews. Or peanuts.]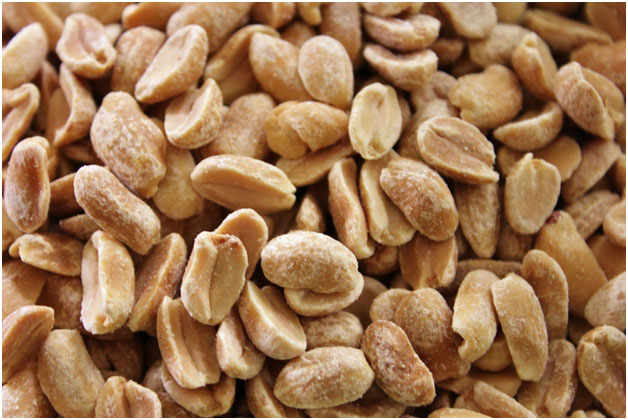 Depending on the nut you choose, you will also get a boost of Vitamin E, magnesium, and fiber…that last health bonus being the reason you might be suffering a bit the next day if you accidentally eat 1/3 of a jar of nut butter with a spoon while watching Downton Abbey at home on a Saturday night.*

*Not that that has ever happened to me.

Speaking of overdoing it, while it is true that nuts and nut butter are high in fat and calories, and just a small amount is all you 'need,' you shouldn't worry so much about it making you gain weight. [Well, unless you make that 1/3-of-a-jar-with-a-spoon thing a regular habit.] Many studies have shown that nuts can actually help lower cholesterol and help people maintain a healthy weight.

But again, a little is all you 'need.' [Even if a lot is what you want. :)]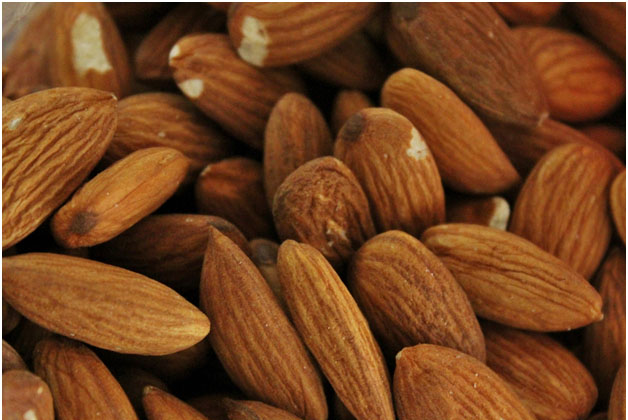 In case you can't tell by the flippancy of my writing, I'm not a nutritionist or a dietician or even a scientist. [Although I do teach elementary school science on occasion.] So although I read a lot and absorb a lot of nutritional knowledge, I'm not the be all and end all source of information on why you should eat nuts and nut butter.

Except that they taste really, really good.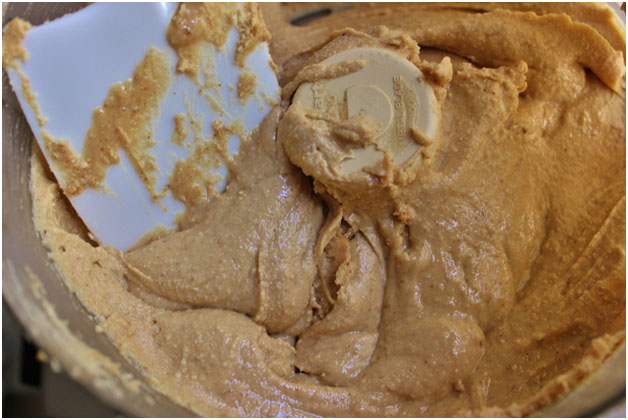 And I will continue to encourage their consumption, perhaps even to greater extremes that some might consider necessary, for an entirely self-serving purpose.

You see, if you caught what I said above about practicing my sales pitch, I have stumbled into a little nut butter business venture of my own, one I like (and the Virginia Depart of Agriculture likes) to call Nutty Butter (LLC).

I recently wrote a guest post for a friend of Kelly's and mine, Lauren, all about how that somewhat accidentally came to be, and how life sometimes hands you lemons nuts, and the only thing you can do is turn them into lemonade nut butter.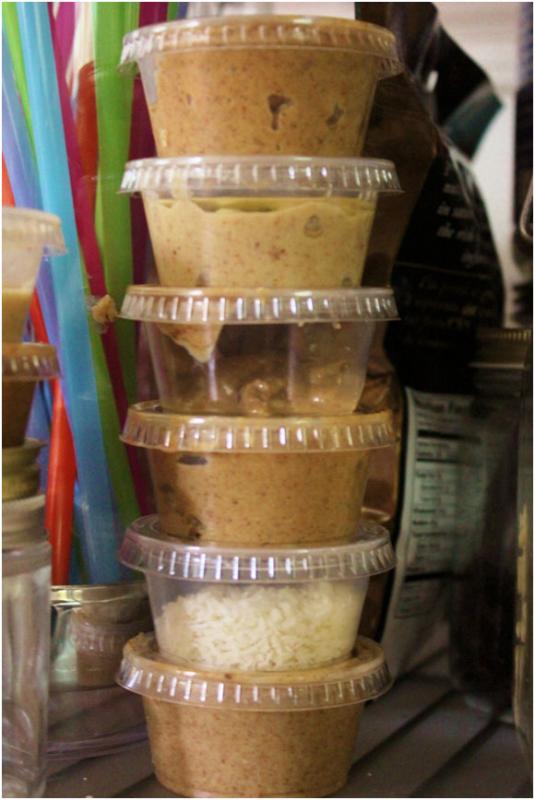 My nut butters taste like chocolate chip cookie dough, or oatmeal raisin cookies, or—most recently—lemon bars. They spawned from my need to take something that was already claiming to be pretty healthy and protein-packed (not legitimate cookie dough, but a nut butter variation that I won't blaspheme here) and making it even MORE natural and wholesome.

There is very little added sugar, and none* of the food guilt that comes with eating more cookie dough from the bowl than ends up in the oven. (I don't care who you are, you feel at least a tiny bit of shame afterwards.)

*OK, maybe a little if it disappears as fast as my brother ate the Oatmeal Raisin Cookie Nutty Butter when he first tried it. :)

Because the only thing I love more than inventing new flavors of nut butter is sharing it with people, Kelly has agreed to let me give some away! There are a lot of changes happening in the world of Nutty Butter (LLC), including the move to a commercial kitchen, new labels, and changes in flavors, pricing, packaging, and availability, so I am excited to have as many people be a part of it's 'educational growth' so to speak.

To win a jar of Nutty Butter, all you have to do is go on over to The Smart Kitchen and check out the flavors I am offering. Pick one and comment here on the flavor you'd most like to try! That's it. If you want to tweet about how great Kelly and I are, and how excited you are about possibly consuming some Nutty Butter (hashtag #nuttybutter) that's worth an extra entry. Just comment below that you did!)  Kelly will randomly choose a winner on Thursday night at 8PM MST to announce in Friday's blogpost!

Hugs and Nutty Butter to all y'all!
-Sarah