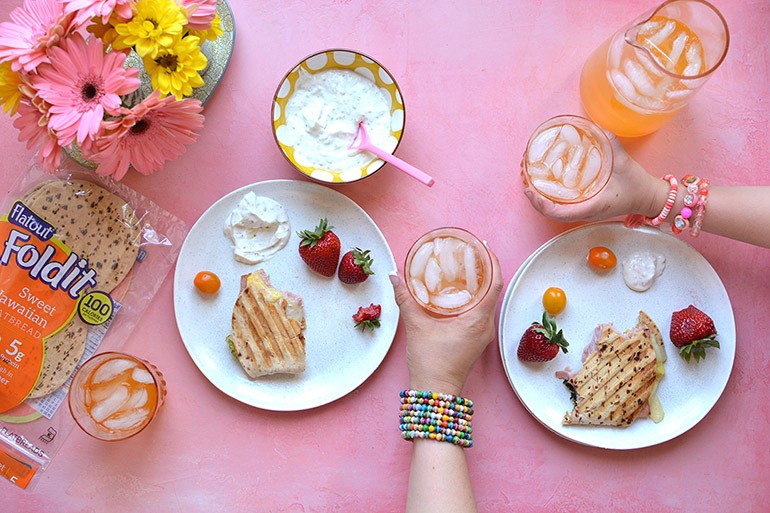 I am soooooo excited to share these new Sweet Hawaiian Foldits from Flatout with you. They are sweet. They are delish. And they make the perfect summer paninis. OH, and did I mention, they're only 100 calories?
You can make these on the outdoor grill (I totally need a new one --- any grill vendors reading this blogpost??? Hint hint. Ours literally BLEW off the patio in a crazy windstorm and was crushed upon impact.) or you can make them on an indoor George Foreman type grill. Are those still a thing? I have one from our wedding... literally 14 years ago. I'm old. And so is that grill. LOL.
I did find this newer version on Amazon. Might have to get it for an anniversary gift! I'm fancy like that.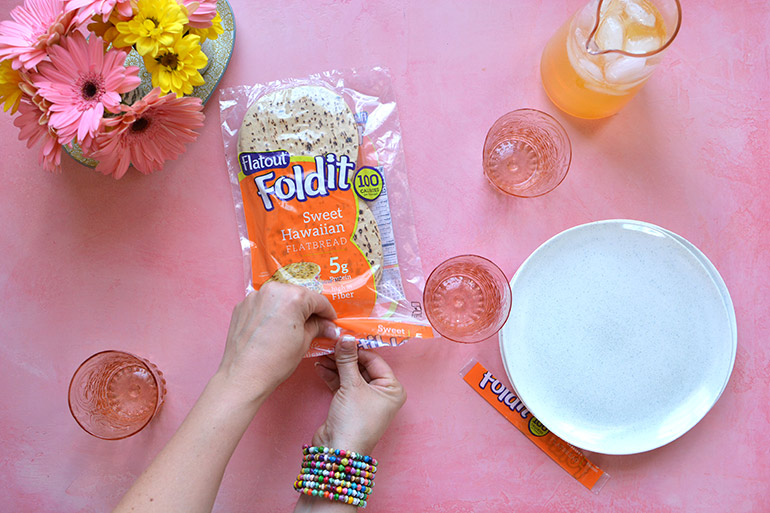 Lay your foldit flat and then layer on all the good stuff:
smoked ham
grilled (or fresh) pineapple
mozzarella cheese
greens
sweet tomatoes
pearl onions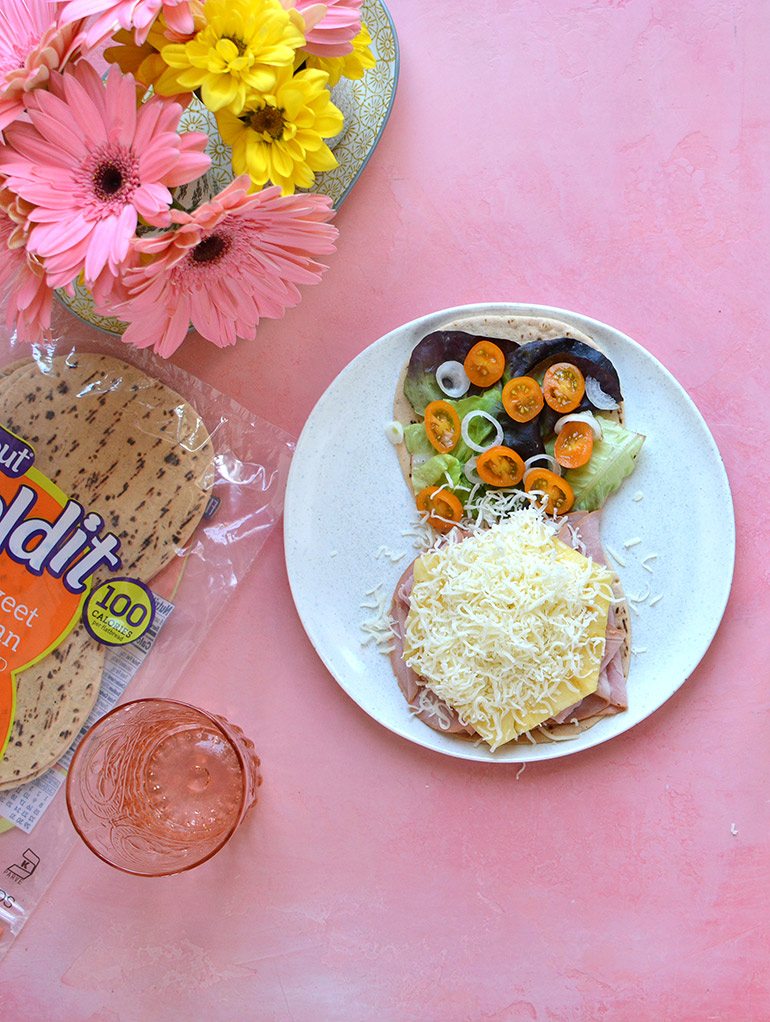 While you wait for it to cook/grill, you can admire your pretty flowers. Anniversary gift or regular occurrence? Raise of hands... how many of you buy flowers for yourself every once in awhile? I find it's such a good mood booster --- I try to do it once every other week or so!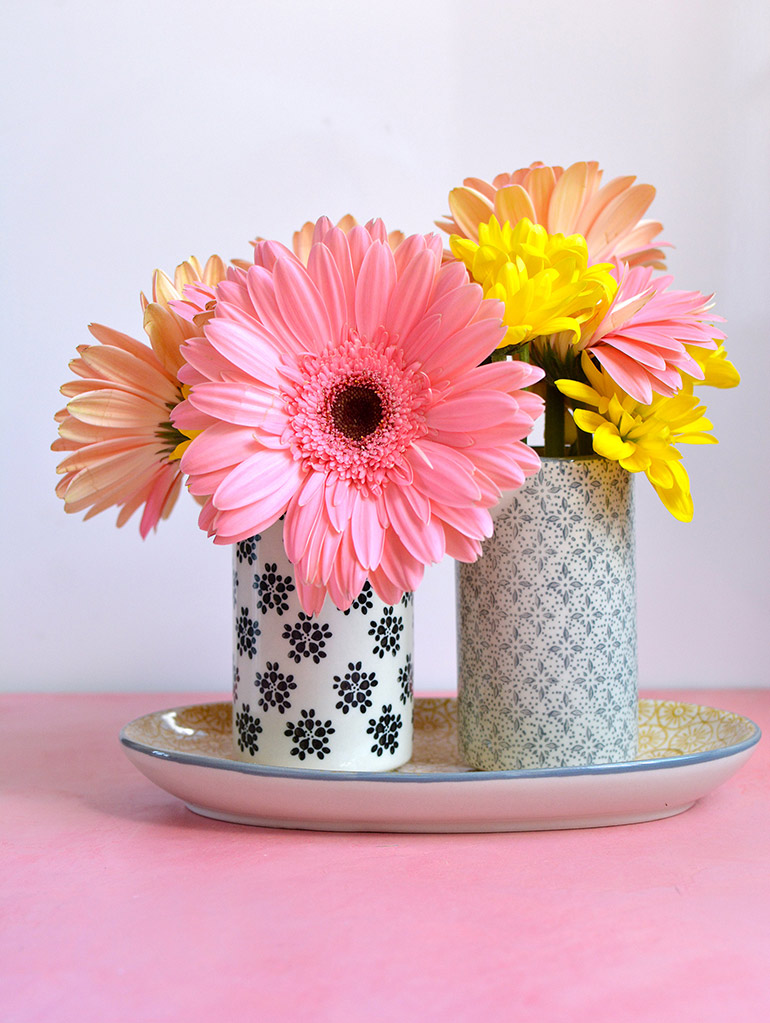 Babycakes and I made a super sweet stop motion video for this recipe (you can watch it here), so this is a little behind-the-scenes peek into the making of the video.
Camera = Nikon D7100. (similar to the new D7200)
Background = custom pink plaster from Erickson Surfaces
Tripod = Vanguard Alta Pro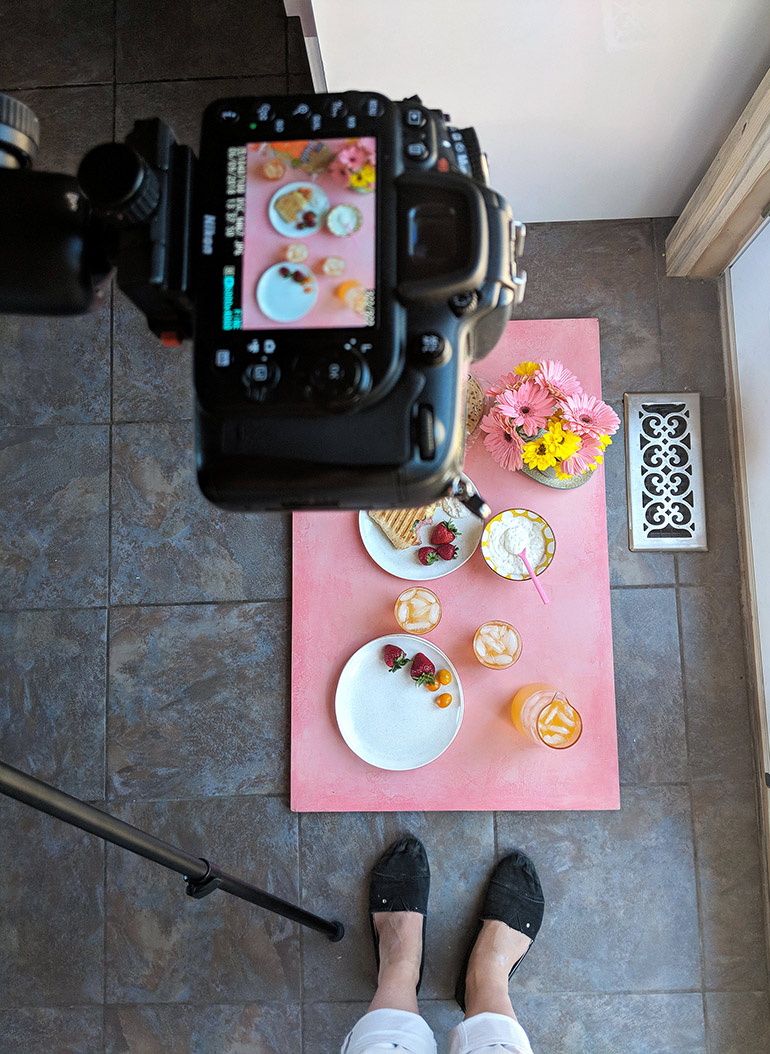 So all that's left to do is to make these fabulous hawaiian paninis and go buy yourself some flowers!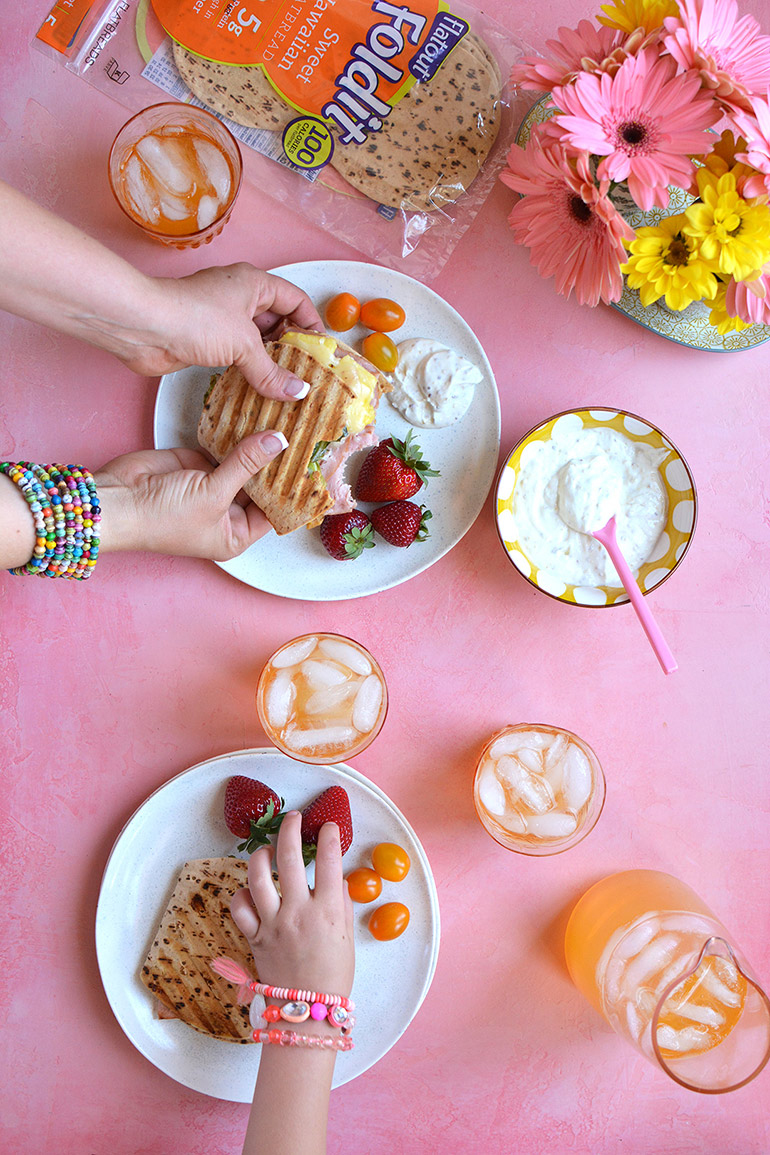 ///////////////////////////////////////////////////////////////////////////////////////////////////////////////////////////////////////////////////////////// Disclaimer: this is a sponsored post written by me on behalf of Flatout. The opinions, text, recipe, and beautiful photos are all mine. Thank you for supporting brands that support Nosh and Nourish!! I choose them based on what I already cook/create with and feel 100% confident in recommending to you.
Hawaiian Paninis with Grilled Pineapple
Ingredients
4
Sweet Hawaiian Foldits from Flatout (or sub plain)
7 ounces
hickory smoked ham
8 ounces
shredded mozzarella cheese
4 slices
pineapple rounds (grilled or fresh*)
2
small pearl onions (thinly sliced, optional)
handful of your favorite greens (I used baby butter lettuce)
1 cup
plain Siggi's yogurt (for the sauce --- or sub Greek yogurt)
1 tablespoon
Brown Mustard (for the sauce)
1 tablespoon
honey (for the sauce)
Notes
*You can pre-grill the pineapple slices before you put them in the panini. This really brings out their sweetness. BUT, if you're pressed for time, adding them in fresh works too.
Instructions
Combine the sauce ingredients in a small bowl: yogurt, mustard, and honey. Stir to combine, then set aside. 
Heat up your outdoor grill (or George Foreman grill) to medium high.
Assemble your panini. On half of the Foldit, layer a few pieces of ham, a round of pineapple slice (about 1 cm thick), and 1/4 cup of mozzarella cheese (enough to cover the pineapple). On the other side, add a layer of greens, a few tomato slices and a few pearl onion slices (omit them if you don't love onion like my hubby!). 
Grill on each side for 2 -3 minutes (or press it in the George Foreman so it grills both sides at the same time). Cheese should be melted and outside should have grill marks and be a light golden brown. 
Serve immediately with a large dollop of the yogurt sauce. 
Enjoy! 
Yields 4 Paninis