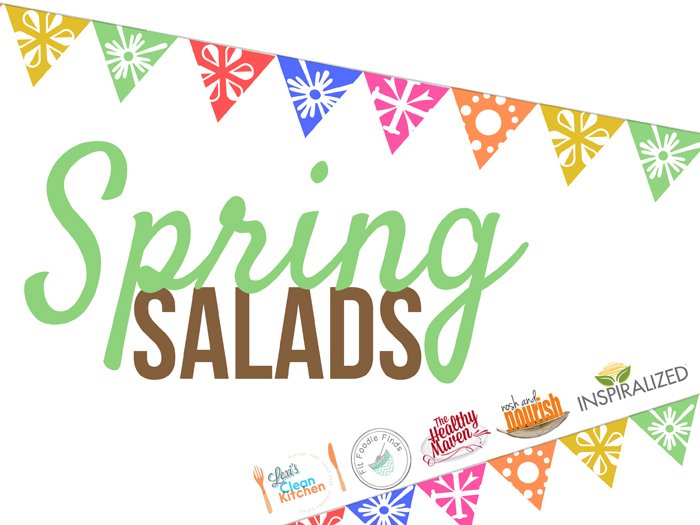 Whether you ushered in the first official day of Spring last week with warm temps and sunshine or your state is still stuck in blizzard-mode for a few more weeks, these bright, colorful, and fabulously fresh salads will help you get into the Springtime mood in a flash. Clementines, strawberries, blueberries, carrots, bell peppers, avocado, and cucumber? Don't mind if I do! With more fresh fruits and veggies at the supermarket (and lower pricetags to go with it) Spring is a great time to eat healthier and shed some of those winter-induced pounds. These salads and homemade dressings will help you do just that!
5 Fabulously Fresh Spring Salads:
Chinese Chopped Salad + Orange Sesame Dressing by yours truly.
A lot of people are scared of kale salad, afraid that it just won't taste very good. But you don't have to be scared! This salad is absolutely delicious -- with the citrus taking away any hint of bitterness. The orange bell peppers and clementines add a pop of color, while the caramelized onions add a hint of sweetness and the cashews, a nice crunch. Also, this salad makes great leftovers, as it doesn't wilt like traditional (dressed) lettuce does. (recipe at bottom of post)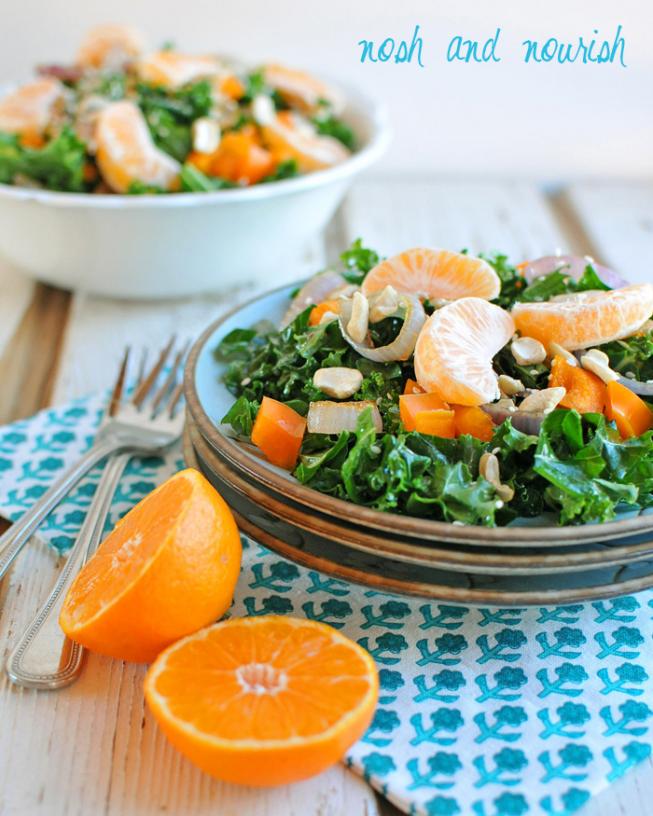 Strawberry Arugula Salad + Poppyseed Dressing by Lee @ Fit Foodie Finds.
Nothing says Springtime quite like sweet succulent strawberries, zesty lemon juice, and arugula. It's like strawberry lemonade that you eat!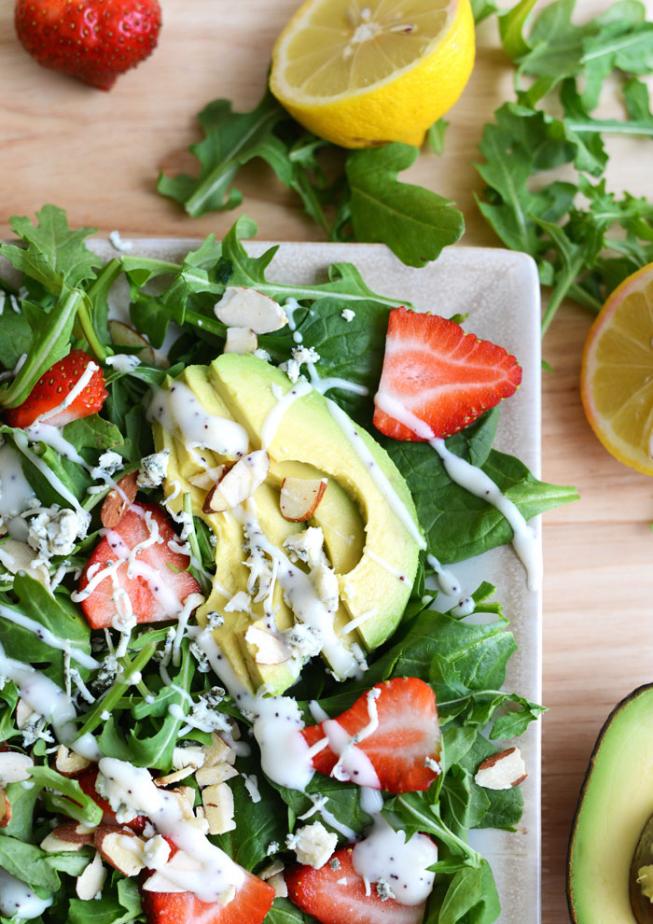 Honey Lime Fruit Salad + Homemade Cinnamon Sugar Chips by Lexi @ Lexi's Clean Kitchen.
OMG...It's hard to concentrate on all those colorful chopped fruits drizzled with honey when I'm tempted by homemade (paleo) cinnamon sugar crisps!!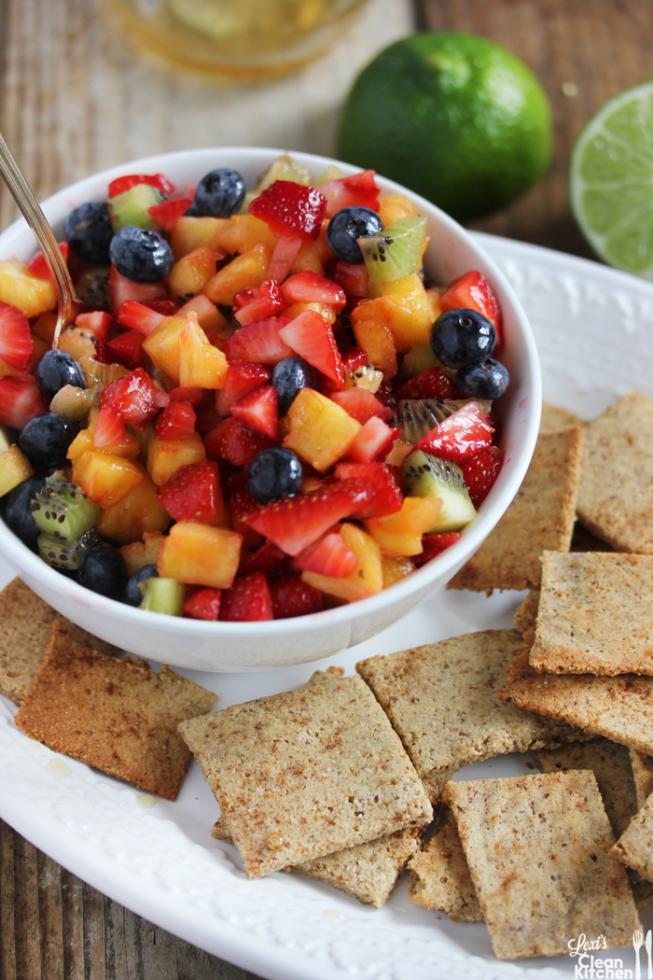 Jalepeno Carrot Rice Salad w/Avocado, Roasted Pepitas, & Charred Red Peppers by Ali @ Inspiralized.
Who says a salad needs lettuce anyway?! Full of colorful favorites including carrot "rice", this salad is both nutritious and satisfying.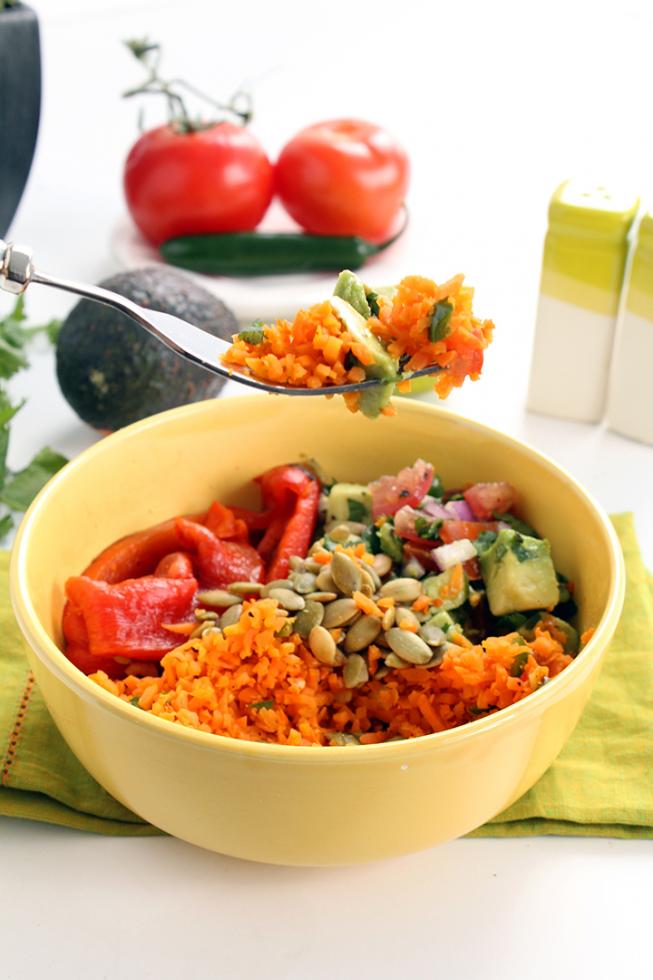 Sushi Salad with Cauliflower Rice + Carrot Ginger Dressing by Davida @ The Healthy Maven.
I think I might eat anything doused in carrot ginger dressing.  And rice made out of cauliflower?!?! Genius!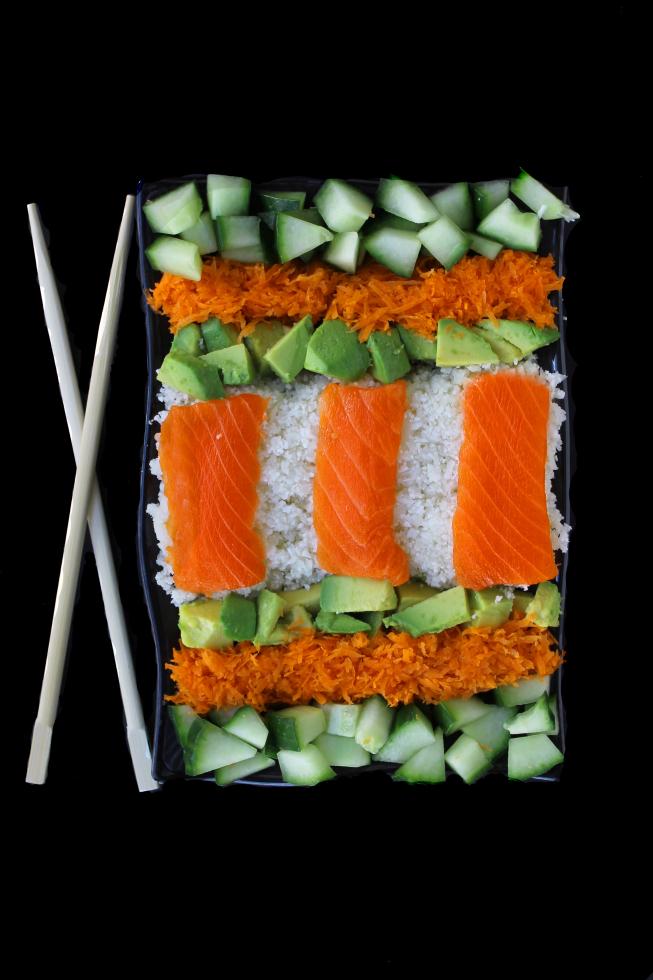 And just one more pic of my Chinese chopped salad -- because it's so darn photogenic!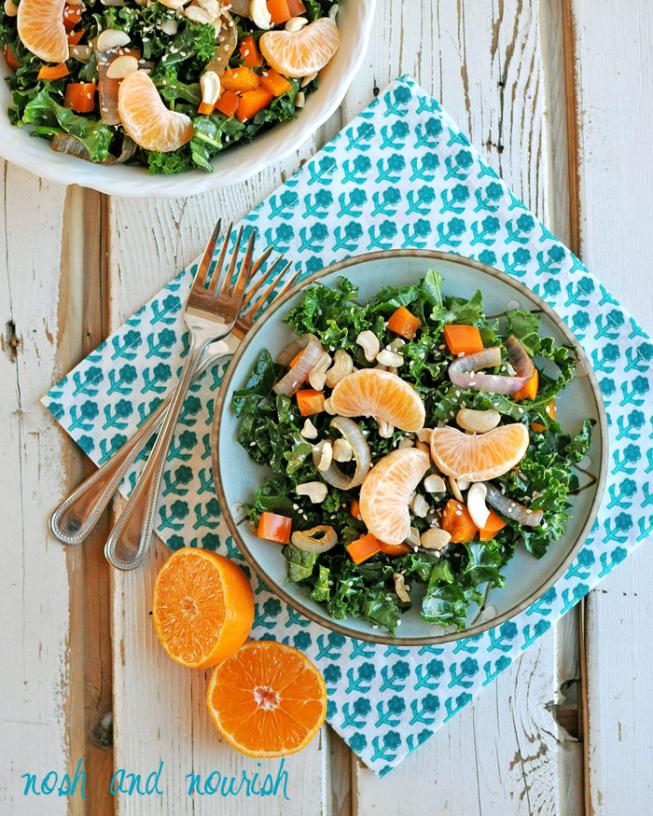 These healthy spring salads were brought to you by this lovely group of blogger ladies: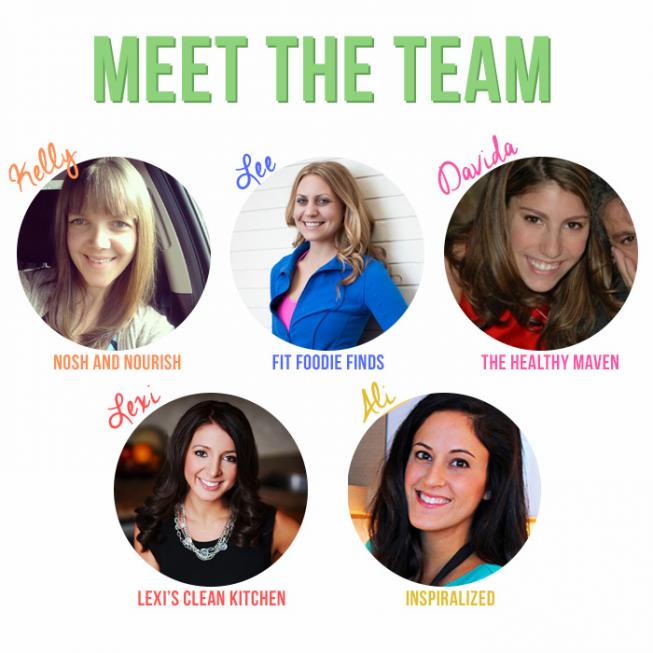 We have teamed up to bring you monthly themed round-ups, creative and unique healthy recipes, and potentially some amazing future giveaways! #staytuned
Chinese Chopped Salad + Orange Sesame Dressing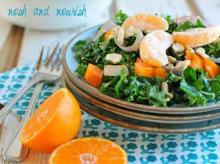 Description
Chinese Chopped Salad + Orange Sesame Dressing // via Nosh and Nourish
Ingredients
1 thick slice (round) red onion
1 tablespoon Dark Amber Maple Syrup (or sub honey if not strictly vegan)
8 cups de-stemmed kale (diced)
2 Clementines (peeled and separated into slices)
1 tablespoon white sesame seeds (toasted)
1⁄2 Orange Bell Pepper (diced)
1⁄4 cup Clementine juice (for the dressing)
1 tablespoon rice vinegar (for the dressing)
1 tablespoon Dark Amber Maple Syrup (for the dressing - or sub honey if not strictly vegan)
1 tablespoon Sesame Oil (for the dressing)
1⁄8 teaspoon Ground Ginger (for the dressing)
1⁄2 tablespoon Cornstarch (for the dressing)
Instructions
In a skillet over medium heat, sauté the sliced onion with maple syrup for approximately 8 minutes, flipping halfway through. The rings do not need to stay intact. However, you do want the onions to caramelize and get slightly brown, but not burn. 
Combine the sesame oil and kale in a large mixing bowl. Gently massage the oil into the kale leaves by hand for approximately 2 minutes. This helps reduce the bitterness and soften the texture of the kale. Add in the remaining salad ingredients, including sautéed onion. 
In a separate bowl, combine all dressing ingredients and whisk to blend. 
Toss dressing over salad (you may not need all of it) and mix thoroughly.
Yields 3 Servings