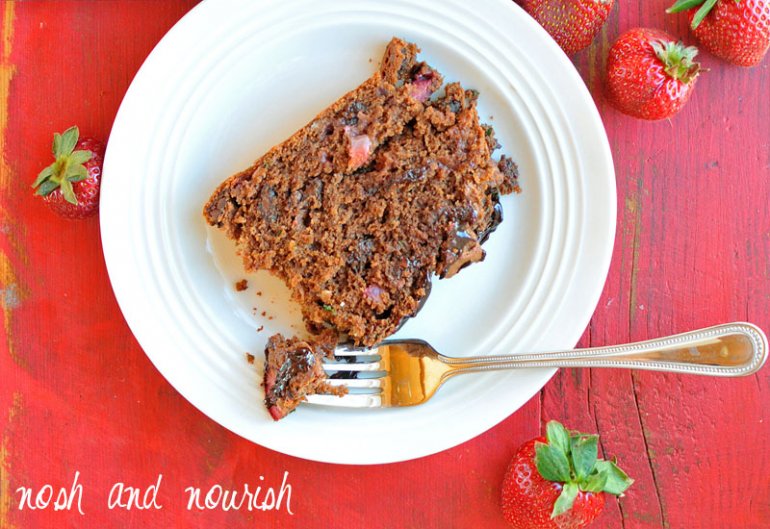 I think I'm going to get a little deep today.  The truth is, I don't feel particularly lovely lately...which makes it hard to accept love and kindness and compliments from others. In one ear, a big smirk, then out the other.  I've been all shapes and sizes along the way, and yet I struggle at all of them to truly love myself and my body. In those moments of struggle, I try to focus on the positive and think of 3 or 4 things I truly love about myself at that moment. Here goes:
I love...
that my body is healthy and my cholesterol is amazingly low - so much so that doctors marvel at my bloodwork and ask what it is that I eat every day.

that my eyelashes are super curly and long and I've never used an eyelash curler a day in my life.

that I created the cutest most lovely daughter, Babycakes.

that I am following my dreams and

this cookbook

is becoming a reality.
I encourage you to do the same activity on those days that you are overwhelmed and struggling to love yourself fully.  And then celebrate your loveliness with chocolate. :)
Introducing Chocolate Covered Strawberries Bread:
It's not just stunningly beautiful on the outside with sliced strawberries and drizzled chocolate, it's also packed with superfoods --- like kale, coconut oil, and dark chocolate. Lovely inside and out!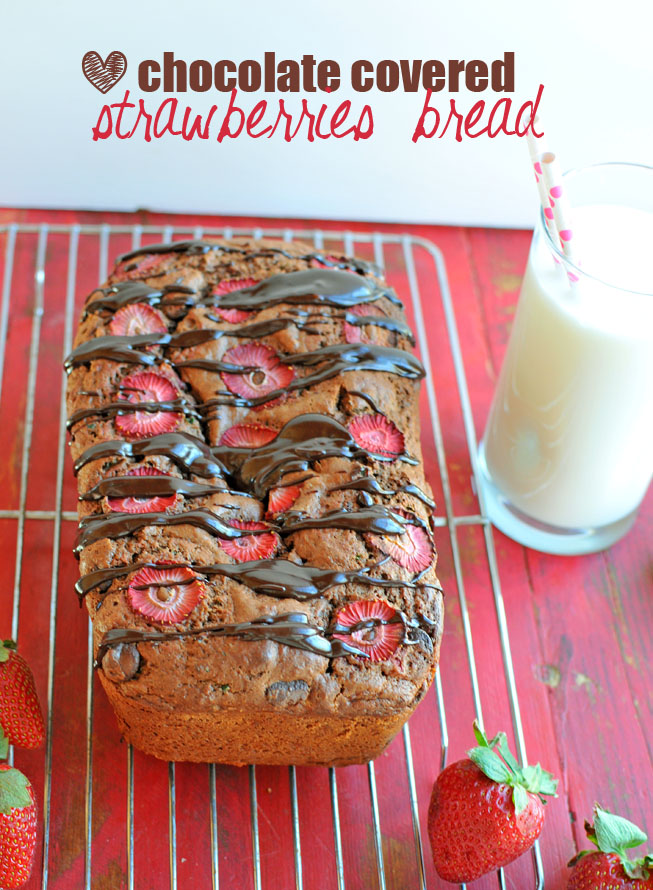 Perfect for Valentine's Day weekend, or any weekend for that matter.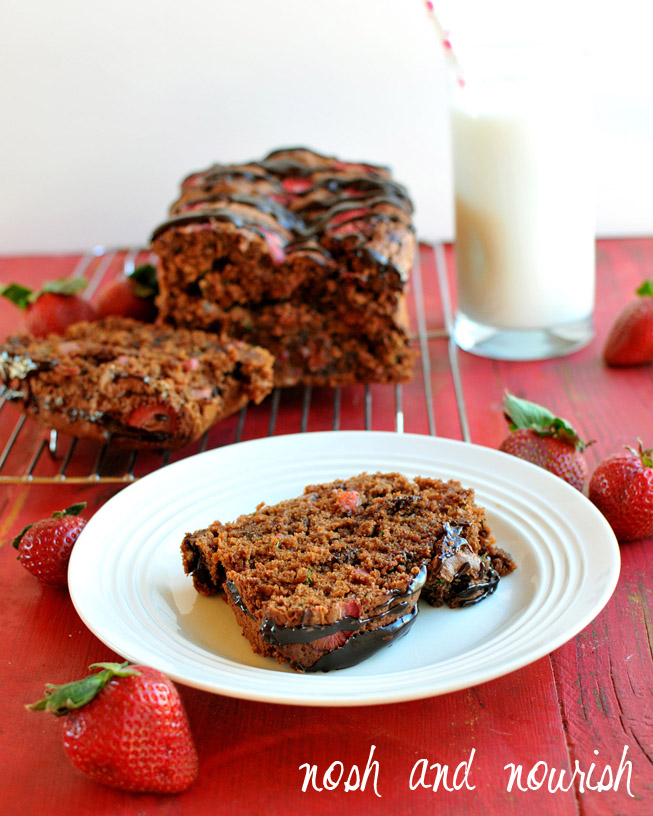 Chocolate Covered Strawberries Bread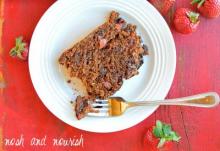 Description
Chocolate Covered Strawberries Bread
Ingredients
1⁄2 cup Diced Kale (stems removed)
2 tablespoons Coconut Oil
3⁄4 cups Vanilla Almond Milk
8 tablespoons Butter (one stick)
2 cups Unbleached All-Purpose Flour (or sub whole wheat pastry flour)
4 tablespoons Cocoa Powder
1 tablespoon Baking Powder
2⁄3 cups Coconut Sugar (or sub light brown sugar)
3⁄4 cups Diced Strawberries
1 cup Dark Chocolate chips
2 Strawberries (to slice and lay on top of bread)
1⁄2 cup Dark Chocolate chips (to put on top of the bread after it has baked)
1 teaspoon Vanilla Almond Milk (to melt in with the chocolate to put on top)
Instructions
Preheat oven to 375 degrees.
Melt coconut oil over medium-low heat in a skillet. Add in diced kale and saute for approximately 5 minutes, stirring frequently. It should not get brown at all.
Combine all ingredients, except chocolate chips in a medium mixing bowl. Stir thoroughly. 
Gently stir in chocolate chips.
Use non-stick spray to coat a loaf pan. Then, pour in batter.  Top batter with thinly sliced strawberries. 
Bake for 70 minutes, or until a knife comes out clean. Let cool for one hour before slicing.
Melt 1/2 cup chocolate chips with 1 tsp vanilla almond milk over low heat. Then drizzle the chocolate mixture on top of cooled loaf.
Yields 1 Loaf