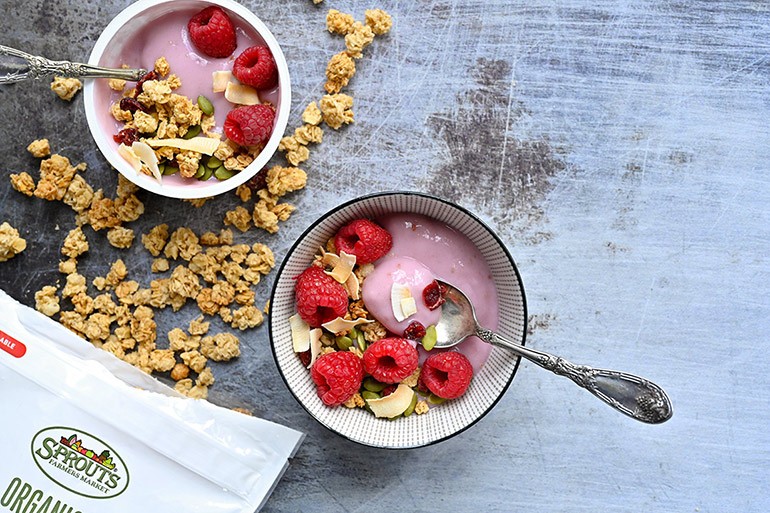 This is a sponsored conversation written by me on behalf of So Delicious Dairy Free. The opinions, recipe, beautiful food photography and text are all mine. These easy raspberry dairy-free yogurt parfaits are the perfect breakfast, snack, or treat during your day! And they're totally vegan thanks to the So Delicious® Dairy Free Coconutmilk yogurt alternative.
Happy September, y'all!
I swear it was just January... you know?!?
But summer has come and gone, and we are starting to ease back into that school routine. And for me, it means I absolutely HAVE to have some quick, easy breakfasts + snacks to get me through my day.... like these beautiful raspberry dairy-free yogurt parfaits.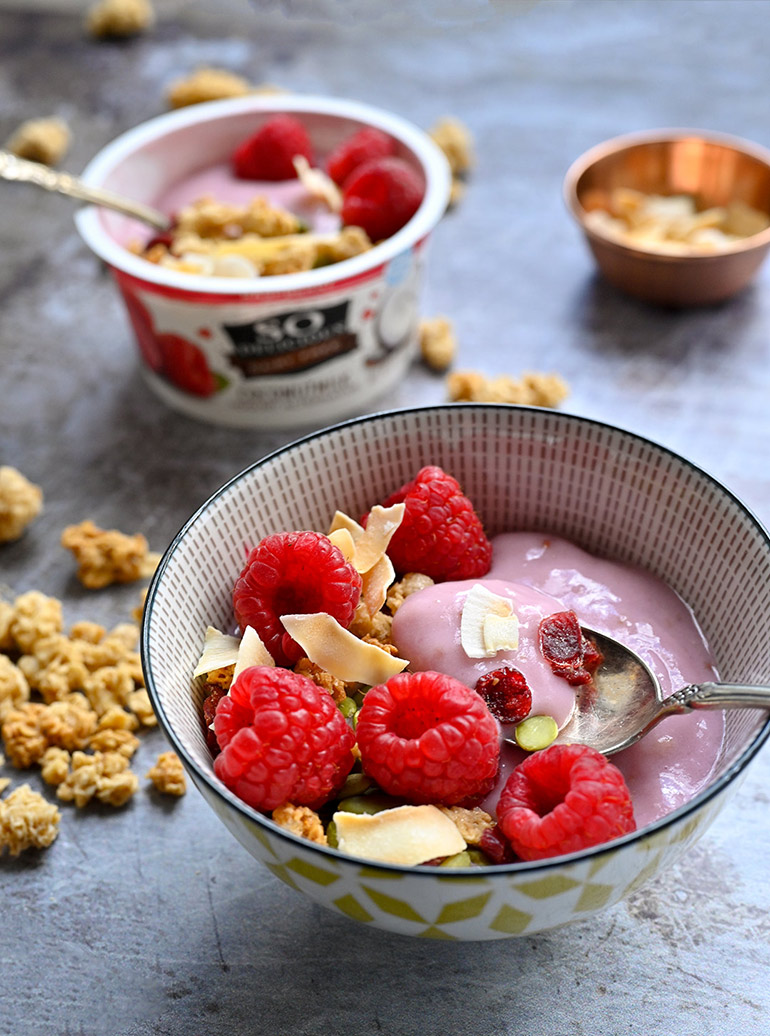 Grab all the ingredients you need at your local Sprouts Farmers Market --- including their bulk raw pumpkin seeds (aka. pepitas), toasted coconut, house-branded granola, So Delicious Dairy Free coconutmilk yogurt alternative, and fresh fruit. And the best news???? The 5.3oz containers of So Delicious Dairy Free yogurt alternative BOGO coupons are available on the Sprouts Mobile app HERE through 10/9.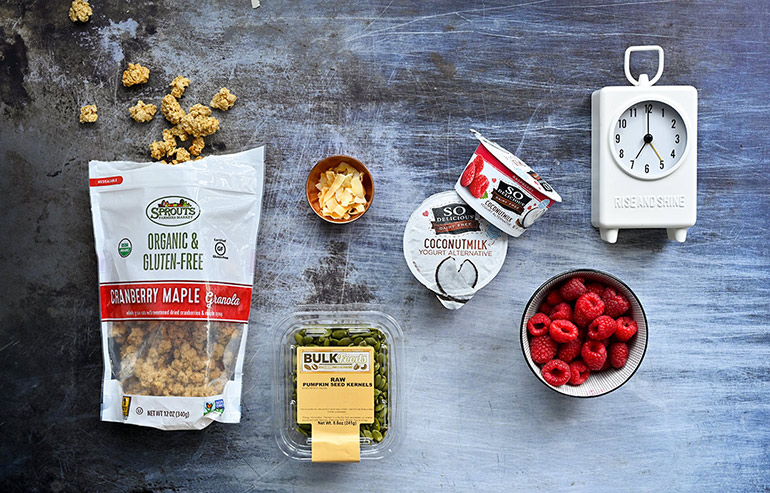 We buy all sorts of things from Sprouts' bulk department:
pepitas
my new favorite snack: apple cider vinegar roasted sunflower seeds
nuts
dried fruit
even coffee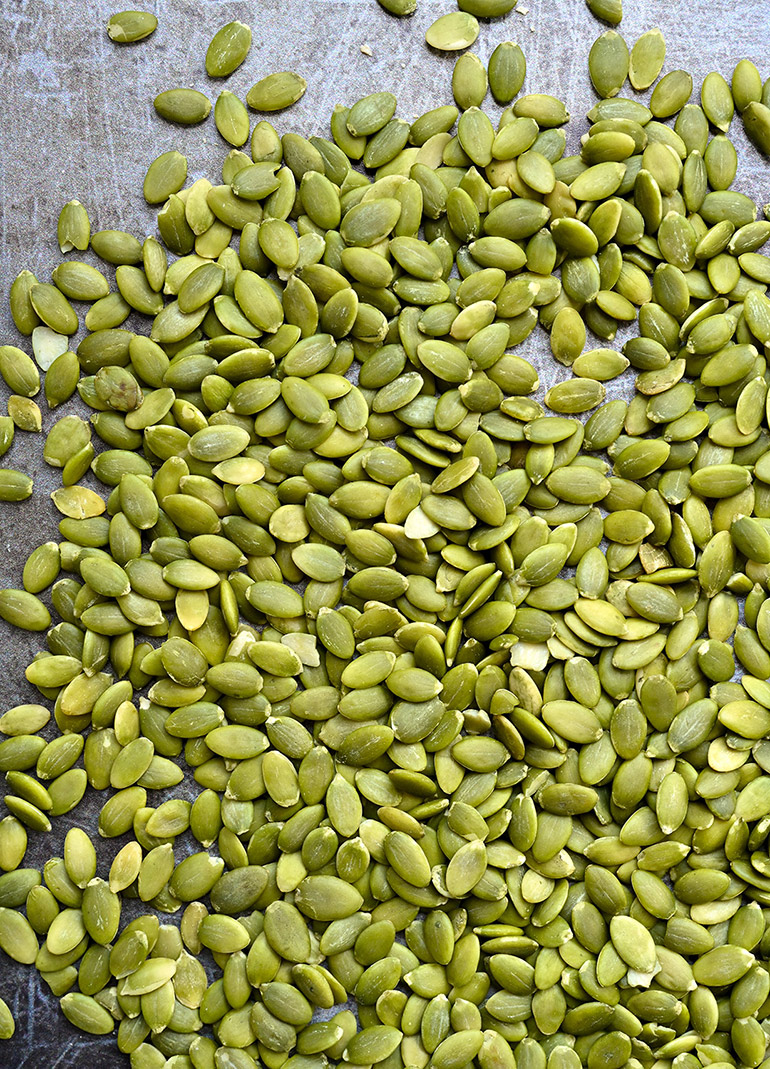 PRO TIP: A common ingredient in granola is honey, so to keep things fully vegan, be sure to look for one that uses maple syrup as a sweetener, like this Sprouts' Cranberry Maple Granola! Or make your own... we love this vegan one from #TeamNosh gals @crowded_kitchen! 
Grab a cute bowl for your parfait or literally make it straight in the So Delicious container!
Hey, no judgement... I'm alllllllllll about less dishes to wash.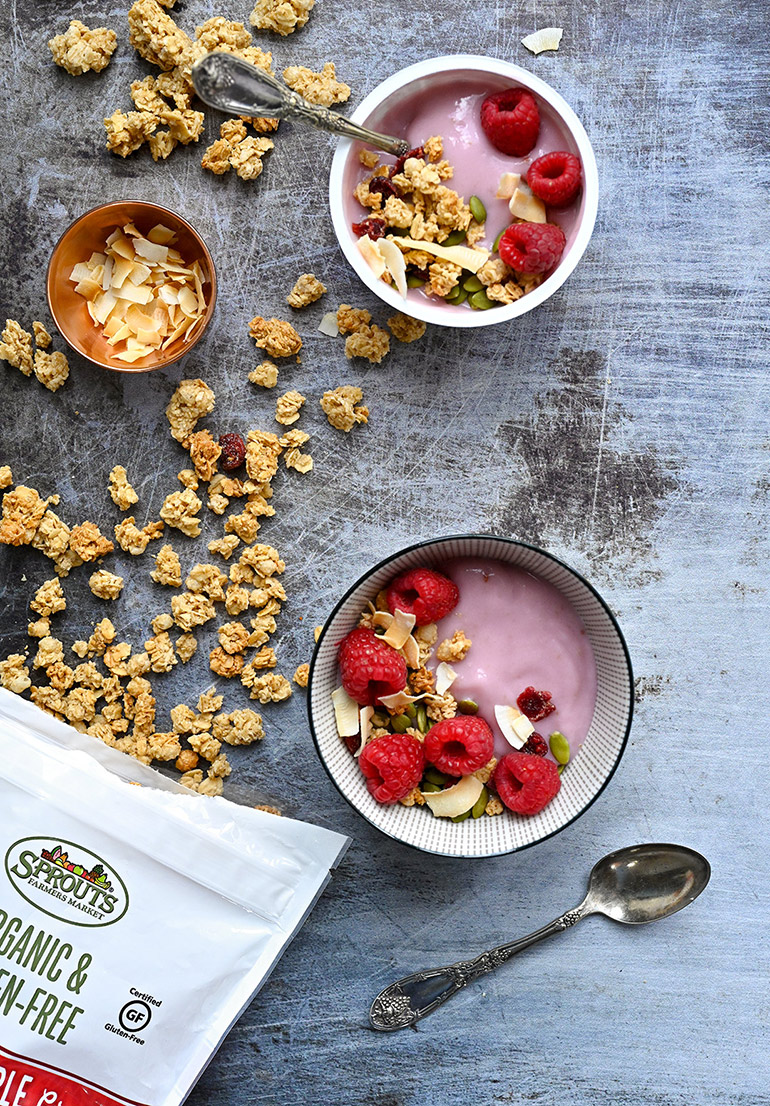 We started with the Raspberry flavor, but you could use vanilla or a different flavor as the base. You could even create these dairy-free yogurt parfaits in lunchbox form like here or here.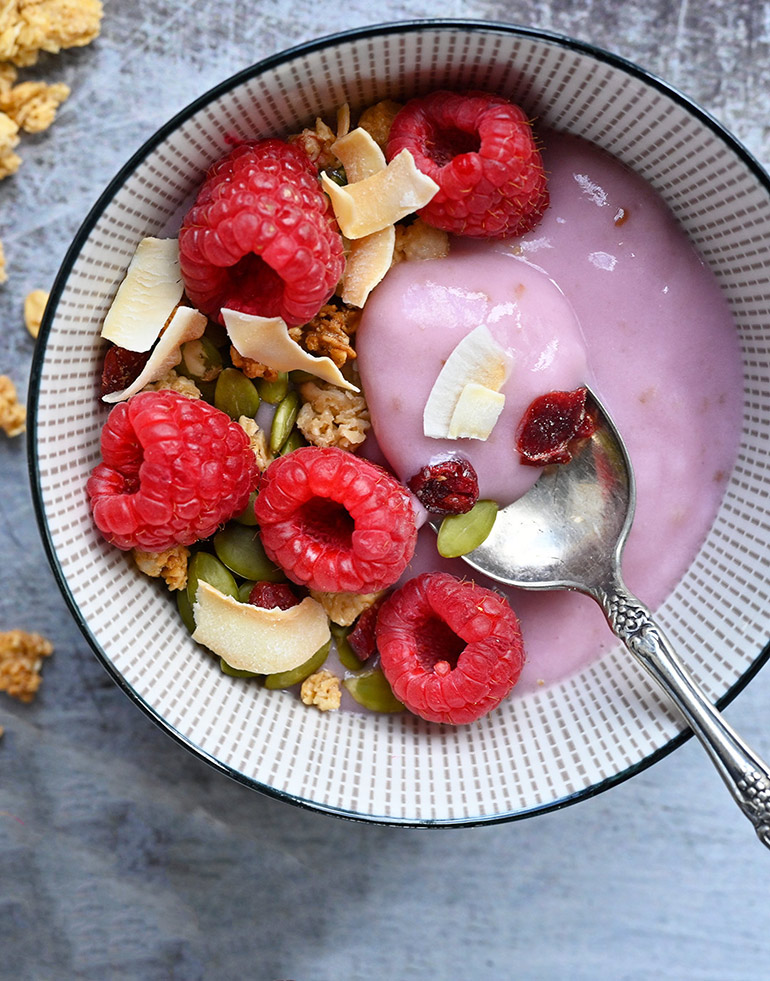 Need other vegan snack options? Try my White bean dip with crudites!
Easy Raspberry Dairy-Free Yogurt Parfaits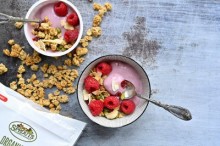 Description
Easy Raspberry Dairy-Free Yogurt Parfaits
Ingredients
5 3⁄10 ounces So Delicious Dairy Free Coconutmilk Raspberry Yogurt Alternative (or sub vanilla)
1 tablespoon Raw Pumpkin Seeds (also called pepitas)
1⁄2 tablespoon toasted coconut shreds
2 tablespoons granola of choice
1⁄2 tablespoon Dried Cranberries (optional)
Instructions
Open the yogurt and layer on all the toppings.
OR
Spoon the yogurt into a bowl, and then layer on all the toppings.
Enjoy!
Yields 1 Serving