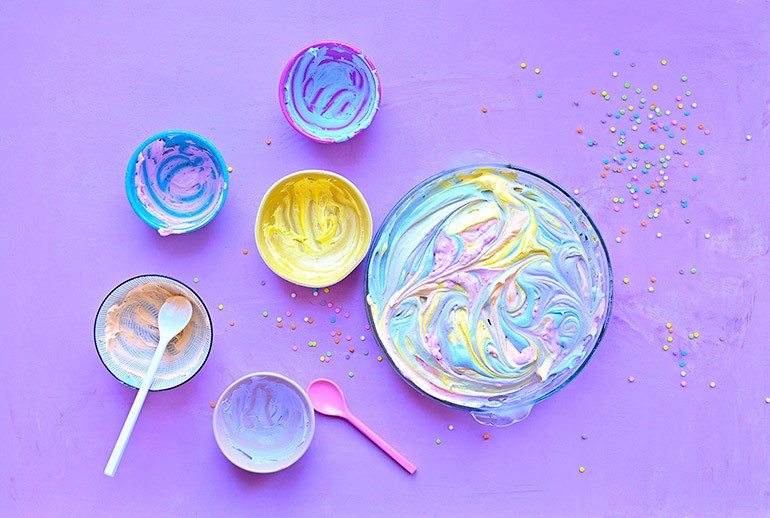 This colorful rainbow ice cream cake is the perfect summer dessert. A crust layer made with coconut shreds, oats, and cashews is topped with So Delicious Dairy Free Salted Caramel Cluster Frozen Dessert (ie.. dairy-free ice cream), then topped with swirls of dairy-free whipped cream. 
Saturdays are for baking.
Unless they're in June, July, or August.
Then, Saturdays are for NO-baking ice cream cakes! It is finally starting to feel like summer around here... which means hot temps, grilling on the patio, and never turning the oven on. LOL.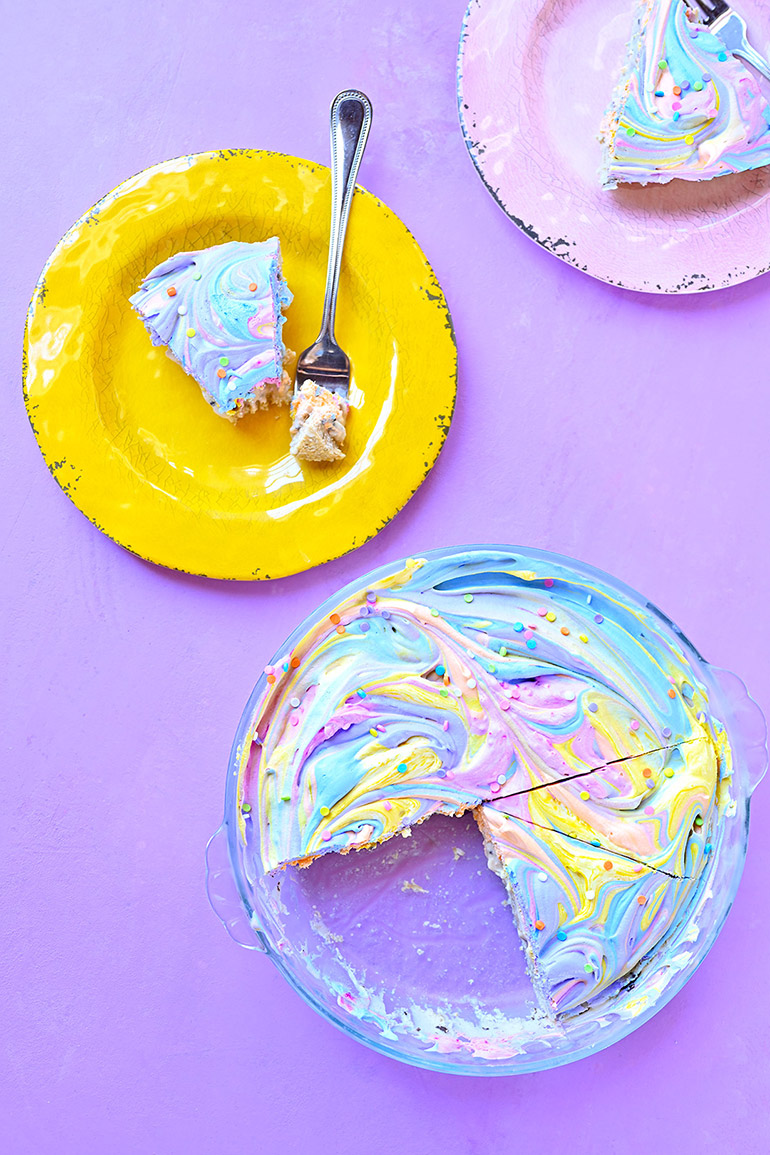 Be still my heart... this is one of the best ice creams (dairy-free or not) out there. Trust me, you need to try this... by the spoonful, or in this fabulous cake, or BOTH!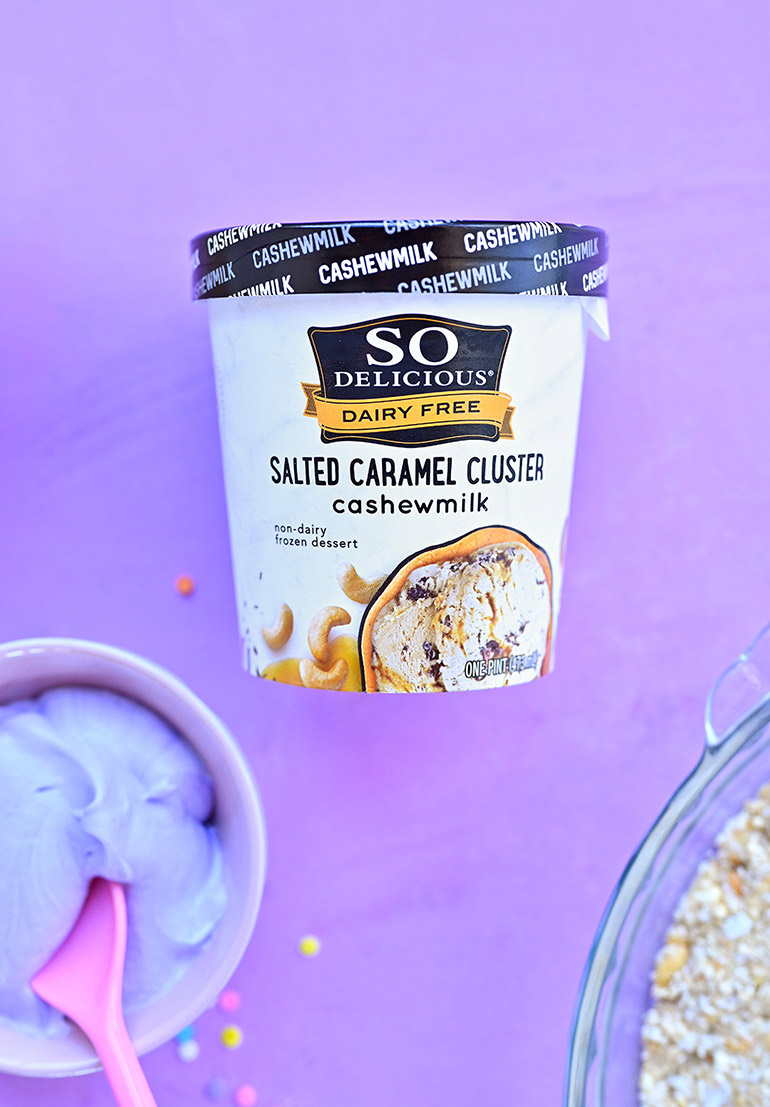 And how fun are these colorful bowls of CocoWhip (dairy-free whipped cream)? I used all natural dyes, like pitaya powder, butterfly pea powder, and more to create the colorful swirls.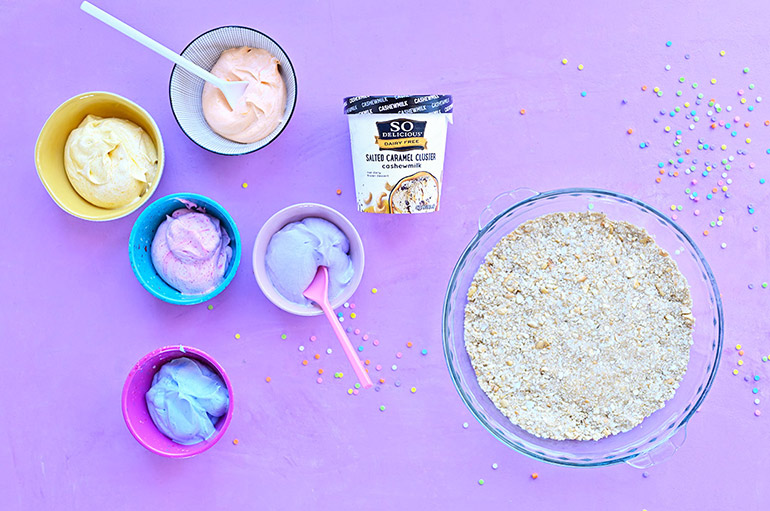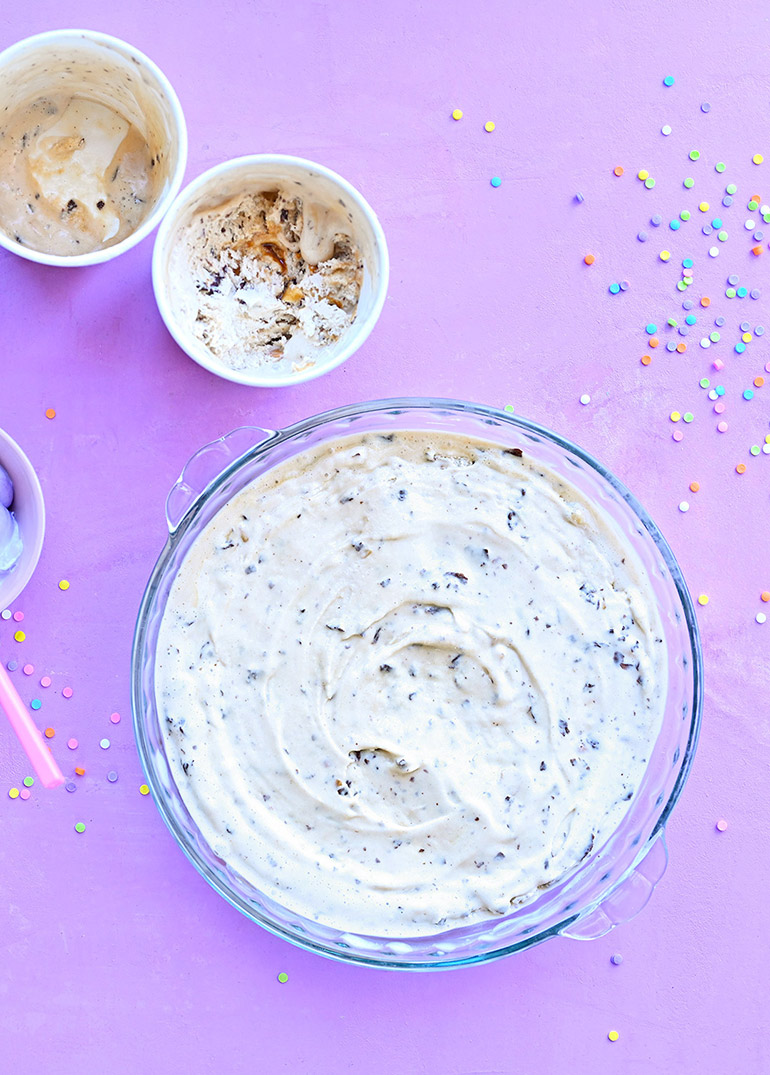 Just add dollops of each color onto the par-frozen ice cream layer and then use a knife (or the back of a spoon like I did) to swirl the colors. Try not to over stir/swirl, or you might end up with more of a brown color... like in elementary art class!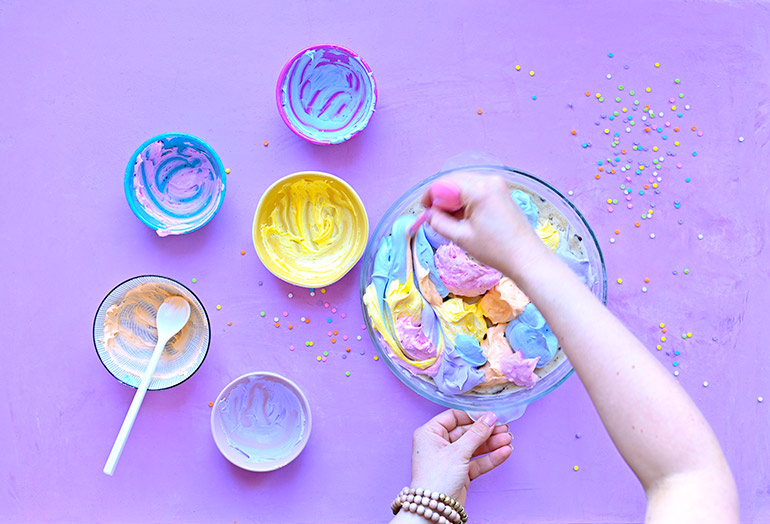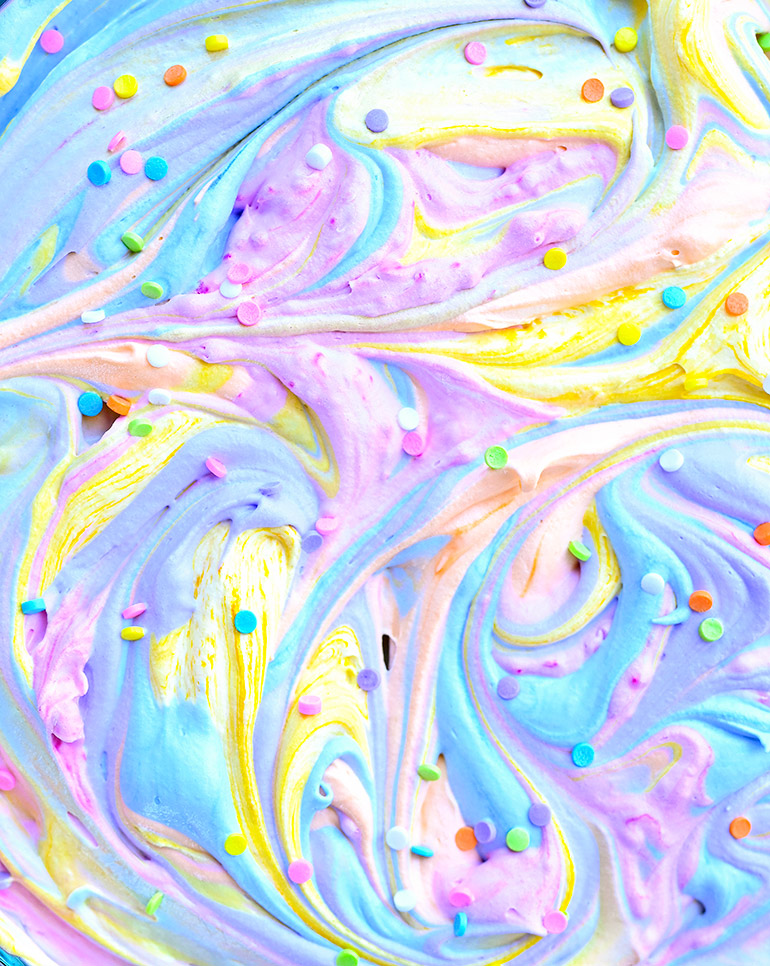 Add sprinkles for the final touch -- and freeze for another hour or two before slicing. This cake is totally customizable --- feel free to sub in any of your favorite So Delicious frozen desserts like:
snickerdoodle
peachy maple pecan
peanut butter + raspberry
oatmeal cookie
mocha almond fudge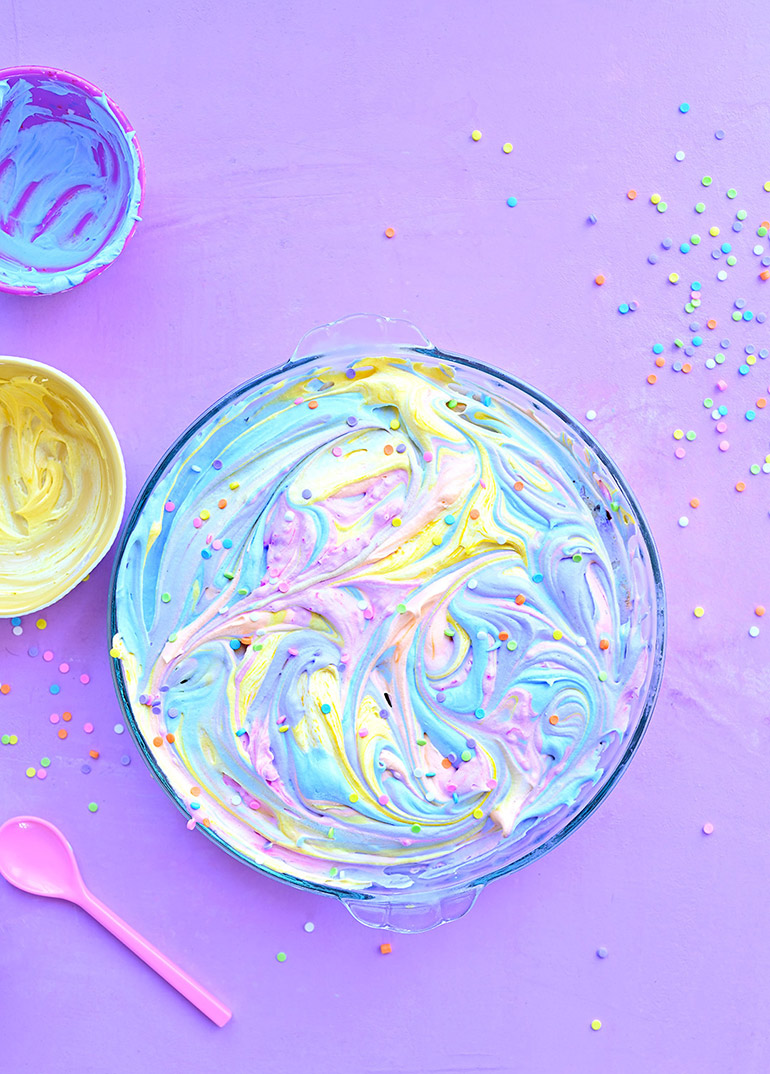 Want another fun summer recipe? Try my White Bean Dip with Crudites:
-------------------------------------------------------------------------------------------------------------------- This is a sponsored conversation written by me on behalf of So Delicious. The opinions, recipe, beautiful food photography and text are all mine. Thank you for supporting brands that support Nosh and Nourish!! I choose them based on what I already cook/create with and feel 100% confident in recommending to you.
Rainbow Ice Cream Cake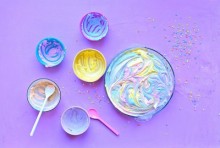 Ingredients
1 cup shredded, unsweetened coconut
2 cups salted cashews (or raw)
1⁄2 cup brown rice syrup (or sub maple syrup)
2 pints So Delicious Dairy Free Salted Caramel Cluster (or sub your favorite flavor)
18 ounces So Delicious Dairy Free CocoWhip (Original, ~ 2 containers)
food dyes* (for the rainbow colors)
Notes
*I like using all natural food dyes, like these powders from Suncore Foods... or these from McCormick.
Instructions
Take out the 2 pints of frozen non-dairy dessert and let them thaw on the countertop for 20 – 30 minutes.
Meanwhile, combine all of the crust ingredients in a food processor. Blend until a dough forms and individual pieces of the cashews are pretty small. Press the nutty dough into the bottom of a 10" round pie pan, or 9x9 square. Freeze for 20 min.
Remove pie plate from freezer and spoon on the thawed non-dairy frozen dessert into an even layer. Put back in the freezer for 30 minutes.
Meanwhile, divide your CocoWhip into 5 bowls. Use natural food dye to mix up different colors. I used: pink, purple, blue, orange, and yellow.
When the ice cream layer is re-frozen (usually after about 30 min), spoon on differently dollops of each color in a haphazard pattern. Then, use a knife or the back of a spoon to swirl them all together into a rainbow pattern.
Freeze for another 20 – 30 minutes (or even overnight).
Slice and serve. If it's too hard, let it sit out on the counter for 10 minutes before slicing.
Yields 10 Servings