You may not know, but 3 days a week I work a "real" job. I'm the Controller at a fabulous school and it's number-crunching-galore on those days. And then there's the other 2 days a week, where I either:
worked on my cookbook (now complete!)
try to get ahead on house stuff/chores
run a thousand errands
get to make fabulous eats to share with you!
I've found it to be a great balance for me. And really, who can complain about their "work" day when it includes peach guacamole and raspberry lime margaritas?!?! 
Introducing Peach Guac:
It's creamy, tropical, flavorful, super easy to make, and hands-down the best way to make guacamole!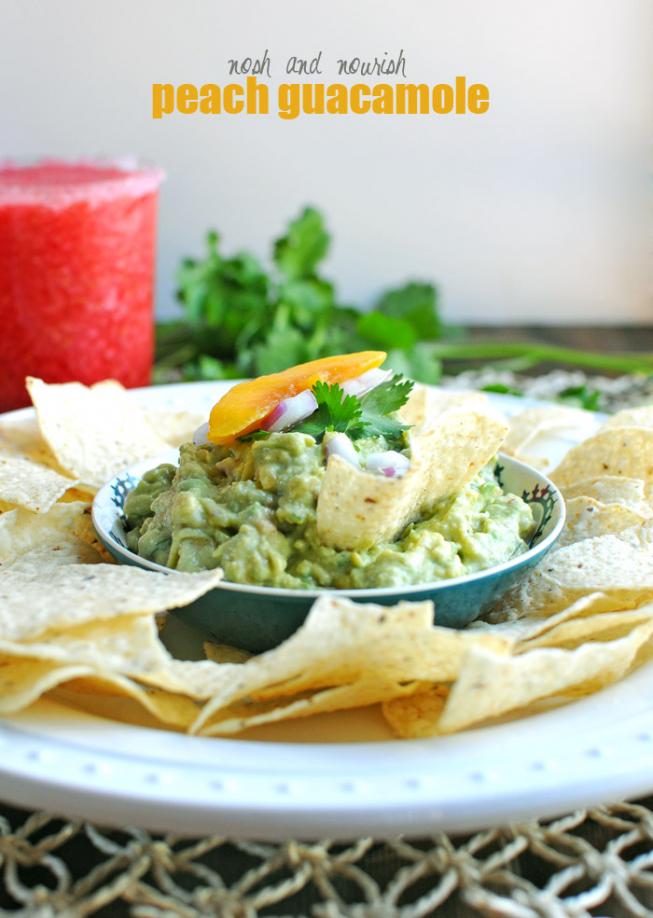 The diced peaches (I used frozen organic ones this time since it's not "quite" full-on-summer yet) add a wonderful tropical sweetness that is a perfect juxtaposition to the diced red onion and cilantro.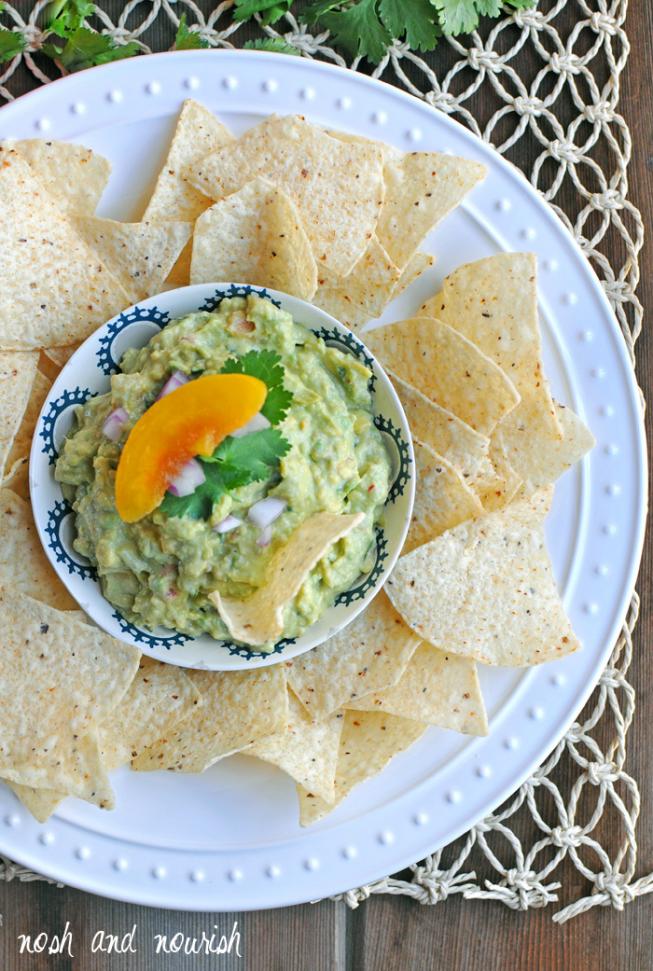 Serve with tortilla chips at a party, or even serve as a healthy weekday snack with thickly sliced bell peppers for dipping (that defintiely happened this week!!).
Oh, and about those raspberry lime margaritas... click here for the recipe. :)
Peach Guacamole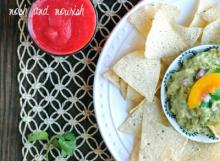 Description
Peach Guacamole -- perfect for summer! // via Nosh and Nourish
Ingredients
1⁄4 cup diced peaches (peeled first)
1⁄4 cup Plain greek yogurt
1 tablespoon Key Lime Juice (or sub regular lime juice)
1 tablespoon diced cilantro
1 tablespoon diced red onion (optional)
Instructions
Cut open, remove pit, and scoop out the inside of each avocado. 
Mash the avocados in a mixing bowl. 
Add in remaining ingredients and stir thoroughly.
Serve with tortilla chips (and margaritas!! - optional).
Yields 6 Servings