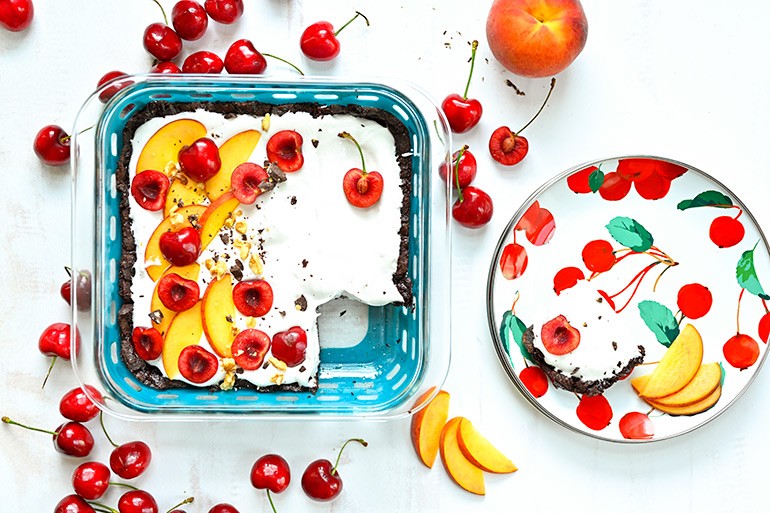 This is a sponsored post written by me on behalf of Safeway. All opinions are 100% mine.
Start with a box, add a few customizations, and voila --- a beautiful, easy (vegan) summer dessert everyone will love!
Starting with a box might sound a bit taboo, but if it means you can spend more time OUT of the kitchen and more time WITH your family, then I'm all in! Especially when you're starting with an Open Nature box! Have you tried this brand before? All Open Nature® items are free from 110 food additives like nitrates, benzoates, artificial flavors and preservatives.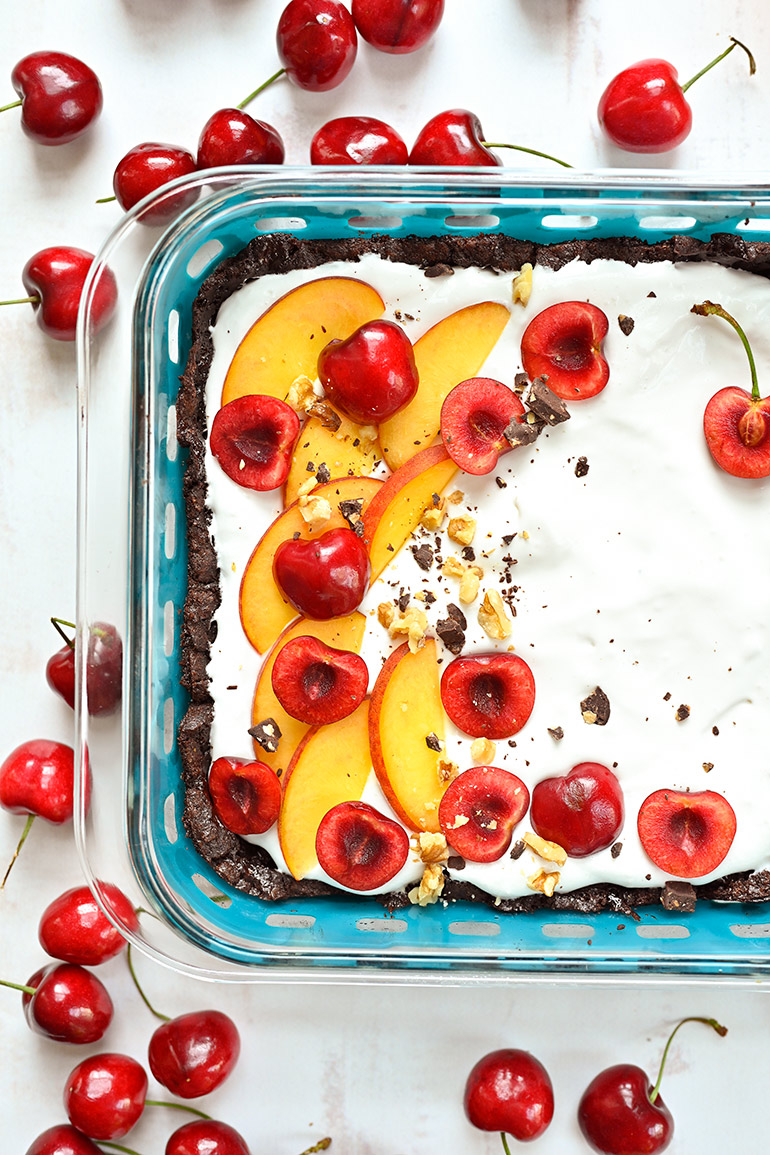 This dessert is naturally gluten-free (as the Open Nature® brownie mix is GF!), but if you follow the instructions and make it according to the box (with an egg + butter and such), it won't be vegan. Since we're mostly vegan now, I went ahead and bought some O Organics® golden flax meal to use as an egg substitute (see below).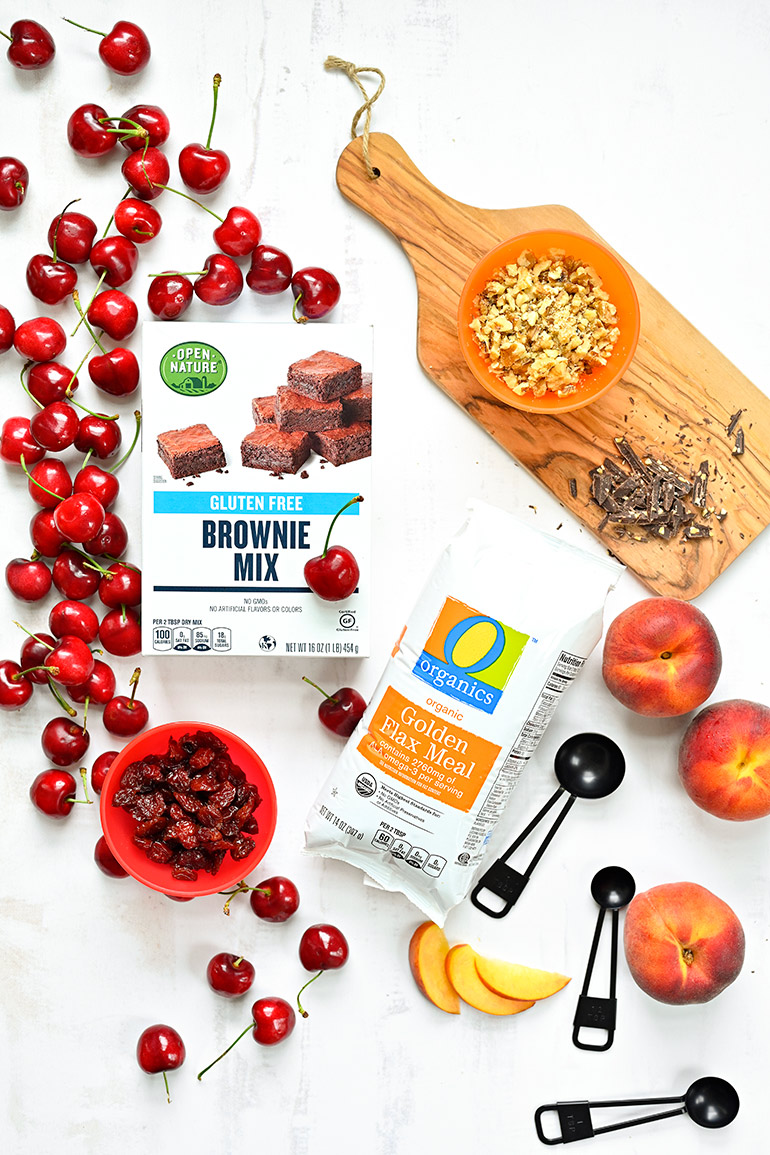 A few things to note: baking is a bit science, a bit art. So, when I first tried to just substitute 1:1, flax egg for egg, vegan butter for butter, etc... they did not turn out very well. To be honest, they were a huge goopy mess! But, luckily for you, I did all the hard work and after a few iterations, I found the perfect balance/substitutions! Look at those fudgy swirls!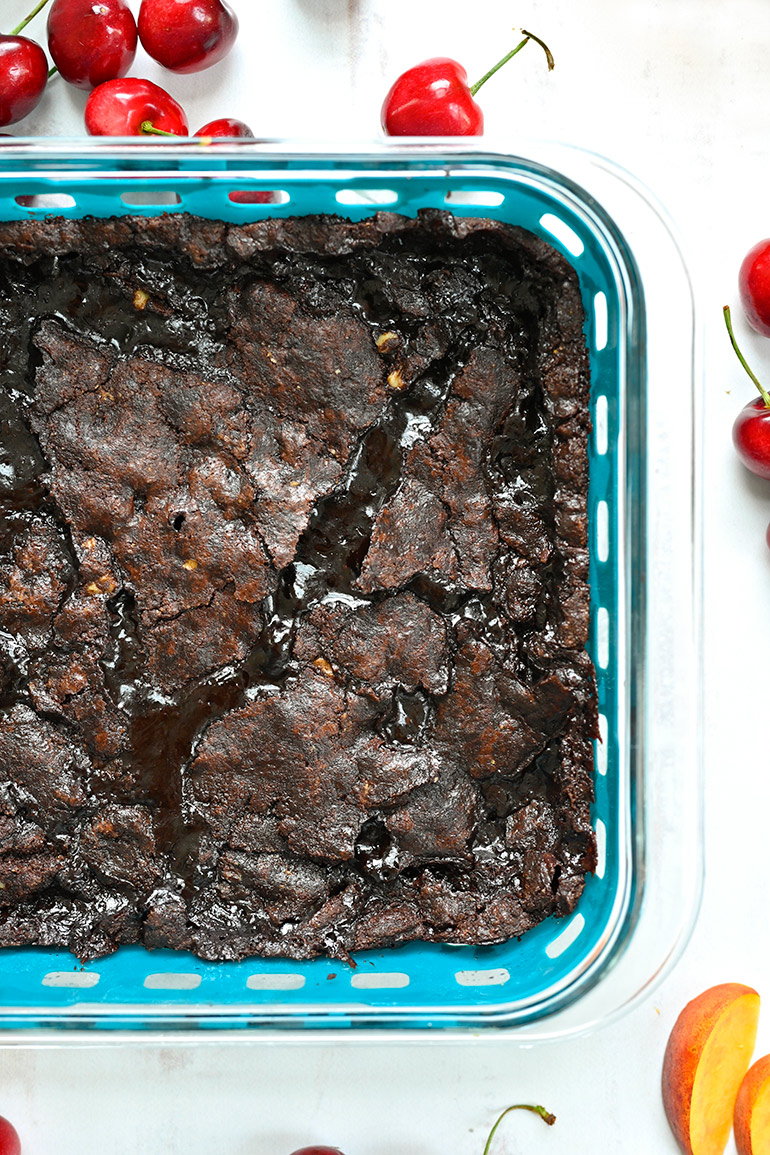 I also added in dried cherries and walnuts, but you could leave those out if you prefer.
Eat plain, topped with vanilla ice cream, or covered in vegan whipped cream, fruit, walnuts, and chopped vegan chocolate (shown here). These brownies are delicious alllllllllllllll the ways.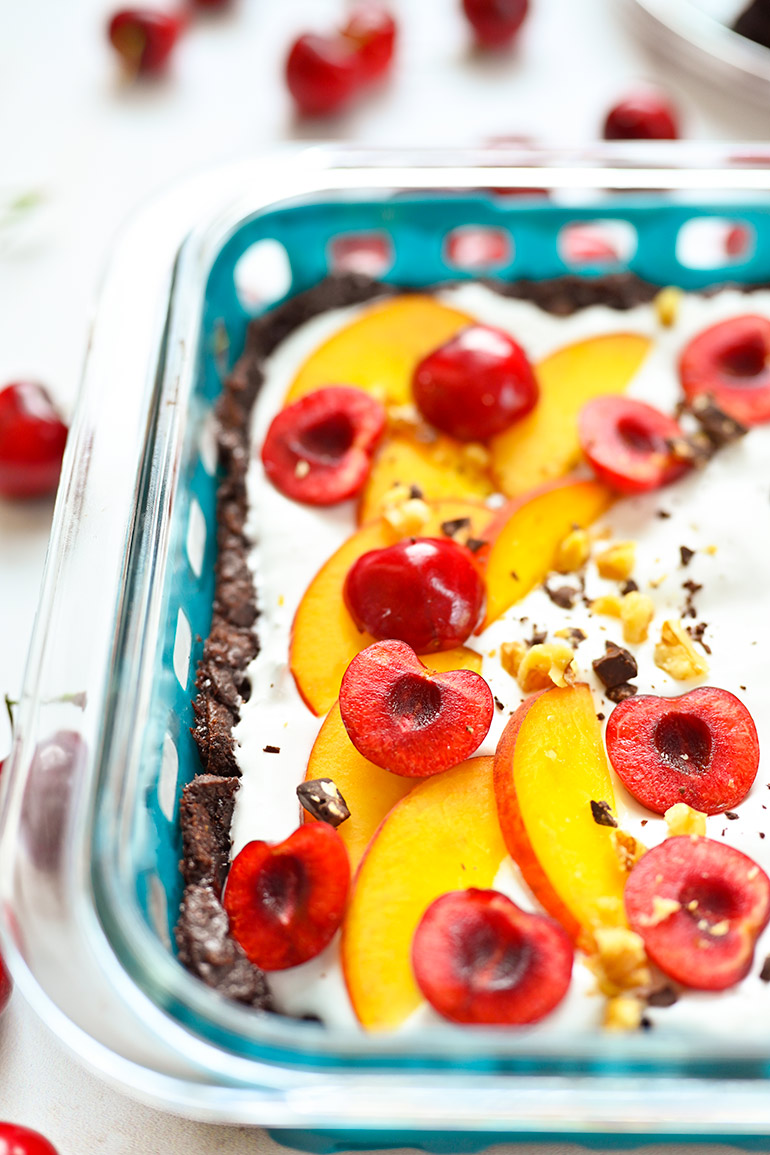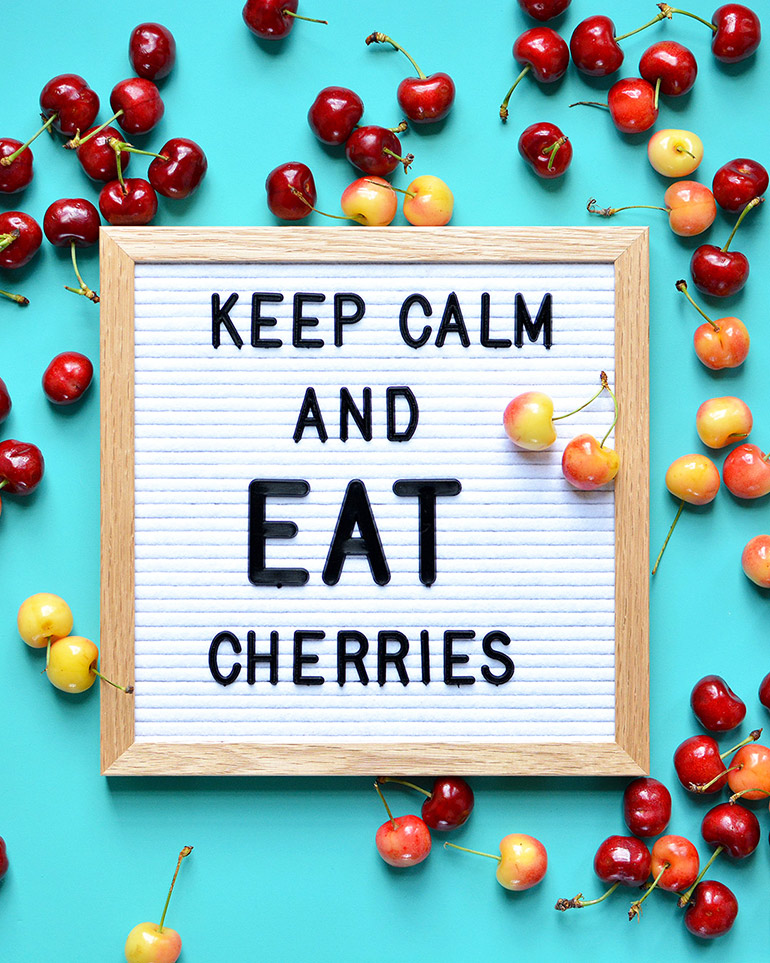 This is my summer mantra: keep calm and eat cherries! Don't want to go IN to the store? Safeway also offers Grocery Delivery and DriveUp & Go™ for convenient ways to shop!
Also.. check out Safeway's line of Open Nature® ice creams for a delicious summer treat!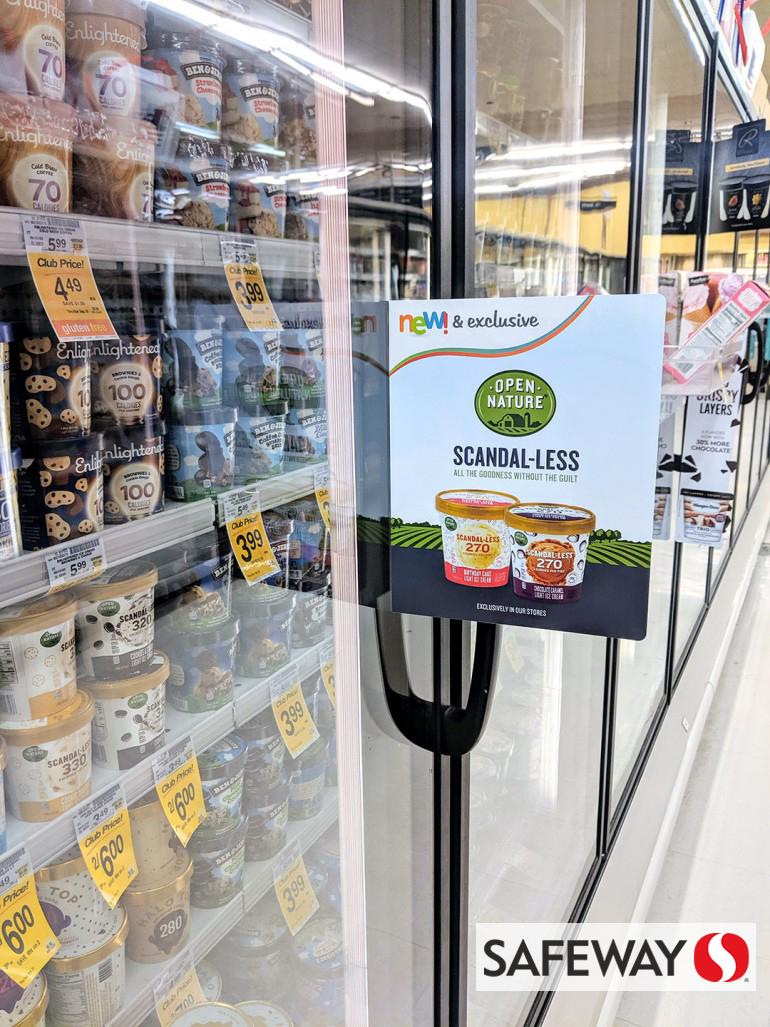 I shopped at Safeway, but you can also find Open Nature and O Organics at the Albertsons Companies family of stores, including Albertsons, Safeway, ACME Markets, Jewel-Osco, Vons, Randalls, Shaw's Supermarket, Star Market, Tom Thumb and Vons OR ONLINE!
Want more easy vegan desserts? Try my carrot cake bars!
Chocolate Cherry Brownies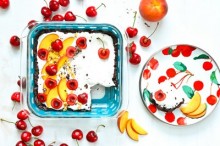 Description
Chocolate Cherry Brownies
Ingredients
1 box of Open Nature GF brownie mix*
1⁄4 cup Vegan Butter (melted)
1⁄4 cup Chopped Walnuts (plus extra for topping, optional)
vegan sea salt chocolate (finely chopped)
Notes
* If you are ok eating eggs and don't want these to be vegan, you can just follow the directions on the side of the box -- that calls for: 1/2 cup butter (melted), 2 large eggs, and 2 tbsp water.
Instructions
Preheat oven to 350 degrees for glass pan, 325 for dark or nonstick pan.
Mix all ingredients in a large mixing bowl: brownie mix, flax, water, melted vegan butter, walnuts, and dried cherries.
Bake for 30 - 35 minutes.
Let cool completely.
Then top with CocoWhip, fresh cherries, peach slices, more walnuts, and vegan chocolate.
OR --- serve with vanille ice cream of choice.
Yields 8 Servings