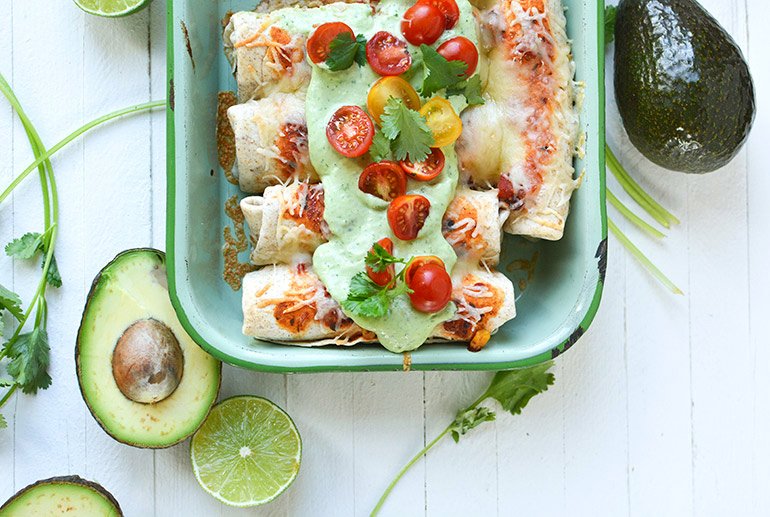 This super easy breakfast burrito bake is perfect for Christmas morning or for any weekend brunch this holiday season! It couldn't be simpler, or more delish --- using Good Food Made Simple's wholesome burritos as a base, then topping them with melted cheese and a homemade avocado crema and colorful sliced grape tomatoes!
You know me.  I like to keep the holidays simple. 
So I can focus on the good stuff --- the stuff that really matters. 
And I especially feel that way on Christmas morning. I remember one year finding this monte cristo french toast bake thing on Pinterest (whatever you do, don't make it!) and flailing over the recipe, making SUCH a huge mess in the kitchen (hellllllllllllo, powdered sugar everywhere), the whole thing not cooking fast enough / coming together, everyone asking me if we were evvvvvvver going to eat, and it was just a big complicated epic fail. 
Well I can assure you, this year is going to be totally different thanks to these breakfast burritos.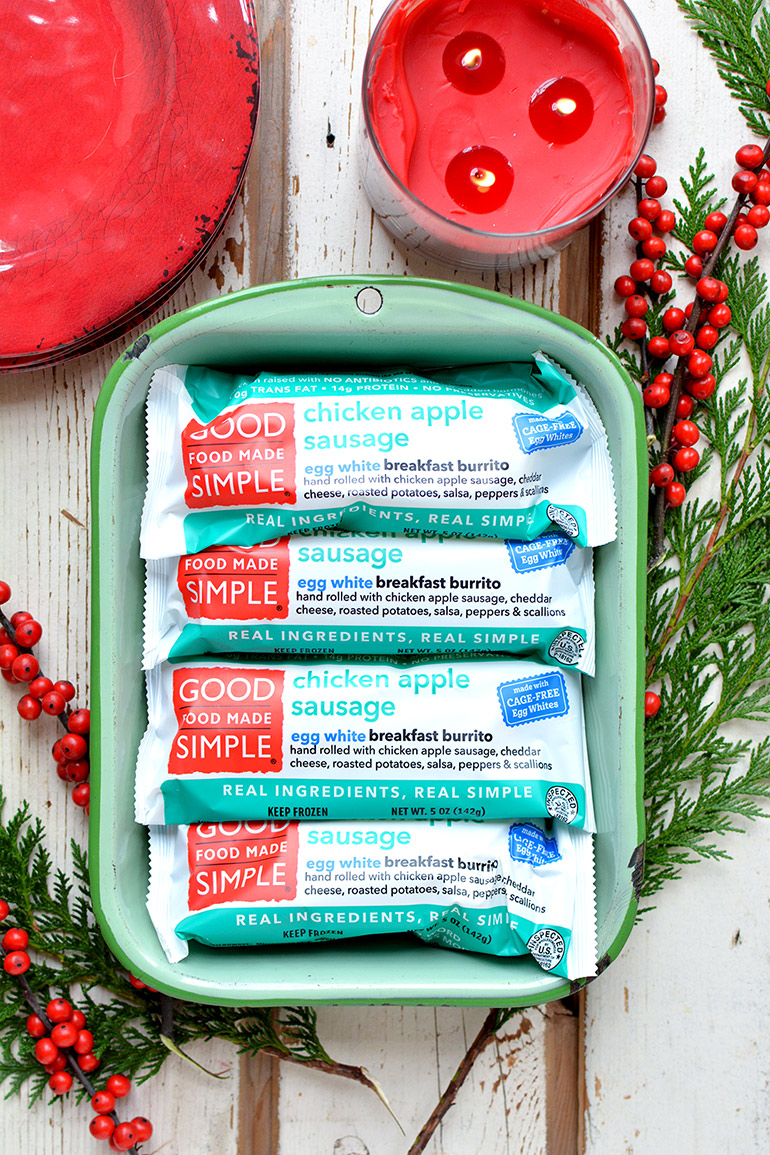 I love that they have simple, real ingredients --- without a bunch of fillers or preservatives.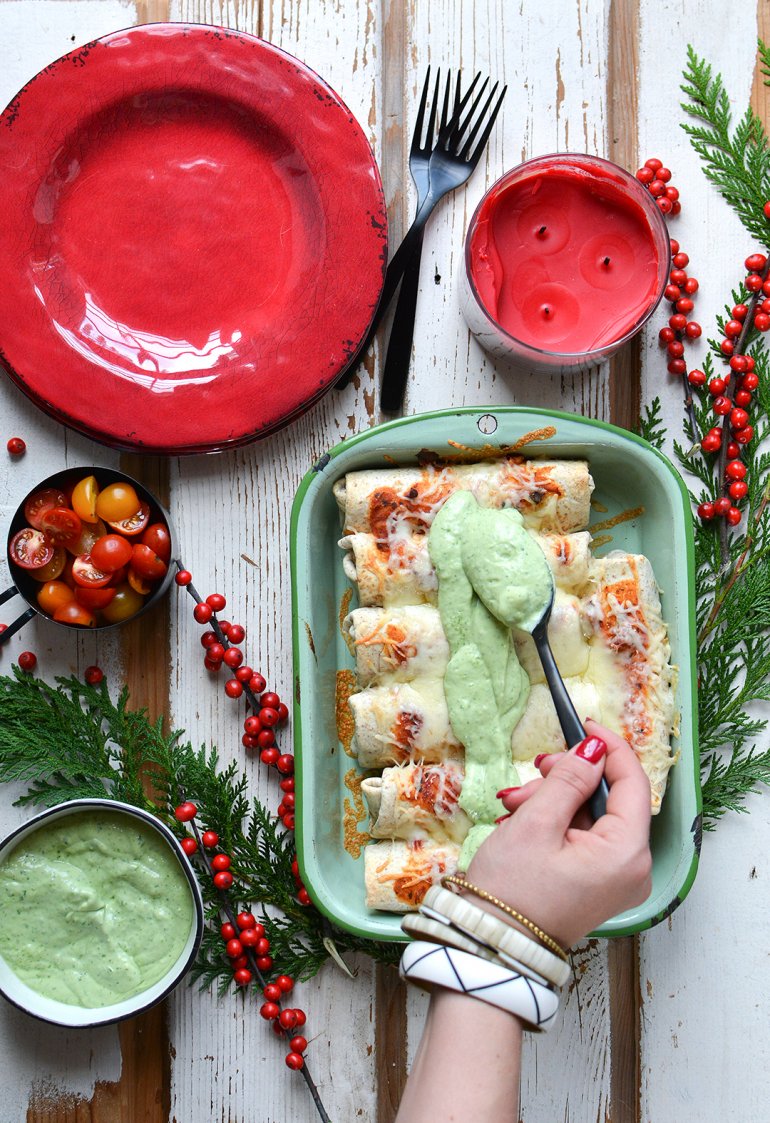 And they can be dressed up for the holidays and made in bulk for a crowd, or eaten individually on-the-go on a busy school morning. -------> So versatile... and DELISH!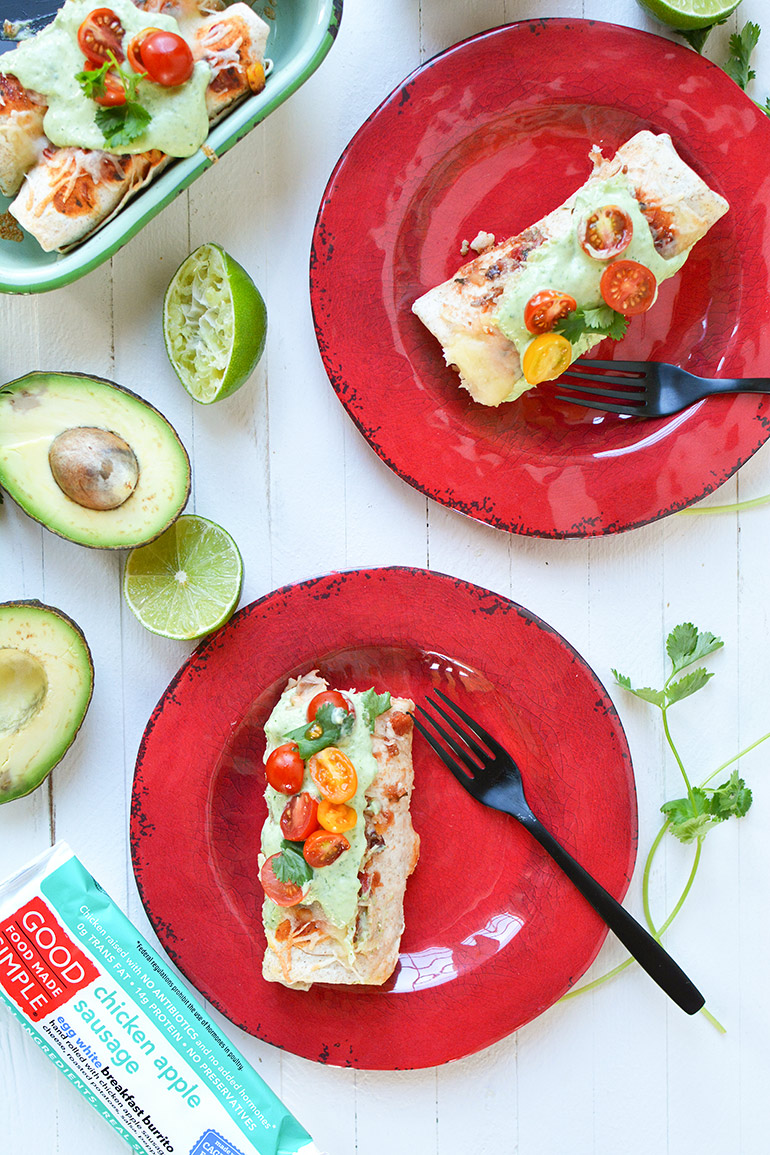 The easiest place to find these Good Food Made Simple breakfast burritos (and lots of their other flavors like the Sriracha one, the Greek one, the Himilayan one, etc...) is at my favorite store: Target.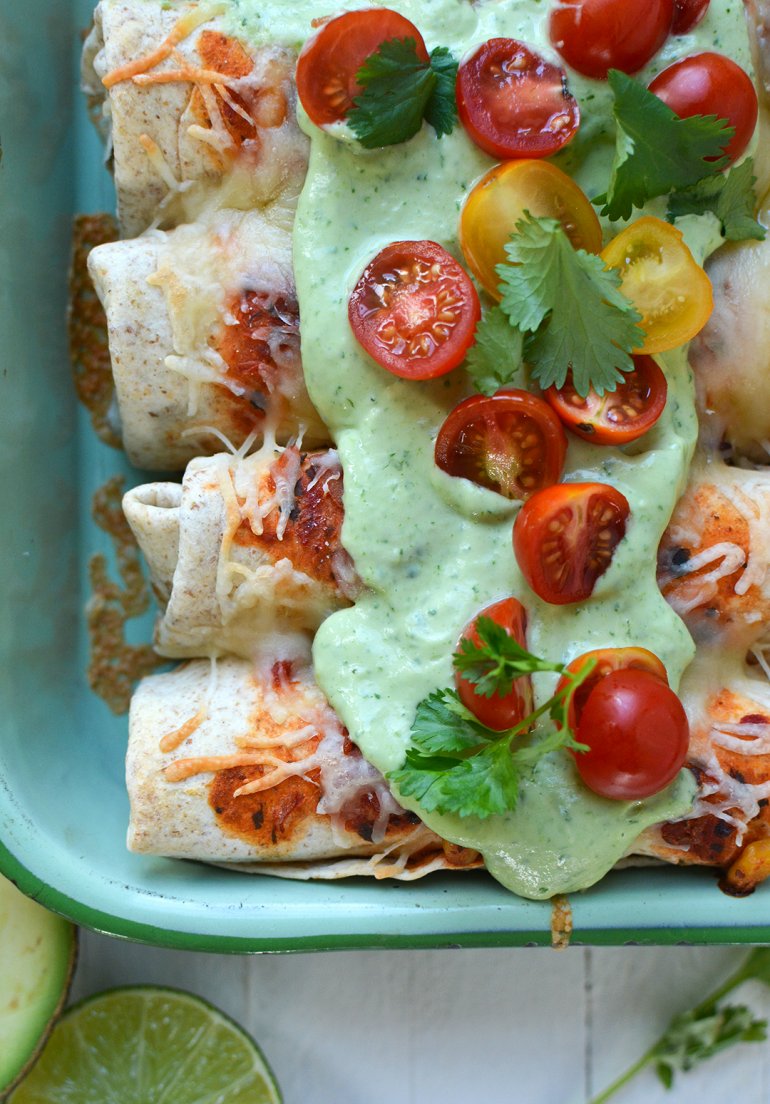 PS. Let's not forget to talk about this homemade avocado crema. It's tangy and creamy and sooooo nourishing -- and couldn't be easier! Just combine everything in a high speed blender and give it a whirl.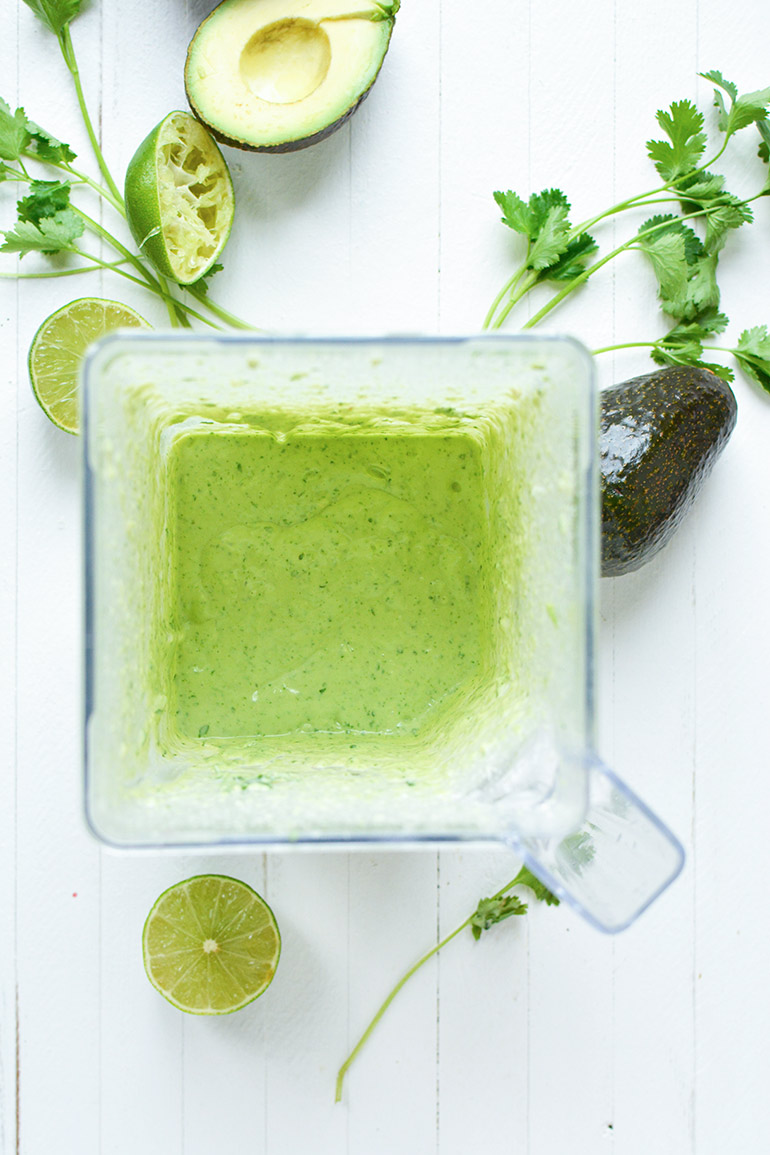 So who's ready to simplify this holiday season?
/////////////////////////////////////////////////////////////////////////////////////////////////////////////////////////////////////////////////////////// Disclaimer: this is a sponsored post written by me on behalf of Good Food Made Simple. The opinions, text, recipe, and beautiful photos are all mine. Thank you for supporting brands that support Nosh and Nourish!! I choose them based on what I already cook/create with and feel 100% confident in recommending to you.
Easy Breakfast Burrito Bake with Avocado Crema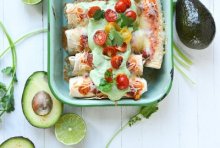 Description
Easy Good Food Made Simple Breakfast Burrito Bake with melted monterey jack and avocado crema
Ingredients
6 Good Food Made Simple frozen breakfast burritos*
3⁄4 cups shredded monterey jack cheese
1⁄2 cup avocado crema (recipe below!)
1⁄2 cup diced grape tomatoes
Notes
*I used the Chicken Apple Sausage breakfast burritos, but also love this recipe using their Sriracha ones too! YUMMMM
Instructions
Preheat oven to 375 degrees.
Unwrap 6 - 8 frozen burritos and place all of them together on a microwavable plate. Microwave on high for 2 1/2 minutes.
Then place the burritos in a greased 8 x 10 baking dish. Spread 1/2 cup salsa evenly over the tops of the burritos. Cover with foil.
Bake for 45 minutes.
Then remove foil and sprinkle with 3/4 cup monterey jack cheese and increase the heat to Broil. Broil for 3 minutes or until the cheese is bubbly and melted.
Serve immediately, with avocado crema, sliced grape tomatoes, and cilantro (optional).
Yields 6 Servings
Avocado Crema
Description
Avocado Crema --- perfect for topping breakfast burritos!
Ingredients
1 Avocado (pitted and peeled)
1⁄2 cup Plain greek yogurt (or Siggi's)
1 pinch Sea Salt (~1/8 tsp)
Instructions
Combine all ingredients in a high speed blender. 
Blend until smooth (~30 seconds). 
Serve cold and store leftover crema in the fridge in an air-tight container.
Yields 8 Servings