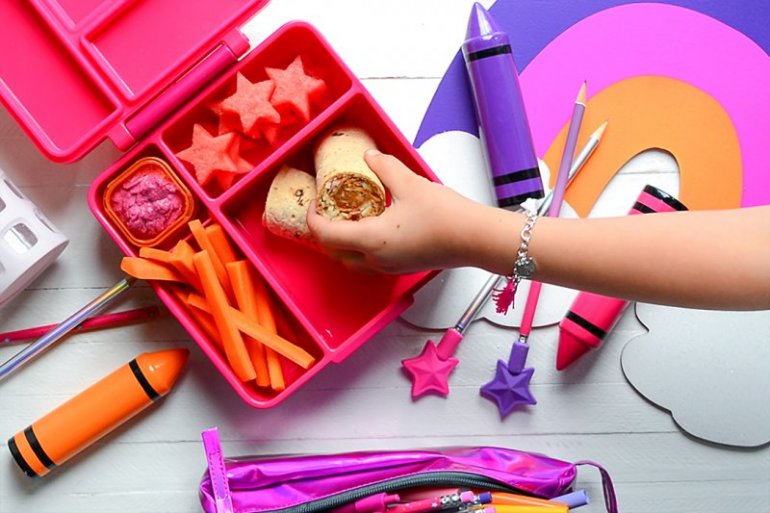 A twist on the classic pb&j, this chickpea peanut butter Flatout wrap with spiralized apple noodles is perfect for your kiddos' lunchbox, or even as an after school snack. 
Whenever I pack a lunch for Babycakes (which as confessed here can be as little as once a week --- or as much as 5x per week), I try to think about balance. 
Protein? Check. 
Fiber? Check. 
Healthy Fat? Check. 
Fruit? Check. 
Veggie? Check.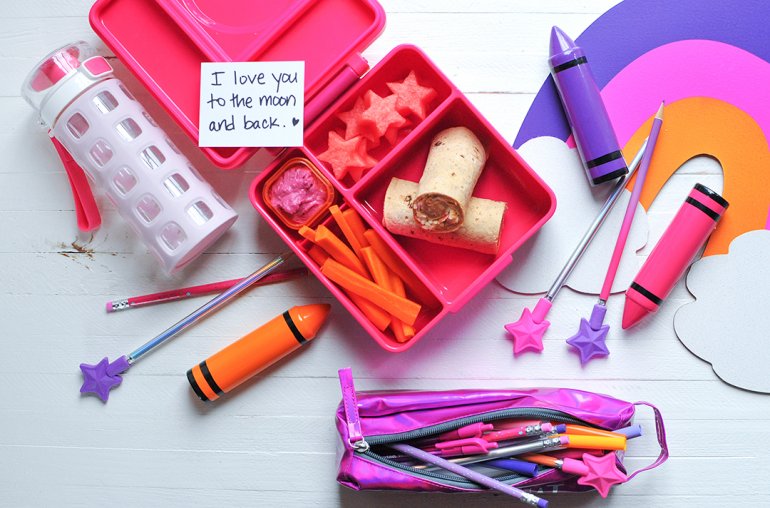 And this lunch has it all:
chickpea peanut butter and apple noodle wrap
watermelon stars
beet hummus
carrots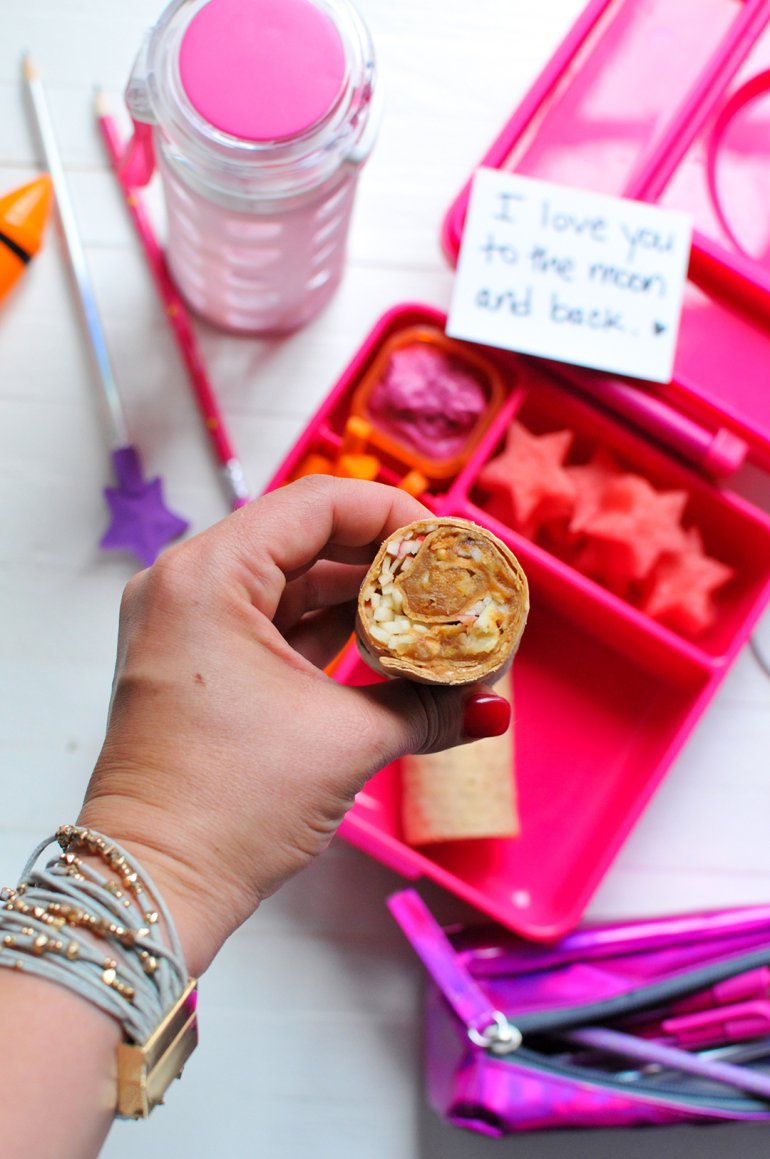 From peanut butter wraps to breakfast pizzas to grilled cheese stars to strawberry pesto pinwheels, to apple pie dessert cups, to chocolate dipped hearts, to hummus tapas, Flatout is soooooo versatile!
See more ways to share the #FlatoutLove in this fun video:
So all that's left to do is to: find your Flatout, get in the kitchen, and whip up something fabulous!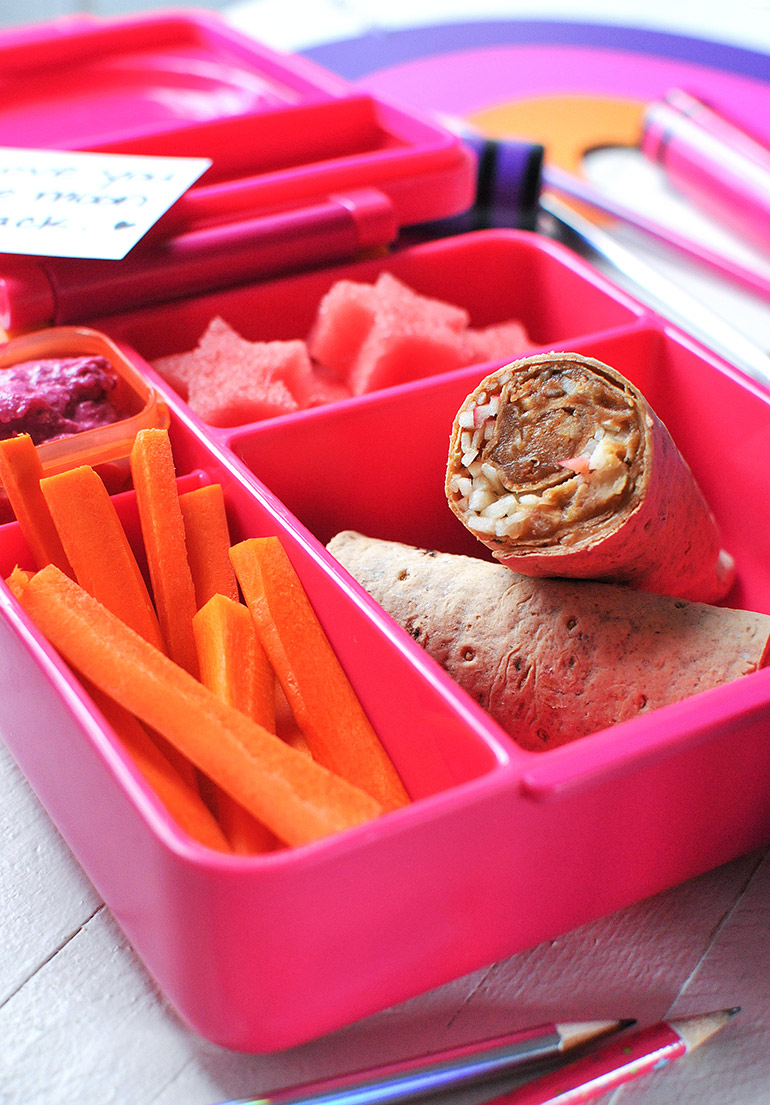 ///////////////////////////////////////////////////////////////////////////////////////////////////////////////////////////////////////////////////////////// Disclaimer: this is a sponsored post written by me on behalf of Flatout. The opinions, text, recipe, and beautiful photos are all mine. Thank you for supporting brands that support Nosh and Nourish!! I choose them based on what I already cook/create with and feel 100% confident in recommending to you.
Chickpea Peanut Butter & Apple Flatout Wrap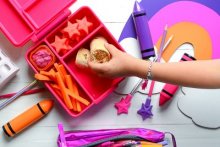 Description
lunchbox ideas | bento boxes | chickpea peanut butter
Ingredients
3⁄4 cups Chickpeas (rinsed and drained, ~ 1/2 a can)
1 tablespoon Dark Amber Maple Syrup
2 Flatout Light or ProteinUP Wraps
4 tablespoons beet hummus (for the lunchbox)
16 carrot sticks (for the lunchbox)
16 watermelon stars (or any shape you'd like, for the lunchbox)
Notes
*you might have extra chickpea peanut butter leftover. You can save it in an airtight container in the fridge for up to 2 weeks.
Instructions
In a medium mixing bowl, mash the chickpeas --- either with a fork or even a muddler works well!
Then, add in the peanut butter, maple syrup, and cinnamon. Stir until thoroughly combined. 
Lay your Flatout wrap flat, and spread 1/2 cup of the chickpea peanut butter on the wrap. Add a handful of apple noodles to one end. Then roll it up. (Repeat for the 2nd one)
Slice in half and add to the lunchbox. 
Then add in your beet hummus, carrots, and watermelon. 
Yields 2 Servings