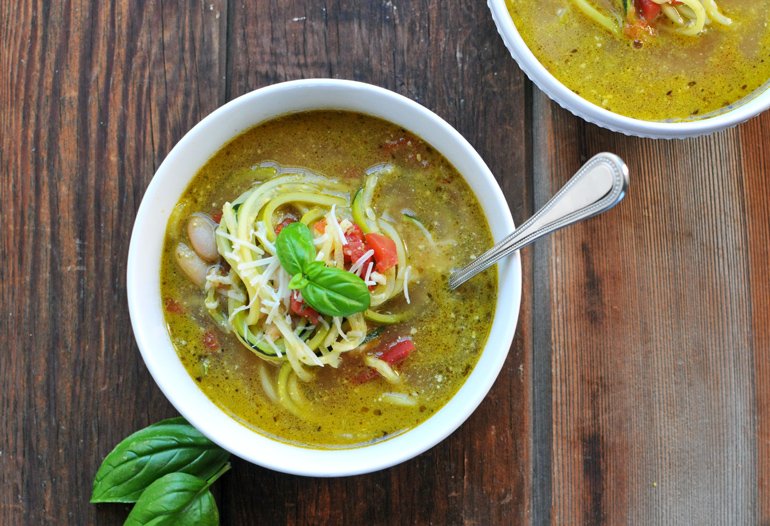 This Italian broth-based soup is hearty, packed full of flavor and protein, and naturally gluten-free.   
Unlike the recent Food52 article I read, I think zoodles make everrrrrrrrrrrrything better. Especially this chicken pesto soup. You know what I'm talking about, right? --> Zucchinis spiralized into thin noodles. I also like them with red pepper alfredo or in a mason jar salad. Ali from Inspiralized even put them in popsicles!! (I'm still super intrigued by that recipe. On my to-do list for next summer!). Anyways, back to soup...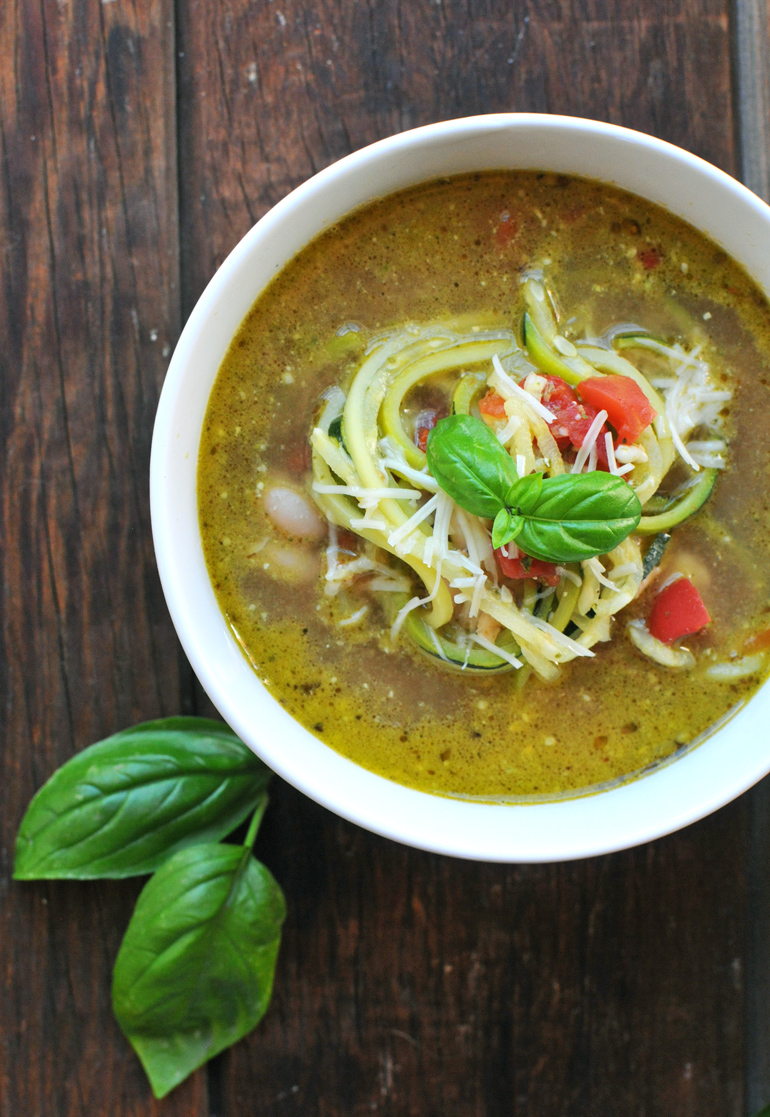 Gorgeous. Delicious. Comforting. What more could you want?!
Tomatoes, olive oil, garlic, spinach pesto, zucchini noodles, organic chicken, white cannellini beans, roasted red peppers --- seriously so much goodness packed into one bowl!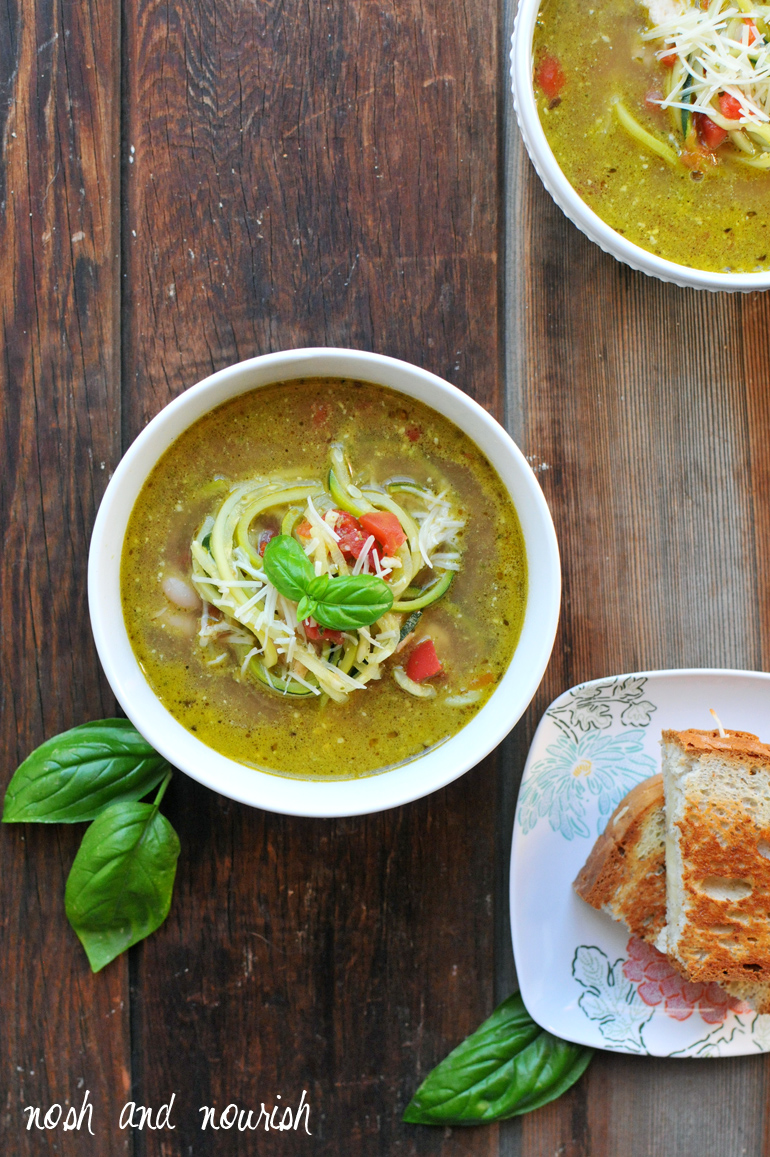 And I don't know about you, but I LOVE to dip a perfectly browned grilled cheese sandwich (filled with parmesan and provolone --> sophisticated & delish) into my soup. It brings me back to my childhood filled with many nights of tomato soup and grilled cheese sandiwches cut into triangles.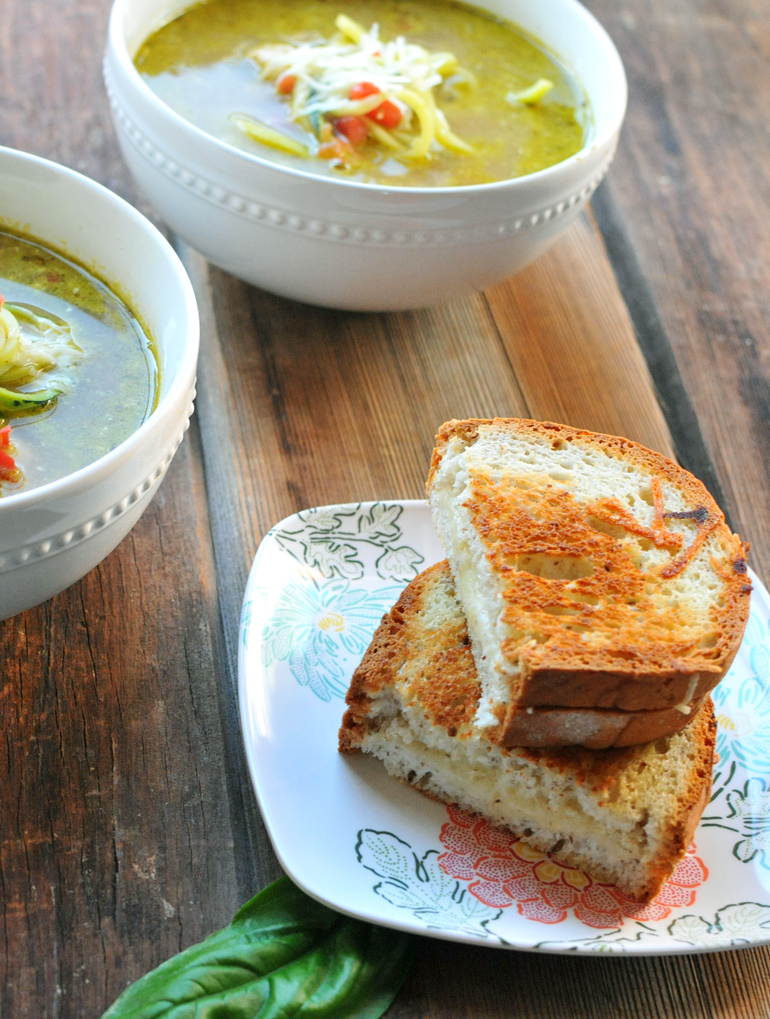 For the grilled cheese, I used Udi's gluten-free Soft & Hearty Whole Grain Bread. It grills up perfectly (as you can see above!). I also love their Ancient Grain Millet Chia Bread.
Learn more about living gluten free! Visit http://udisglutenfree.com/community 
This is a sponsored conversation written by me on behalf of Udi's Gluten Free. The opinions, recipe, beautiful food photography and text are all mine.
Chicken Pesto Zoodle Soup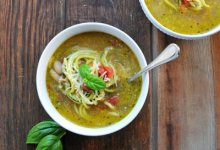 Description
Chicken Pesto Zoodle Soup -- a hearty Italian soup full of veggies and protein your family will love! // via Nosh and Nourish
Ingredients
1 pound Chicken Breasts (diced)
1 1⁄2 tablespoon Olive Oil
1⁄2 tablespoon Minced Garlic
1⁄2 tablespoon Montreal Chicken Seasoning
64 ounces Chicken broth (or stock)
15 ounces can of organic cannellini beans (rinsed and drained)
15 ounces Diced Tomatoes (I used Muir Glen tomatoes with garlic & onion)
1⁄3 cup diced roasted red peppers
1 Zucchini (spiralized into noodles -- approximately 2 cups)
1⁄4 teaspoon black pepper
Parmesan Cheese (optional - to adorn)
Instructions
In a large stockpot over medium high heat, heat up olive oil. Then add in the chicken, garlic, and Montreal chicken seasoning. Saute for approximately 8 minutes until chicken is cooked through, lightly browned, and no longer pink inside. 
Then, add in the remaining ingredients (except for parmesan cheese). 
Simmer on medium heat for 20 minutes. 
Adorn with parmesan cheese and fresh basil (optional). 
To make each parmesan provolone grilled cheese, you'll need 2 pieces of bread, a bit of butter, one slice of provolone, and a handful of shredded parmesan. Cook in a small pan over medium low heat for a few minutes on each side to get a nice golden brown and the cheese to melt. 
Yields 6 Bowls