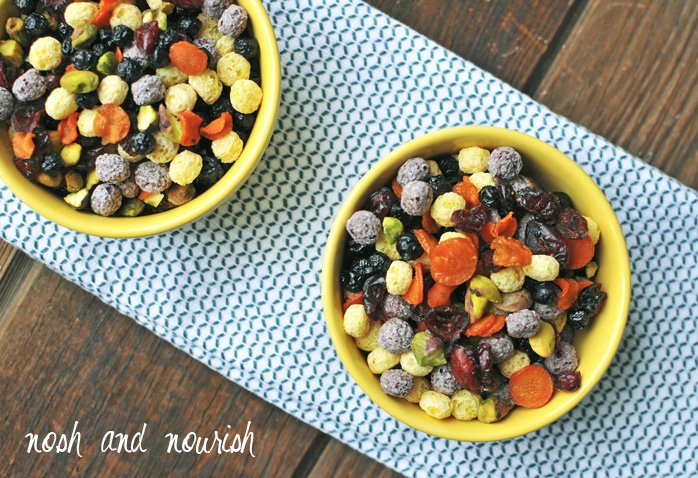 Babycakes adores trail mix. 
It's one of her favorite breakfasts. We usually alternate between scrambled eggs, green smoothies, and trail mix. I mean really, what's not to love? A little sweetness from the fruit, a little crunch from the nuts and cereal (and sometimes a hidden gem -- aka. a dark chocolate chip or two thrown into the mix)... it's a great balance of nutrition! And now there's a new addition we love:
Introducing Cascadian Farm Berry Vanilla Puffs:
What we love about this cereal:
it's organic
it's gluten-free
it's made from non-GMO yellow and purple corn
it's not too sweet
it's not artificially colored (yay for purple corn!!)
it has great crunch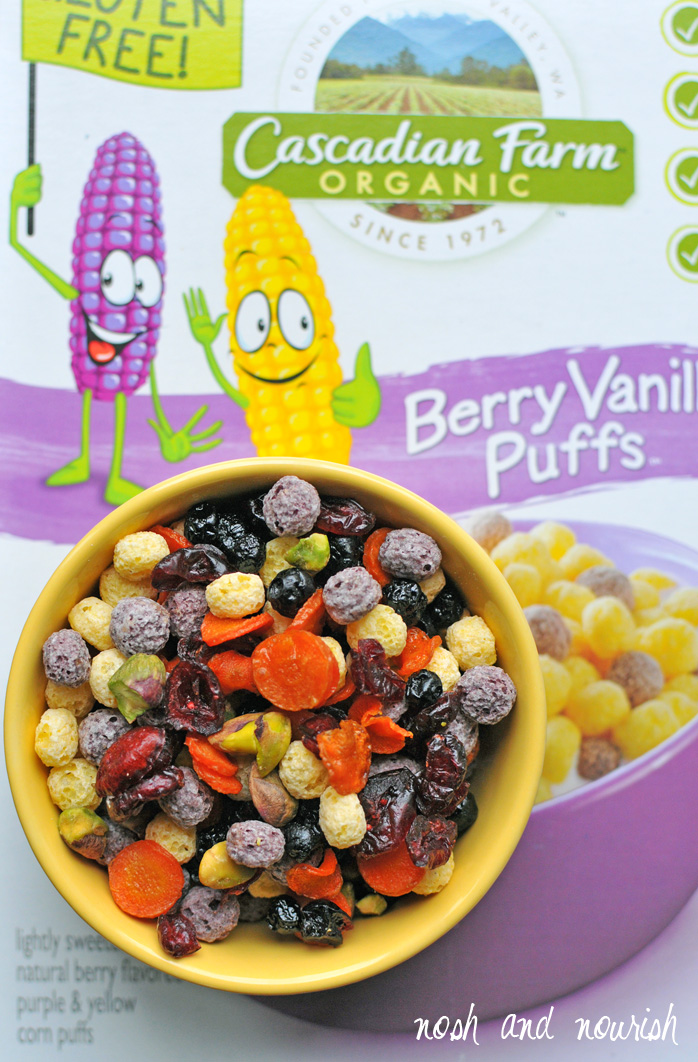 It is great on its own, topped with almondmilk, or combined into a colorful trail mix.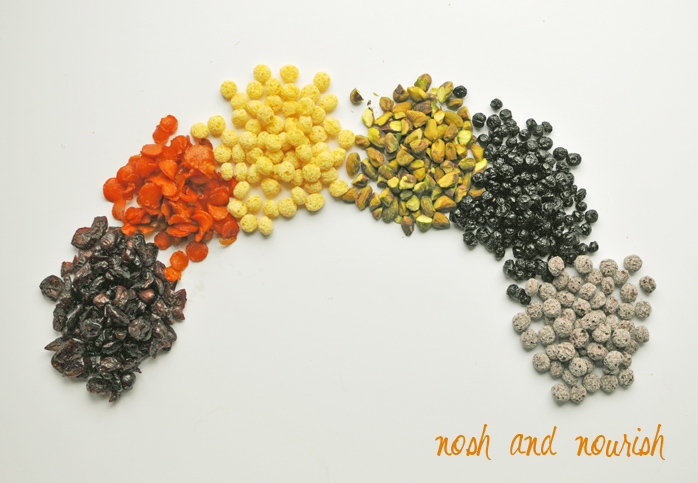 Bright, Fun, & Colorful Rainbow Trail Mix:
Red = dried organic cranberries
Orange = maple roasted carrots
Yellow = Cascadian Farm yellow puffs
Green = chopped pistachios
Blue = dried organic wild blueberries
Purple = Cascadian Farm purple puffs
We all loved this combination of flavors and I had to make a second batch almost immediately!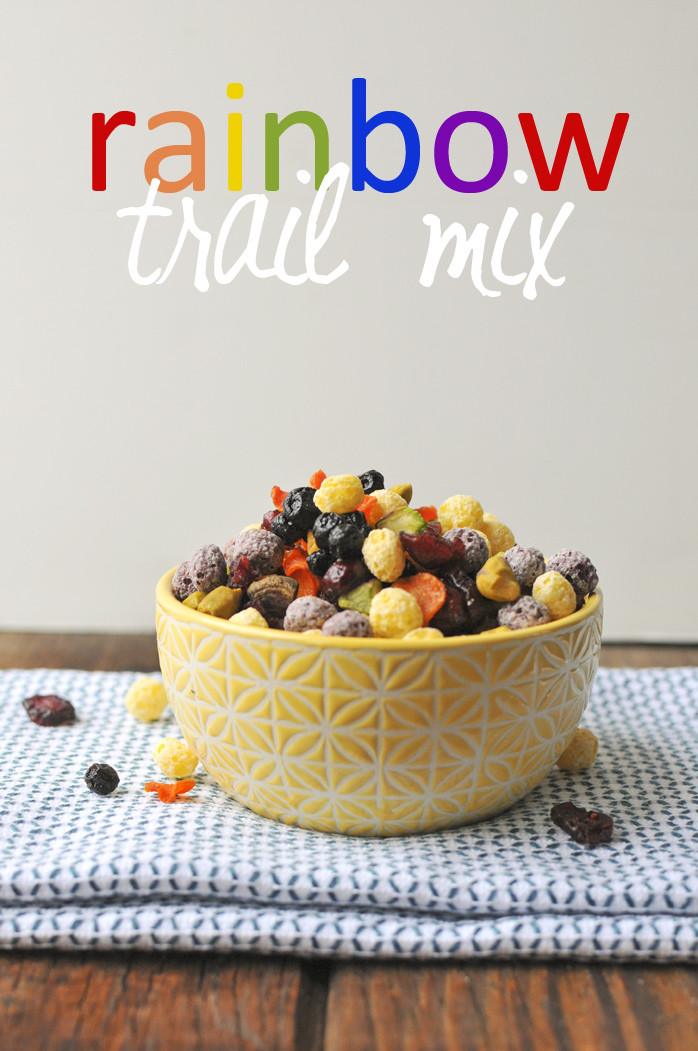 I was super excited to add some veggies to this trail mix by roasting/drying thinly sliced carrots.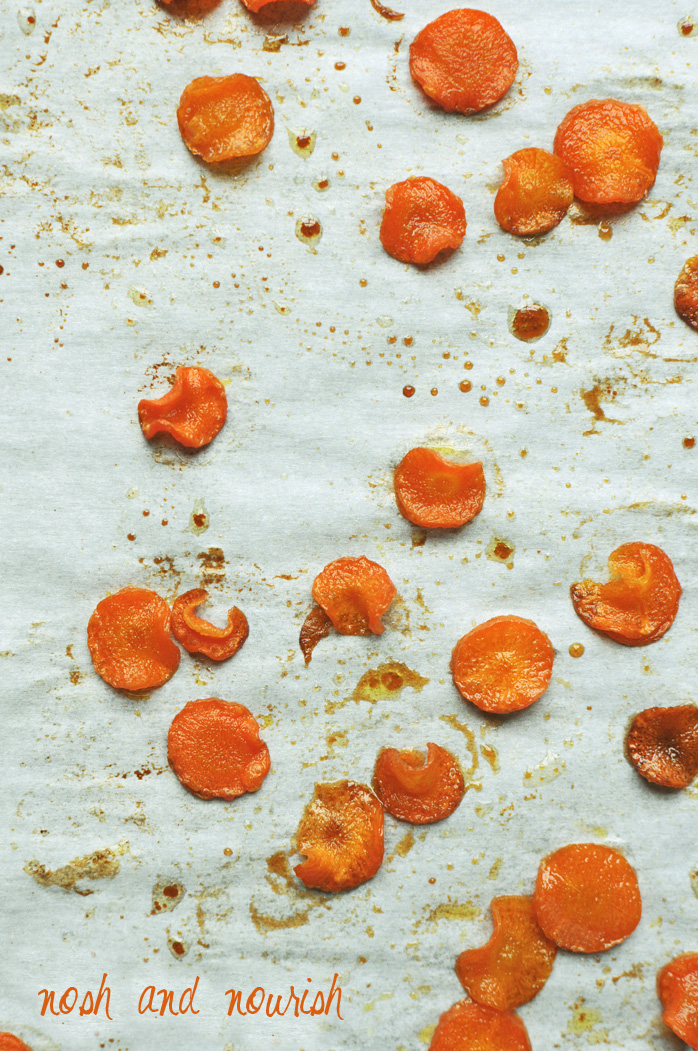 So all that's left is for you to make your own bowl -- to share or devour on your own! I won't tell. 
Question:
What's your favorite ingredient to put into trail mix?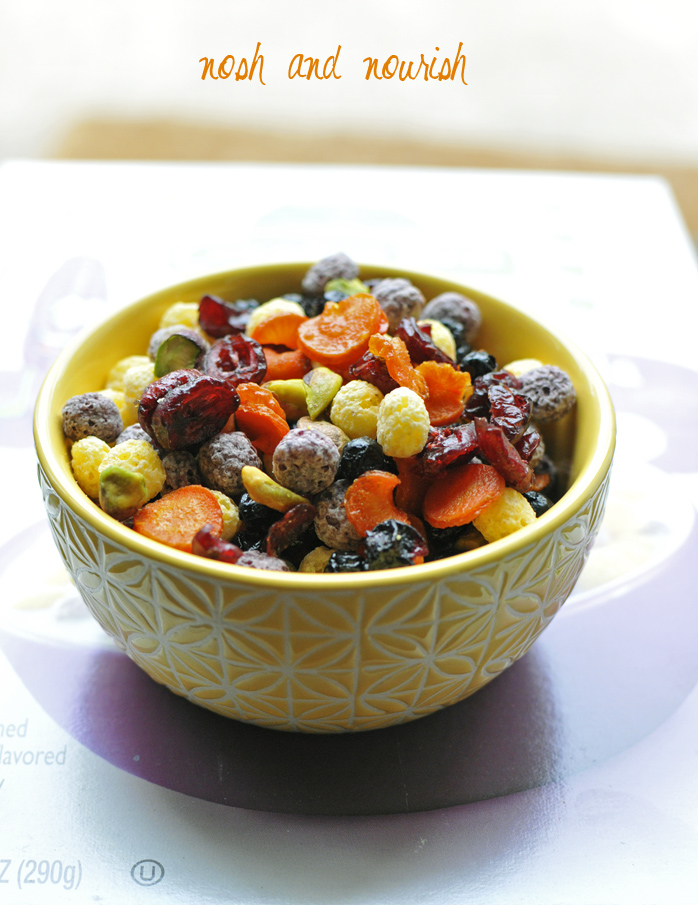 Disclaimer: this is a sponsored post written by me on behalf of Cascadian Farm. The opinions, text, unique recipe, and beautiful photos are all mine. Thank you for supporting brands that support Nosh and Nourish!! I choose them based on what I already cook/create with and feel 100% confident in recommending to you.
Rainbow Trail Mix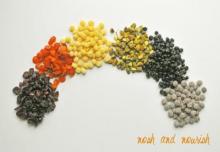 Description
Rainbow Trail Mix // via Nosh and Nourish
Ingredients
1⁄2 cup thinly sliced carrot rounds
1 tablespoon Melted Coconut Oil
1 tablespoon Dark Amber Maple Syrup
1⁄2 cup organic dried cranberries
1⁄2 cup coarsely chopped pistachios
1⁄2 cup organic dried blueberries
1 cup Cascadian Farm Berry Vanilla Puffs
Instructions
Preheat oven to 400 degrees. 
In a small bowl, stir melted coconut oil, maple syrup, and thinly sliced carrots so that they are evenly covered. 
On a parchment lined baking sheet, spread out carrots into a single layer, making sure they don't overlap. 
Bake for 12 - 14 minutes, being careful not to burn them!
Remove from heat and let cool. 
Then, combine all ingredients in a large mixing bowl. 
Serve immediately.
Yields 4 Servings