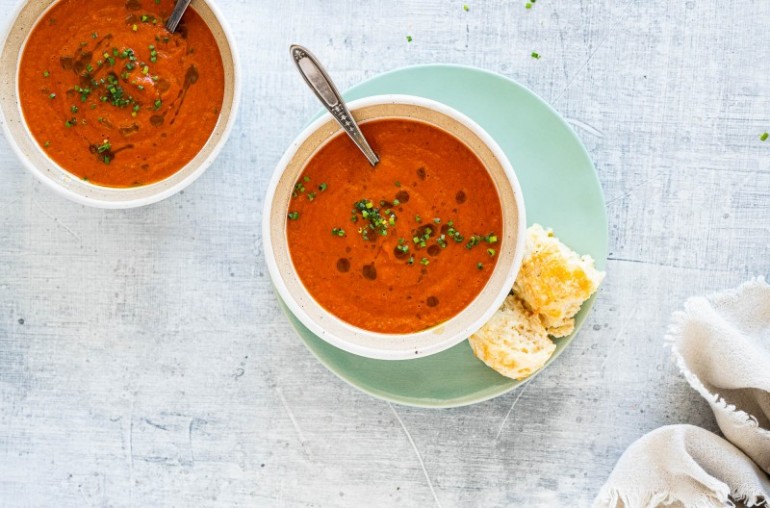 Creamy Tomato Soup with Easy Cheesy Drop Biscuits -- this classic vegetarian meal makes the most of just a handful of pantry ingredients and makes a perfect lunch to enjoy at home or packed up for work or school.
This post is sponsored by Horizon Organic. We love Horizon Organic's shelf-stable milks for lunches on the go, but they're also perfect to keep on hand for easy, family-friendly recipes, just like the ones mentioned in this post. Thanks for supporting the brands that help keep us cooking!
Well heeeeey, friends! Em here, back again from The Pig & Quill (@thepigandquill) to talk about something a litttttle bit different today. Something that, given the times, is the epitome of convenience and affordability -- and dang, is it satisfying, too. Ready? We're talking about building a capsule kitchen.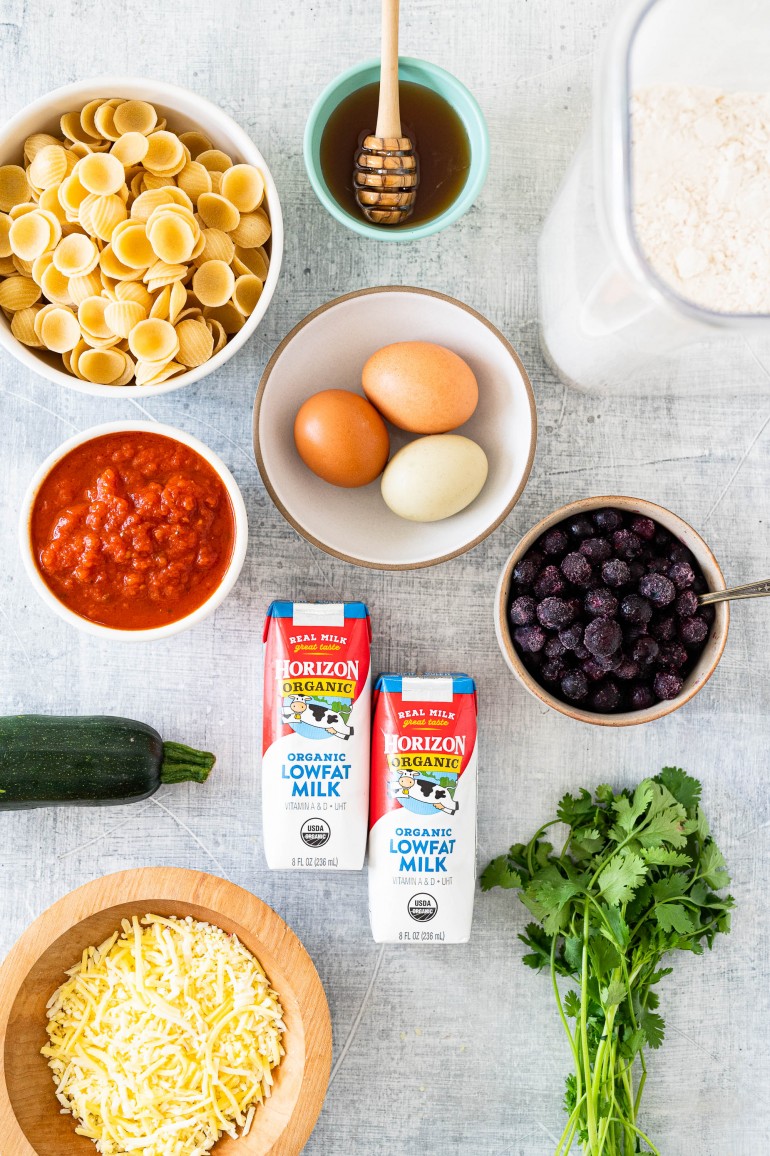 Did you get chills just now, too? Not yet? Ha, ok, well allow me to elaborate. Much like a capsule wardrobe is an intentionally pared down collection of apparel that can be mixed and matched to make the most of a minimal amount of clothes, a capsule kitchen is a strategic collection of ingredients -- often pantry or freezer staples -- with which you can create any number of recipes. This isn't a new concept -- you can easily find capsule kitchen (or capsule pantry, as it's sometimes called) shopping lists all over the web, but today we're talking about an exceptionally tailored down capsule of just 10 ingredients with which you could make more than 20 simple -- and surprisingly varied -- recipes. Like the Creamy Tomato Soup and Easy Cheesy Drop Biscuits I'm sharing below. Both recipes are ridiculously easy to make, super satisfying and quick. And, I might add, perfect for school lunches this year -- regardless of where they might be taking place.
But before we get into that, let's talk briefly about our 10-Ingredient Capsule Kitchen and the magic you can make with it.
Building a 10-Ingredient Capsule Kitchen
While many capsule kitchen lists are heavy on the pantry ingredients, this short list makes the most of 10 easy-to-source pantry, freezer and long-lasting fresh ingredients that, together, can be combined to create a surprising number of family-friendly meals and snacks. Horizon Organic's single serve milk is a great choice here. Each single-serve milk includes 8g protein, along with calcium and vitamin D. It's easy to keep on hand, and it's portioned just right for most recipe needs. And, of course, it's perfect for lunches. (My kid can't be the only one who prefers just about anything if it's packaged and portioned just for her, right?)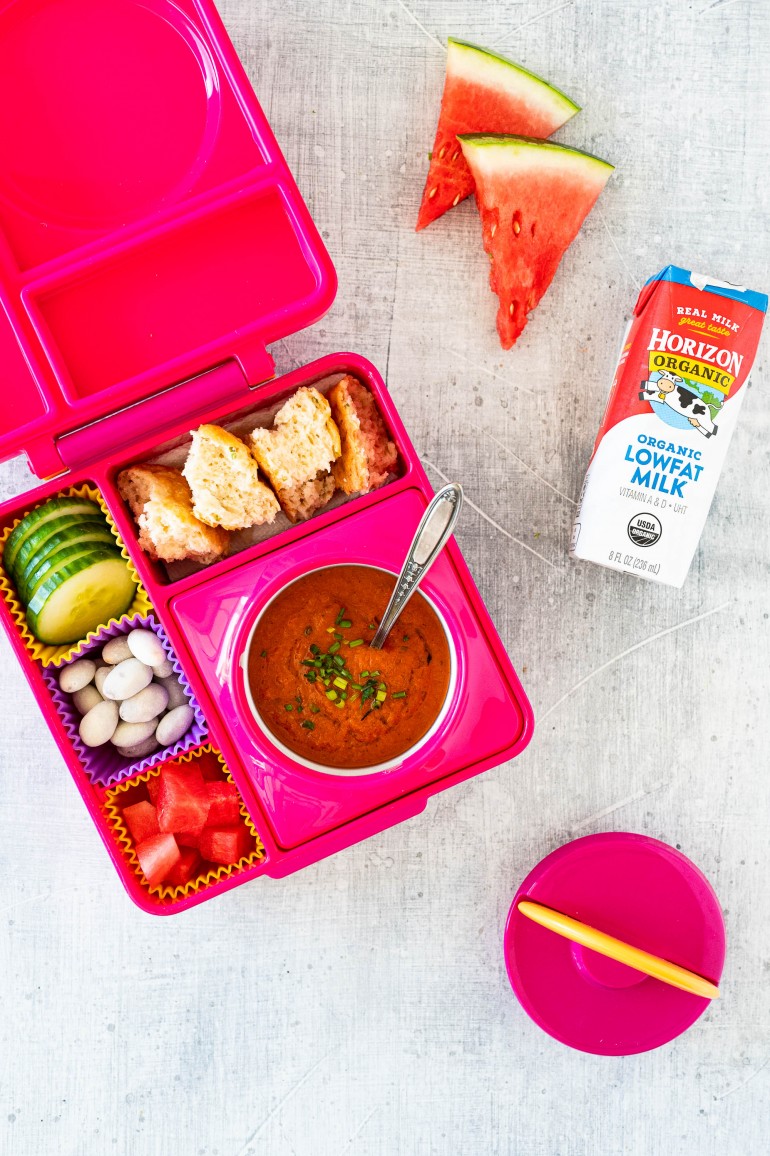 10-Ingredient Capsule Kitchen
(Note: the following 'freebies' are likely to be in your pantry already: baking powder, baking soda, salt, pepper and olive oil.)
Milk
Zucchini
Pasta
Frozen Blueberries
Eggs
Flour
Honey
Shredded Cheese
Marinara Sauce (whatever happens to be your favorite!
Fresh Herbs (parsley, chives or basil are all versatile and would complement this menu well)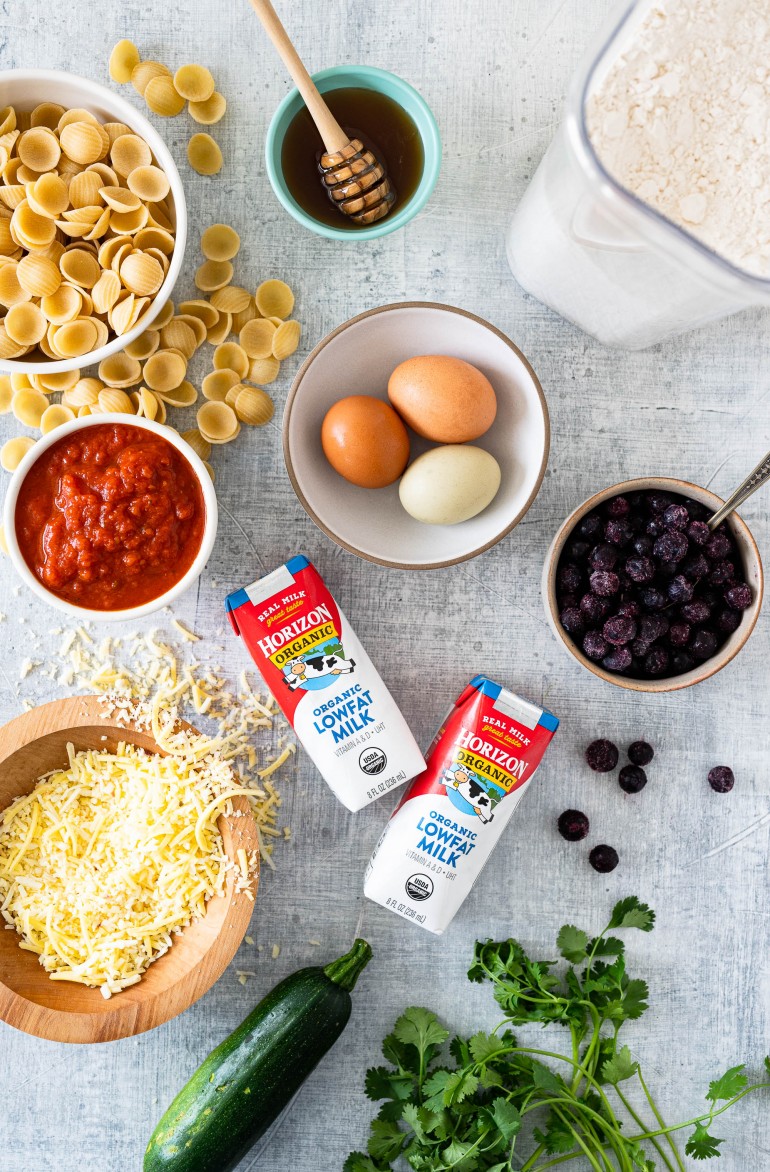 And with those 10 ingredients? Well, you can make any number of things, but below, I've listed out 20 of the ideas that first came to mind when I considered this particular ingredient list. In some instances, the recipes are provided; others are purely inspirational, but I've listed the capsule kitchen ingredients beside them to give you an idea of how they'd come together. (Curious about the specifics on any one of them? Feel free to DM me on Instagram and we'll talk through the possibilities.)
1. Creamy Tomato Soup (zucchini, marinara, milk) with Easy Cheesy Drop Biscuits (flour, milk, cheese, herbs) -- full recipe below
2. Blueberry Zucchini Breakfast Muffins (zucchini, flour, eggs, milk, blueberries -- recipe coming soon to Instagram; follow me there to stay in the loop)
3. Zucchini Fritters (zucchini, flour, eggs - find the full recipe here)
4. Creamy Zucchini Pasta (zucchini, pasta, cheese)
5. Homemade Mac n' Cheese (pasta, milk, flour, cheese)
6. Easy Blueberry Cobbler (blueberries, honey, flour, milk, eggs)
7. Zucchini Noodle Egg "Nests" (zucchini, cheese, marinara, eggs)
8. Zucchini Bread Waffles with Blueberry Syrup + Fried Eggs (zucchini, flour, honey, blueberries, eggs)
9. Leftover Pasta Frittata (pasta, eggs, cheese, herbs)
10. Blueberry-Zucchini Smoothies (frozen blueberries, frozen zucchini, honey, milk, ice)
11. Sweet Crepes (eggs, flour, milk) with Blueberries
12. Savory Crepes (eggs, flour, milk) with Cheese + Herbs
13. Pizza Waffles (flour, eggs, milk, marinara sauce, cheese, herbs)
14. Biscuit Breakfast Sandwiches (flour, milk, honey, eggs, cheese)
15. Minimalist Minestrone (zucchini, marinara, pasta, herbs)
16. Eggs Marinara or Italian Baked Eggs (marinara, eggs, herbs)
17. Cheesy Zucchini Dip with Homemade Crackers (milk, flour, cheese, zucchini)
18. Chilled Zucchini Soup with Herbed Flatbreads (zucchini, herbs, flour, milk)
19. Blueberry "Nice" Cream (frozen blueberries, honey)
20. Zucchini White Pizzas with Sunnyside Up Eggs (flour, milk, zucchini, cheese, herbs, eggs)
Phew - so many ideas here, but you get the gist, right? You could easily build a week's worth of meals -- or more! -- with these 10 simple ingredients, and with a decent amount of variation, too. Looking for more in the way of protein? If you're an eater of meat, imagine how much more you could with the addition of bacon, or chicken thighs. Vegetarian? Adding canned beans or lentils would at least double the possibilities. And I'm not saying you have to be married to just these 10 items, friends -- but even if you're supporting your existing pantry and fresh staples with these 10 items, you know you'll always have at least 20 options for meals and snacks at the ready. And that makes things loads easier on those weeks when meal planning has completely escaped me and I'm flying by the seat of my pants come 4pm (which is, uhhhh, just about every day…)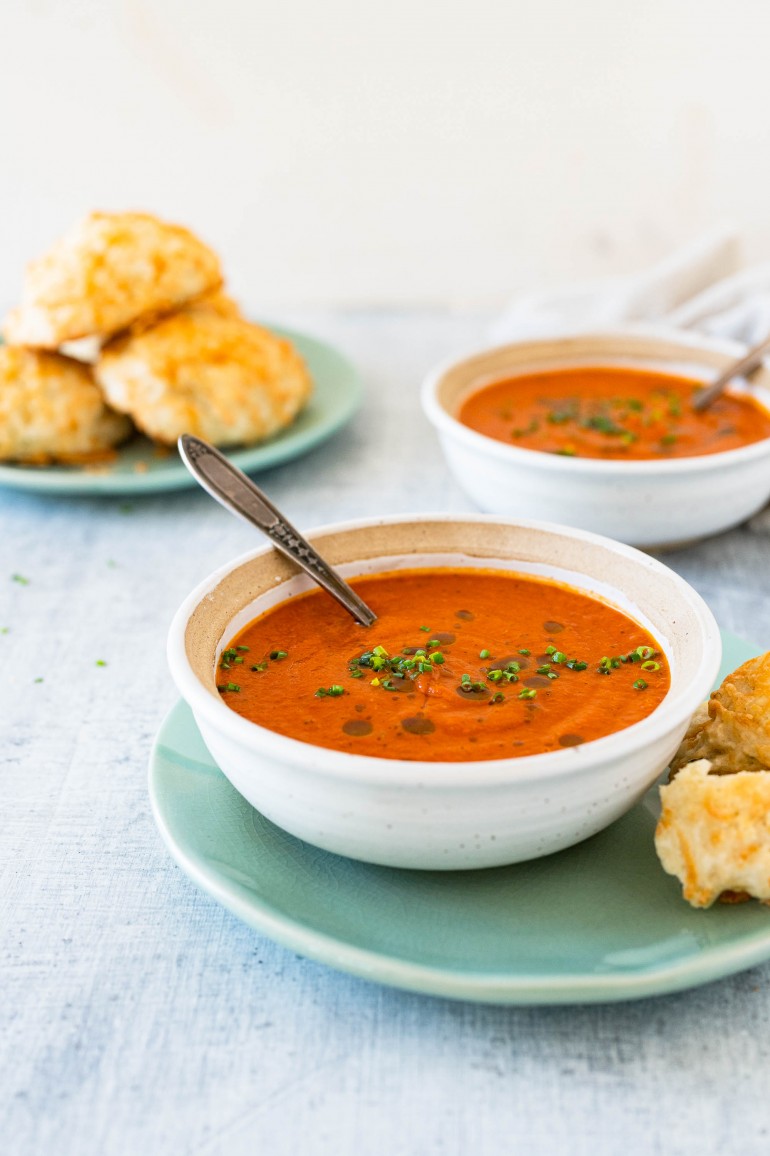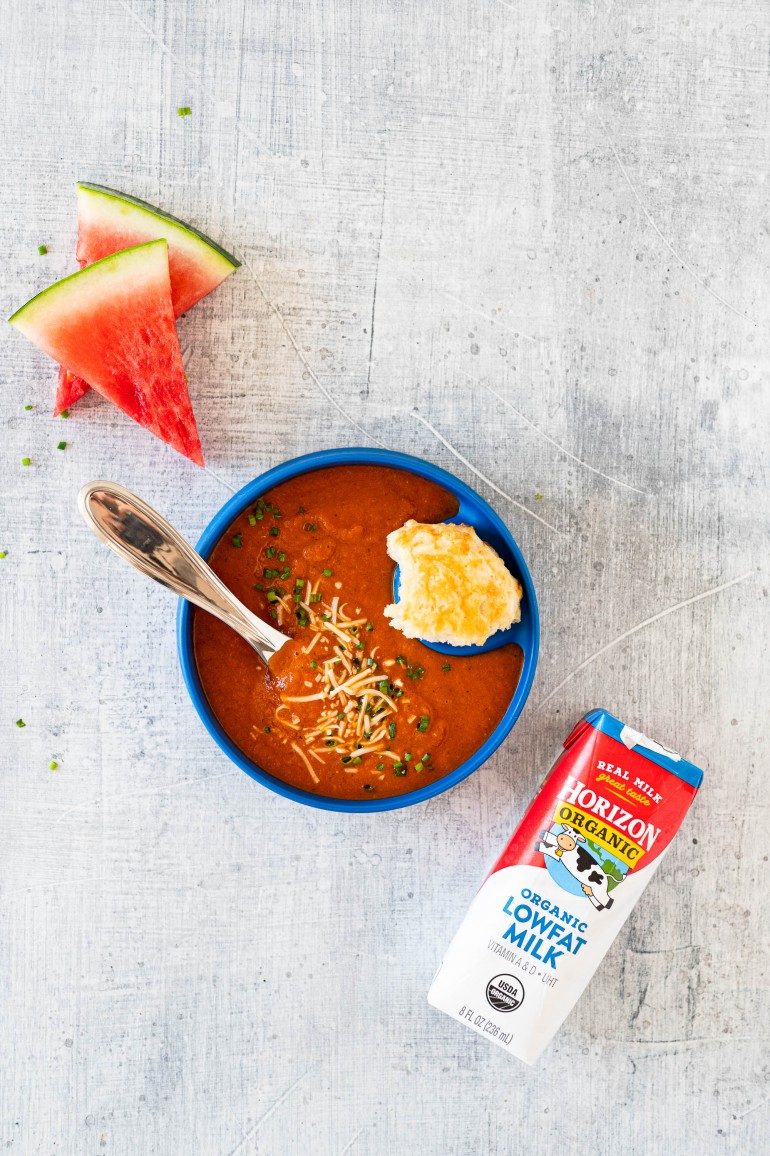 Any recipe ideas I may have missed here? What would YOUR ideal 10-ingredient capsule look like? I'd love to hear!
Hang in there, pals.
xo,
Em
Want more recipes with Horizon Organic milk? Try Kelly's creamy potato soup!
Creamy Tomato Soup and Easy Cheesy Drop Biscuits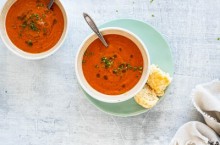 Description
Creamy Tomato Soup with Easy Cheesy Drop Biscuits -- this classic vegetarian meal makes the most of just a handful of pantry ingredients and makes a perfect lunch to enjoy at home or packed up for work or school.
Ingredients
1⁄2 tablespoon Baking Powder
1 cup cheese (plus more for topping)
2 tablespoons chopped herbs of choice (heaping)
2 medium to large zucchinis (diced)
28 ounces Marinara Sauce (of choice)
Instructions
FOR THE BISCUITS:  Preheat oven to 400F. Line a rimmed baking sheet with parchment paper.
In a large bowl, stir together flour, baking powder and salt. Add milk and stir until batter comes together into a craggy dough, then fold in cheese and herbs. Drop by heaping spoonfuls onto prepared baking sheet to make 6 biscuits. Generously sprinkle the tops of each biscuit with more cheese. Bake 20-25 mins or until puffed and cheese is golden-brown, rotating tray halfway through.
FOR THE SOUP: Heat a soup pot or large Dutch oven over medium-high heat. Add olive oil, then add diced zucchini, salt and pepper to taste. Saute, stirring occasionally, until zucchini is browned in places. Add marinara sauce and water and bring to a bubble; reduce heat, cover and simmer until zucchini are very tender, 5-10 mins. Using an immersion blender (or transferring in batches to a blender), blend soup until mostly smooth. Taste and adjust salt and pepper, as needed. Serve soup garnished with a drizzle of oil and chopped herbs of choice. Enjoy!
Yields 4 Servings