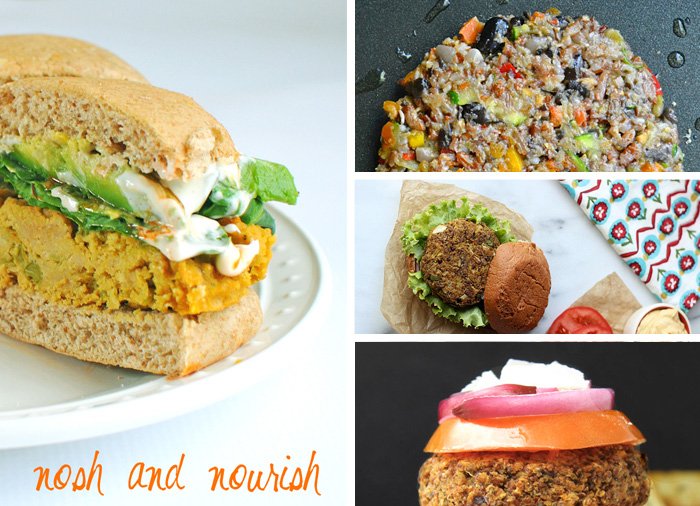 Ironically I posted my summer goal on Facebook the other day. Why so ironic? Because my summer goal is to exercise more and use social media less! Those of you who love my posts don't have to worry though, I'm still going to post about the same amount. BUT... I'm going to spend less minutes (hours) checking on who liked a picture or who commented in the last 90 seconds, etc... Truth be told, I'm kind of an addict. And if I add up all the time I waste glued to my phone and put like an eighth of that into intense exercise, I'd be so much healthier! Since I have a lot more time in the summer, it's a great time to start a new habit / lifestyle. So, I've joined a gym where I'll take actual classes and work with a trainer. All I do is show up ready to sweat and work hard, and they tell me what to do, lol!!
Introducing Buffalo Ranch Veggie Burgers:
This was my lunch after today's gym session, and let me tell you -- it totally hit the spot! 
They have:
sooooo much protein, it's crazy! (15 grams per burger to be exact)

great intense flavor

structural integrity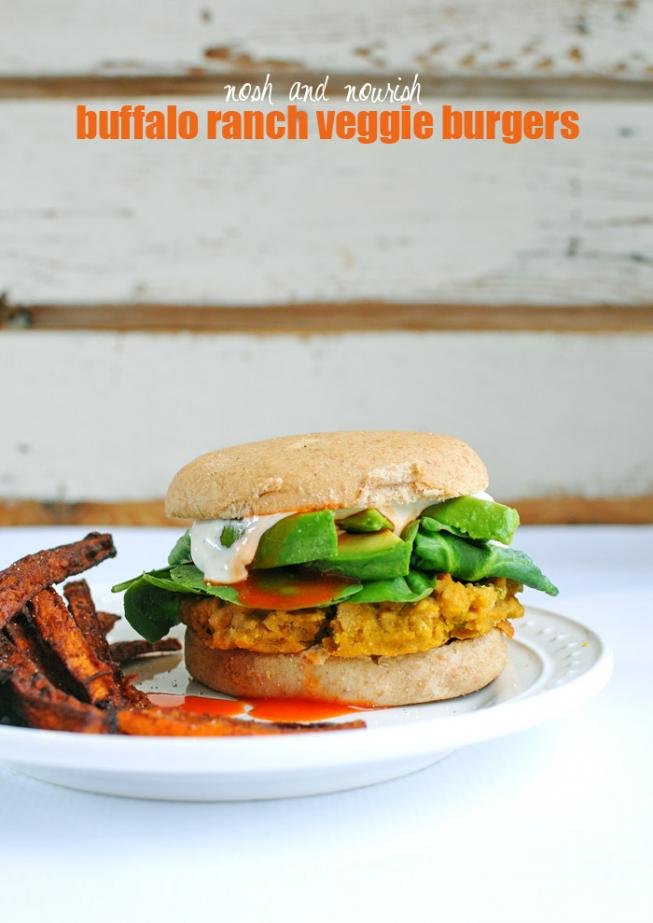 Top with avocado slices for some healthy fat and serve with homemade sweet potato fries, and you are talking one heck of a meal! Even my meat-loving hubby enjoyed these burgers!! #score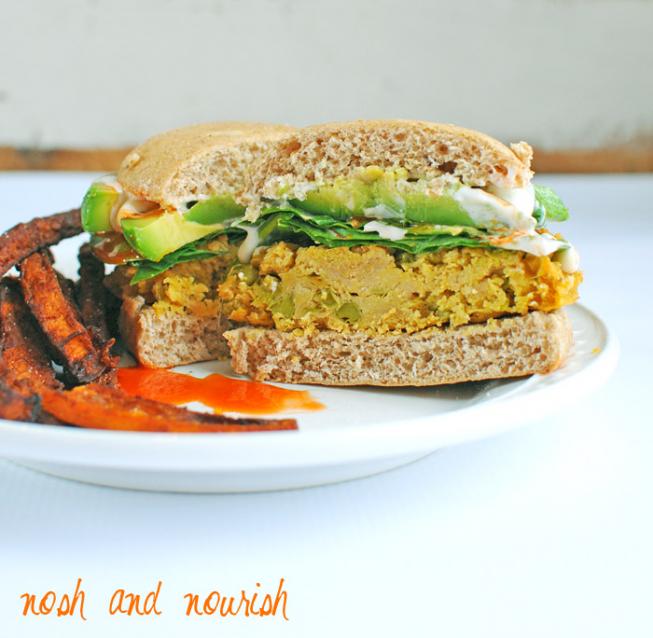 And if one awesome veggie burger recipe wasn't enough, I scoured the innerwebs to find the best of the best from other bloggers too!
8 Other Favorite Veggie Burger Recipes:
1) The Ultimate Veggie Burger // via The View from Great Island
2) Cauliflower Lentil Burger w/Spicy Turmeric Aioli // via Tasty Yummies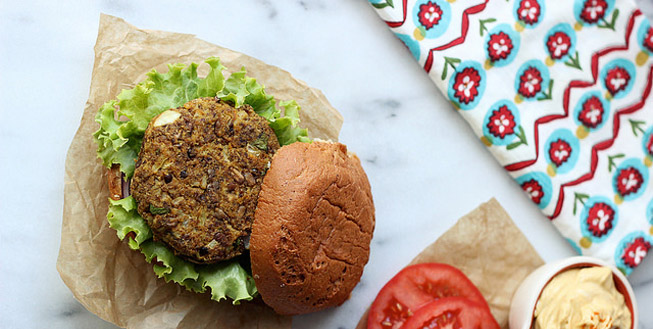 3) Thai Veggie Burgers // via Oh My Veggies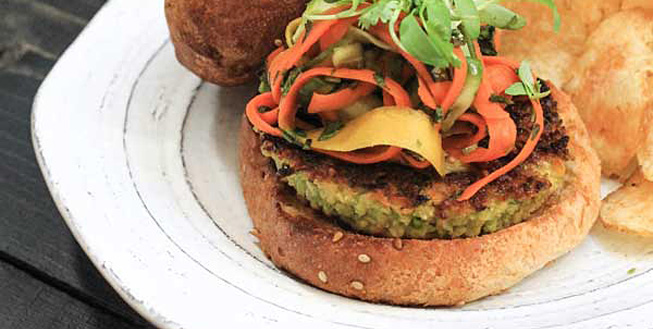 4) Greek Quinoa Burgers // via The Healthy Maven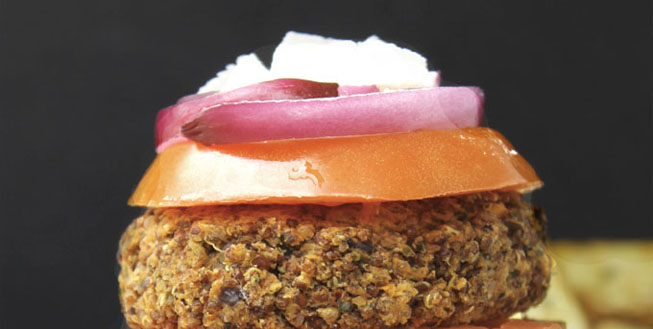 5) Black Bean Quinoa Burgers // via Nosh and Nourish (me!)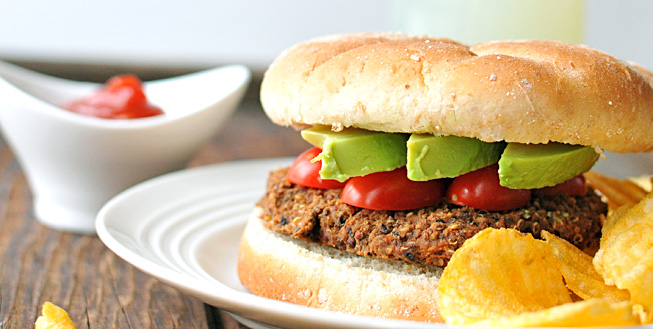 6) Quinoa Basil Bean Burgers w/Basil Aioli // via Spabettie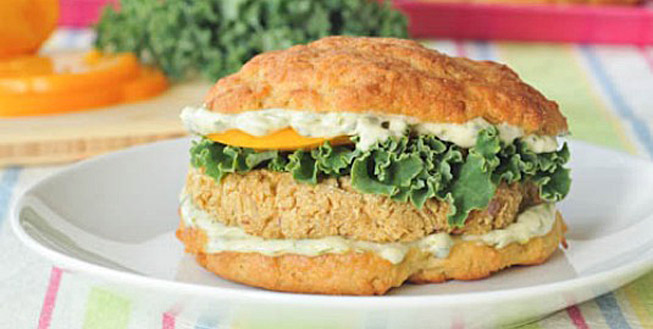 7) 7 Ingredient Veggie Sliders // via Minimalist Baker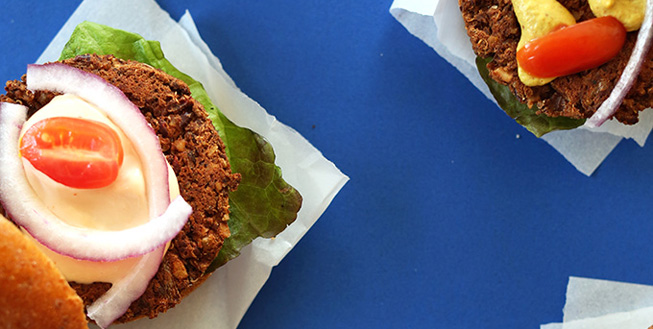 8) Sweet Potato Veggie Burgers // via Food Faith Fitness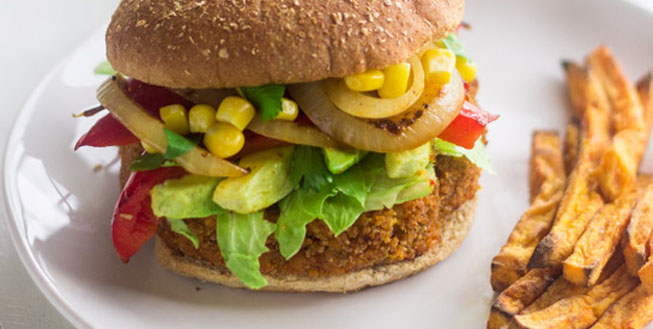 Question:
Do you have any summer goals? What are they?
Buffalo Ranch Veggie Burgers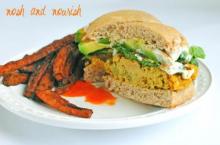 Description
Buffalo Ranch Veggie Burgers + 8 Other Favorites // via Nosh and Nourish
Ingredients
15 ounces canned chickpeas (rinsed and drained)
1⁄2 cup garbanzo bean flour (or sub all purpose flour)
1 cup chickpea chips (crushed, or sub breadcrumbs)
1 tablespoon buffalo sauce
2 tablespoons Ranch Dressing
2 teaspoons Montreal Chicken Seasoning
2 teaspoons Yellow Mustard
6 hamburger buns (to serve with the burgers)
3 Avocados (to serve on top of the burgers)
2 cups Mixed Greens (to serve on top of the burgers)
Instructions
Mash chickpeas in a medium mixing bowl with a fork, or use an immersion stick blender. 
Add in all other burger ingredients (everything except buns, greens, and avocado), stirring thoroughly. 
Preheat oven to 375 degrees. 
Form mixture into patties and place them in a single layer on a greased cookie sheet. 
Bake for 40 minutes, flipping halfway through. 
Serve with additional ranch, buffalo sauce, greens, and avocado slices (optional). 
Yields 6 Burgers