Hey guys! It's Leigh Ann from My Diary of Us here and I am so excited to be sharing one of my favorite breakfast taco recipes with you all!
Kelly and I share the same love for tacos and so it just seemed natural to kick off my first contributor post with an epic breakfast taco combination. I love creating tacos of all flavor varieties right in my own kitchen for a street taco feel at home! My Banh Mi Breakfast Tacos are packed with all of the classic banh mi flavors folded deliciously between a tortilla and topped off with the perfect fried egg! Are you sold yet?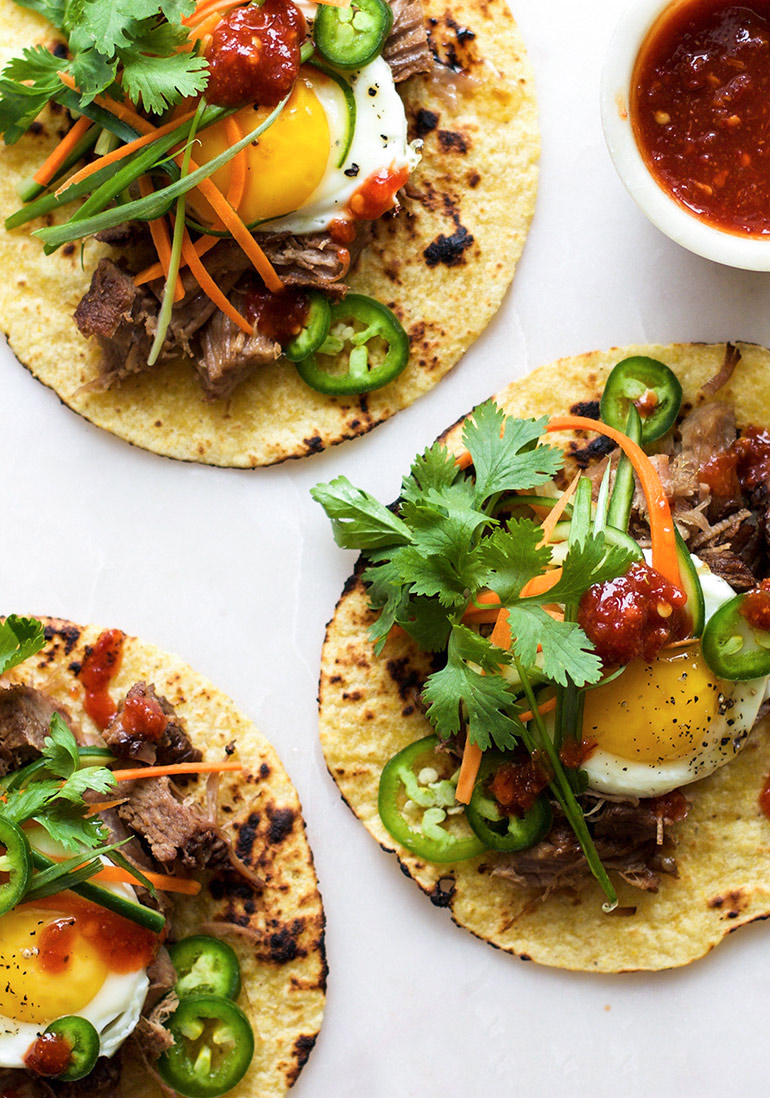 Because let me tell you my hubby talked about these tacos for days after the first time I made them and couldn't get over how delicious they were! This is coming from a man who eats breakfast tacos a few times a week on the regular! After all, breakfast tacos are a staple here in Texas! (Kelly was born in Texas, so her love for tacos totally makes sense!) I love switching up my breakfast taco recipes to keep things interesting! I have an almost three year old who also shares a love for tacos so I am always thinking about recipes that the whole family can enjoy. For kids, simply omit the jalapeños and chili sauce to make it less spicy!
What I love about these banh mi tacos is that you can put the meat in your slow cooker overnight and breakfast will be ready in no time in the am. The tender meat paired with the a little crunch from the quick pickled veggies, a fried egg, and a little heat from fresh chilis makes these tacos a dynamite combination that you are going to swoon over! These tacos are perfect for brunch on the weekend with friends and family and they make quite a stunning presentation too!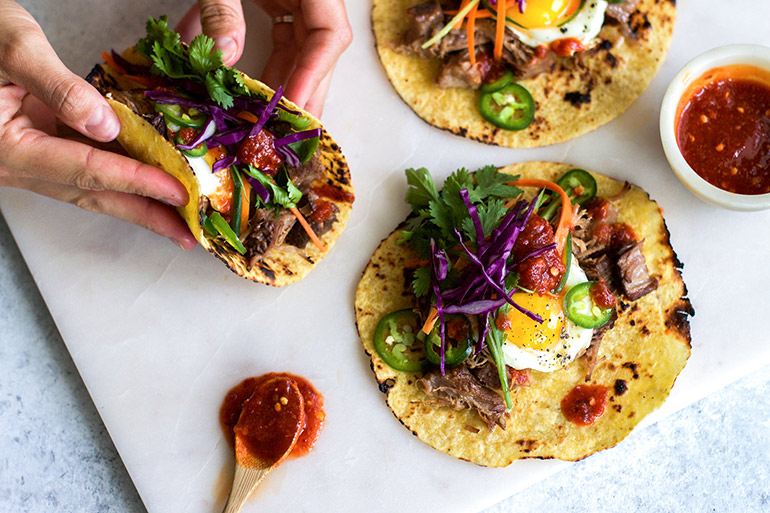 The next time you get a craving for breakfast tacos, try out these banh mi breakfast tacos and be prepared to fall in love! You are going to be blown away at the flavor explosion wrapped up in a tortilla! Don't forget to tag @mydiaryofus and @noshandnourish if you make this recipe, we can't wait to see your creations!
-Leigh Ann
Banh Mi Breakfast Tacos
Ingredients
2 pounds brisket (for more traditional banh mi, substitute pork tenderloin)
1 1" piece of fresh ginger (grated)
2 tablespoons Brown Sugar
1 cup thinly sliced carrots
1 cup thinly sliced cucumber
1⁄4 cup White Vinegar (or sub rice vinegar)
1 teaspoon raw cane sugar
corn tortillas (6-8. depending on how full you stuff them)
raw, thinly sliced jalapeno
thinly sliced green onions
Notes
Note: For kids, simply omit the jalapeños and chili sauce to make it less spicy!
Instructions
In bowl combine soy sauce, water, garlic cloves, ginger, brown sugar, and fish sauce and stir to combine.
Put brisket or pork tenderloin and soy sauce mixture in a slow cooker and cook on high for 6 hours or low for 10 hours (would be a good option for overnight). You could also do this in an Instant Pot (cooking times and directions would vary).
Once the meat is done, combine vinegar, granulated sugar, and salt in a bowl and then add carrots and cucumbers and toss to coat.
Let the veggies sit in the vinegar mixture for 15 minutes before serving.
Fry eggs over easy, 1 per taco.
Shred meat.
Char tortillas by placing them over an open gas flame on the stove or placing in a skillet and toasting on each side until just charred, careful not to burn them.
To assemble tacos, layer meat, pickled veggies, jalapeño, cilantro, green onions and chili sauce and then top off with a fried egg.
Serve immediately.
Yields 6 Servings