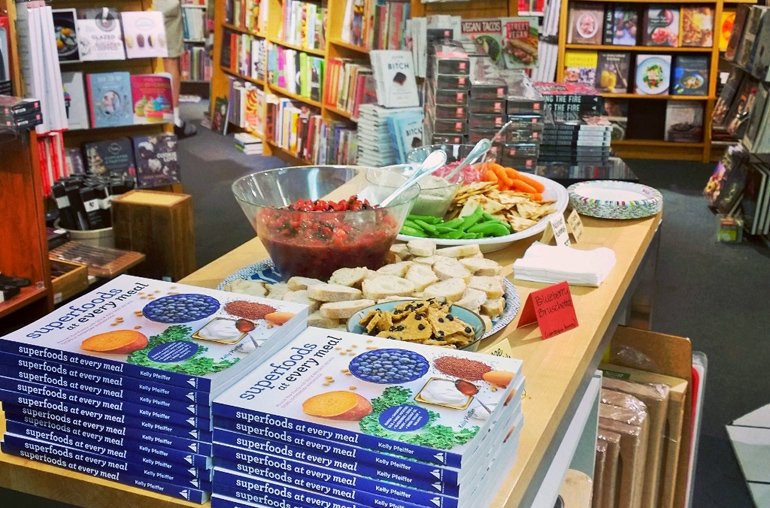 Most of you know that my cookbook, Superfoods at Every Meal, came out this year. It's been a whirlwind of fun -- hearing from all of you about how much you LOVE the recipes, seeing written reviews in magazines, and hosting book signing events all over Colorado. This is the first "holiday season" the book will be available, so I'm excited to offer you something really special. 
Autographed Book Plates!
They're basically big stickers that I personally sign for you (or someone you're gifting the book to) that you attach to the inside front cover. It's the next best thing to seeing you in person, and makes my personal touch available to everyone -- all over the US and even in Canada and Australia.
About the Book:
Most people can list a few superfoods they know they should be eating, but not everyone knows how to use and incorporate these foods into their daily diet. My book makes it simple. Just ten nourishing superfoods you already know and love -- quinoa, kale, chickpeas, sweet potatoes, blueberries, eggs, honey, coconut oil, Greek yogurt, and walnuts -- featured in delicious, everyday meals. With each recipe featuring at least two (and oftentimes four or five) of these ten superfoods, you'll find it simple to serve your family healthy wholesome meals at breakfast, lunch, and dinner.
Some of my Favorite Recipes:
Blueberry Bruschetta
Honey Sesame Fish Tacos, Chopped Purple Power Salad, and Superfood Chocolate Chip Cookies
Sweet Potato, Carrot, & Apple Soup
Smashed Berry and Balsamic Kale Grilled Cheese
Orange Butterscotch Bark with Dried Blueberries and Walnuts
Things you will find in Superfoods at Every Meal:
10 Superfoods: The 10 everyday superfoods in this book were chosen not only because of their well-known health benefits but also because of their extreme versatility, year-round accessibility, relative affordability, and overall appeal for most people. All are easily pronounced, and you've probably tried most of them before, though you may not have used them in such creative ways! You get a nutritional boost in an absolutely delicious way that your entire family will love!
100 Quick & Easy Recipes: 100 recipes separated out into chapters by meal, each with super clear instructions for even the most beginner cook. 
Tips & Tricks: There are little call-outs throughout the book to help make meal prep easier, to give you ideas for substitutions, and to suggest recipe pairings so you waste less ingredients!
75+ Photos: Big beautiful pictures so that you can see what the recipes should look like. I'm so excited that I was able to do all of my own photography for the book!!
Acknowledgements: This was a really special part of the book for me to write -- and I'm so blessed to have so many people to thank -- family, friends, coworkers, and YOU, my Nosh and Nourish readers. And I'm so thankful that I want to just thank you right here, right now

.  Please accept my utmost thanks for the all of the support, enthusiasm, and excitement you've given me over the past two years. Each comment, vote, and email was so valuable to me. You are why I am here today. And thank you for all your patience waiting for this book to be published. I can't wait for it to be in your hands and in your kitchens! 
Where to Buy:
The book is shipping from the following online retailers:
Avid Bookshop // Athens, GA - My dream was to write an actual printed cookbook, my high school bestie's was to open her own independent bookshop... which she did in 2011. I'd love for you to support her AND me by buying my book from Avid!
MightyNest (15% of your purchase goes back to your school of choice)
Autographed Book Plate Giveaway:
The first 200 people to email me his/her proof of purchase (order date must be between 11/9 - 12/31/2015) will receive a personally inscribed book plate to place inside the cookbook. It is basically a label I will sign for you. 
Follow these steps to enter:
1) Order my cookbook from one of the online retailers listed above. They all have different prices. 
2) Email me: kelly (at) noshandnourish.com: 
(1) Superfoods proof of purchase (dated between 11/9/15 and 12/31/15)
(2) the address to which you'd like the book plate sent (please allow 5 days for USPS mailing)
(3) the name that you'd like me to include on the book plate --- ie. if you're buying it for your friend Sally, then make sure to notate that in your email!
3) If those three items are not included in your email, you will not receive the book plate. 
So what are you waiting for?! Go ahead and get your holiday shopping done early --- and get personally signed cookbooks for all of your friends! They will LOVE it!