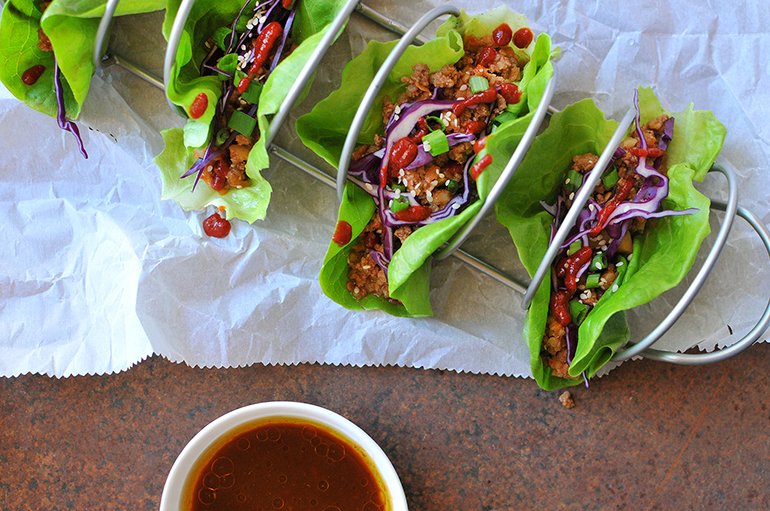 These Asian Lettuce Wraps are reminiscent of your favorite restaurant appetizer, but packed with superfoods like quinoa, sweet potatoes, citrus fruit, and olive oil --- and they're super easy to make at home, especially with Ellyndale®'s new Q-Cups!
These lettuce wraps are one of the 100 recipes in my new cookbook, Superfood Weeknight Meals. 
Have you gotten a copy yet?!
Dinner can be delicious, healthy, AND fast. 
Seriously!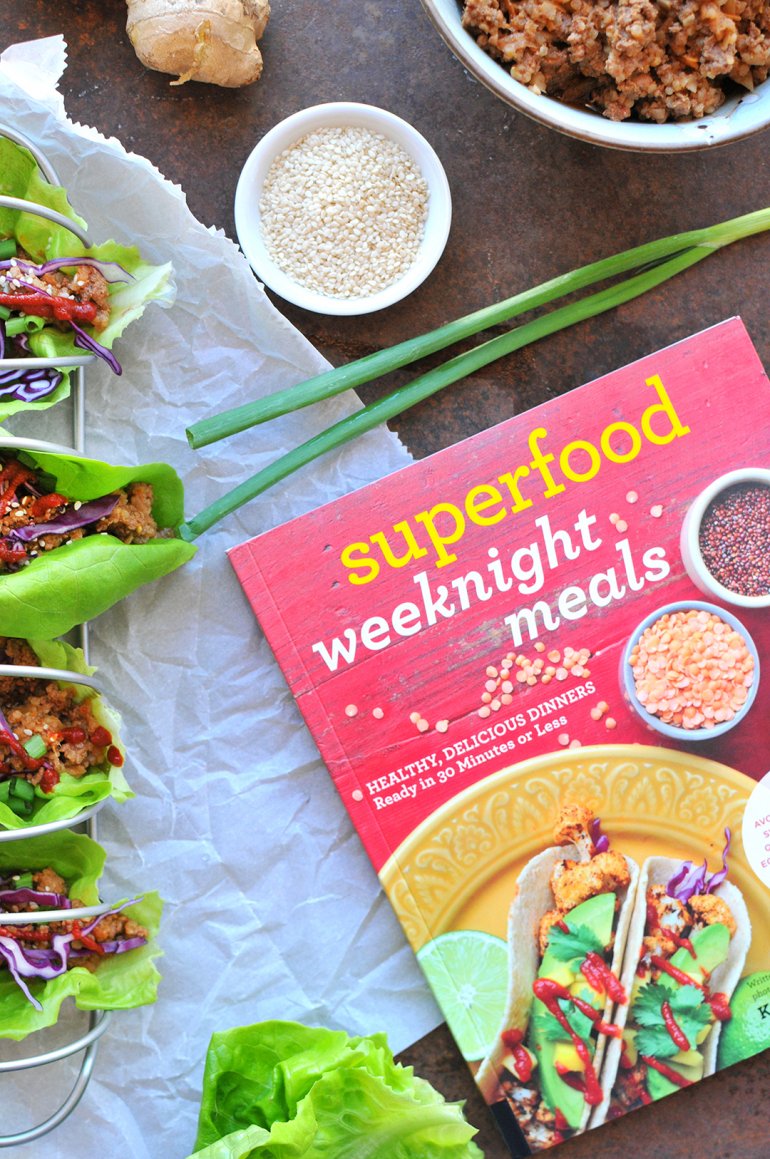 Here's what people are saying about the book:
"Finally! Someone has done it: Kelly has made healthy, family-friendly recipes that appear on my table in thirty minutes or less. She is every mom's dream come true." —Christina Lane, author of Dessert for Two
"We love that this book focuses on incorporating superfoods into your meals! As parents ourselves we make it our first priority to teach kids the foods they should be including in their diet, rather than banning or forbidding certain foods or food groups. These quick and easy recipes are the perfect tool to enforce that message!" —Amy Roskelley and Natalie Monson, creators of the website Super Healthy Kids
"Kelly makes incorporating superfoods into every meal not only easy, but also delicious! Her no-fuss recipes make the frantic task of preparing dinner each night a breeze even with the pickiest of eaters. I love her focus on adding more hearty vegetarian meals to the week as well. We could all benefit from eating more plants!"         —Meg van der Kruik, creator of the blog Beard & Bonnet
"Kelly's cookbook provides readers with countless satisfying and delicious weeknight options that also happen to nourish the body, leaving no excuses to not eat well. She turns even the traditionally heaviest of meals into light, nutrient-dense meals that people will want to make over and over again. Kelly adapts the latest food trends, like spiralizing, to offer readers meals that will keep their taste buds guessing and their dinner guests impressed. If you want to cook more creatively and healthfully, look no further than Superfood Weeknight Meals." —Ali Maffucci, author of New York Times best-selling cookbook Inspiralized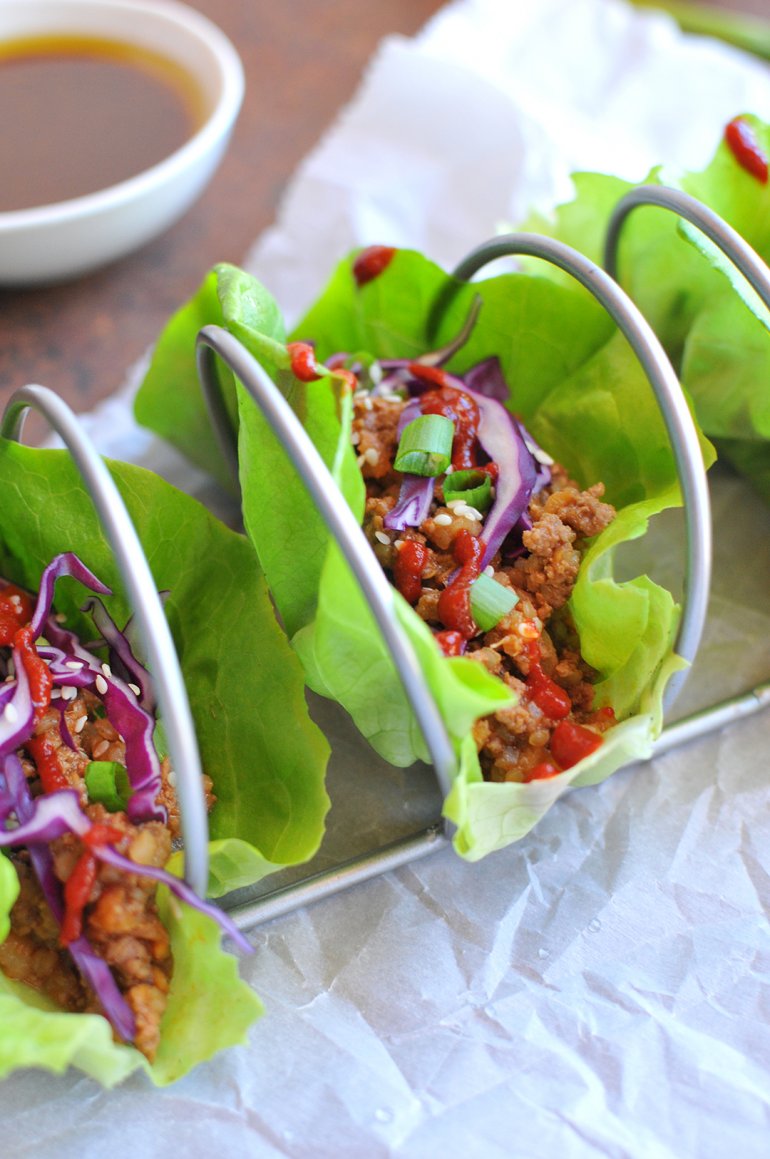 When I started writing the book, I flirted with the idea of having an entire chapter dedicated to Sunday prep tasks that would set you up for success throughout the week—things like cooking quinoa, roasting vegetables, baking sweet potatoes, and so on. But, as I spoke with other busy people, I found they didn't want to do a lot of work on the weekends, either. So, the only prep work I included in the book is cooking a batch of quinoa and lentils one day a week so when a recipe calls for 1 cup Quinoa-Lentil Blend (page 18) you'll be ready.
But, now it's even easier. 
Ellyndale® Q-Cups are my new favorite thing! They're basically little microwavable cups of quinoa that are ready in just 5 minutes. So, nowwwwwww, you don't even have to remember to cook quinoa on Sundays ahead of time. Whenever you want to make a recipe in the book, just pop one of these lil' guys in the microwave. Easy, peasy! And as for the ingredients? Quinoa COMMA sea salt. <--- I love the simplicity! And that they're organic!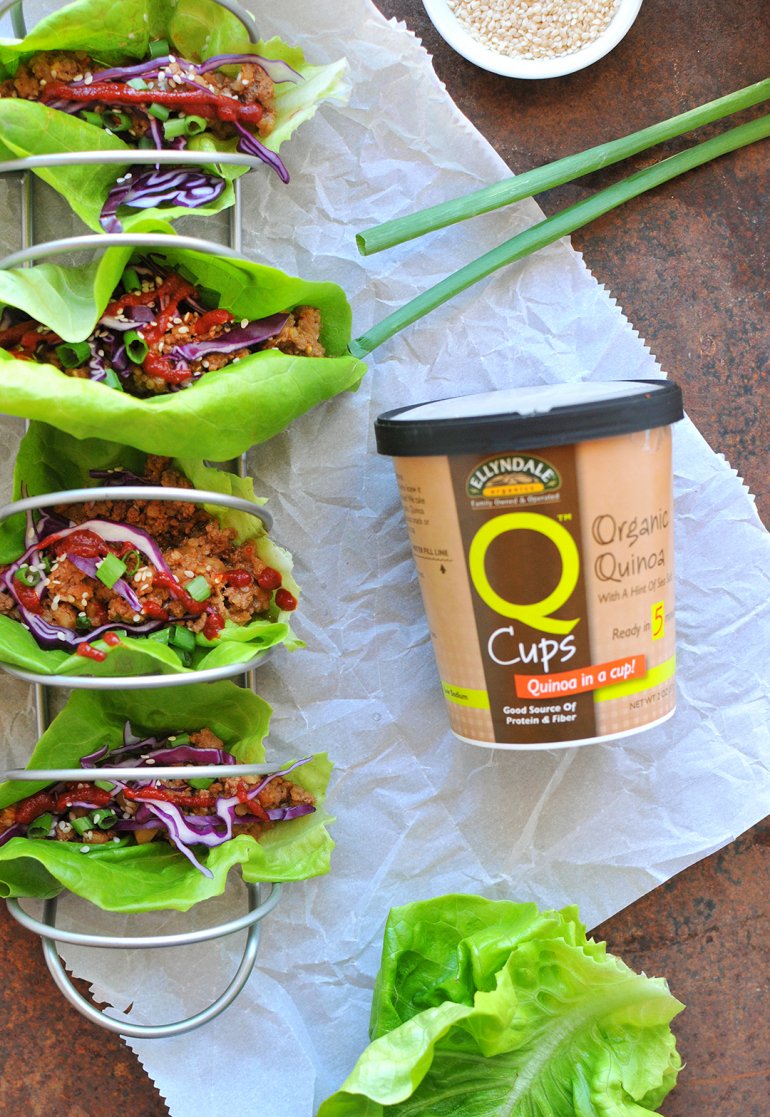 Giveaway time!
I'm sooooooooooo excited that one of you will win:
a case of the Q-Cups
a case of organic olive oil (also from Ellyndale)
a signed copy of my new cookbook
How to enter: Leave a comment below telling me your favorite way to use quinoa. 
Giveaway is open to blog readers in the US. Giveaway will end 3/10 at 8pm EST and the winner will be announced the following week! (retail value ~ $125)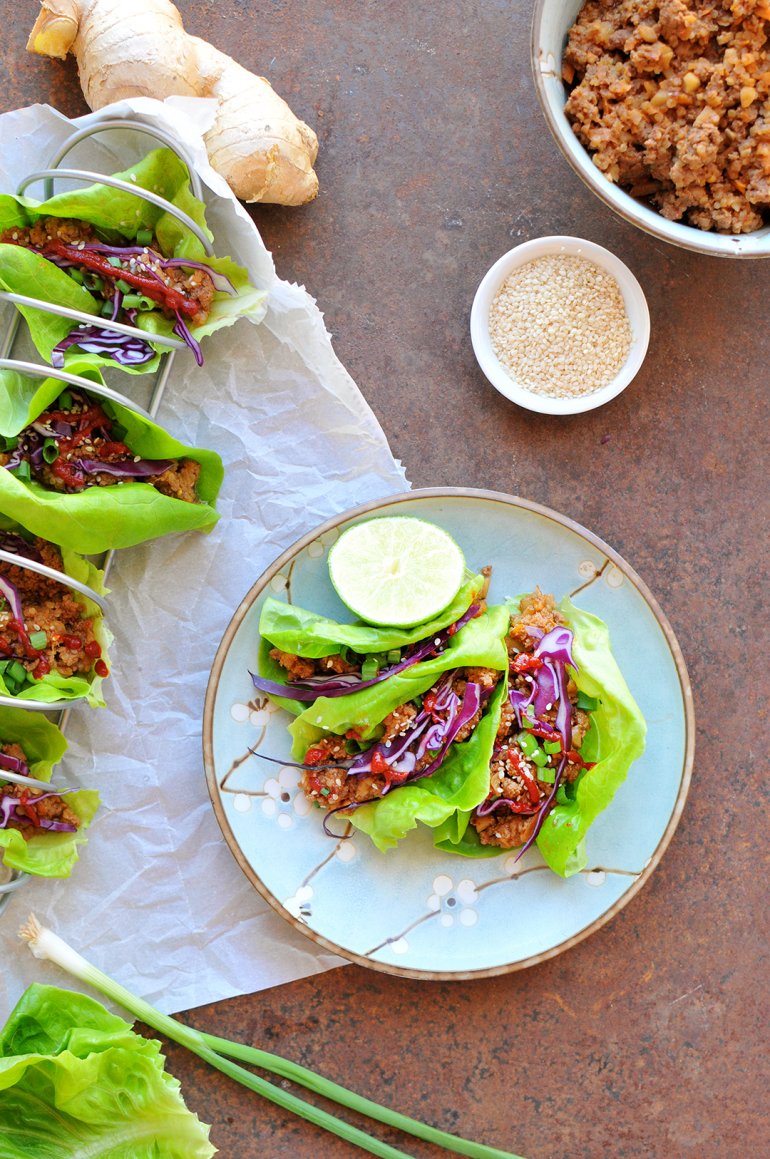 Disclaimer: this is a sponsored post written by me on behalf of NOW Foods. The opinions, text, recipe, and beautiful photos are all mine. Thank you for supporting brands that support Nosh and Nourish!! I choose them based on what I already cook/create with and feel 100% confident in recommending to you.
Asian Lettuce Wraps from Superfood Weeknight Meals
Description
gluten-free recipes | quinoa recipes | quick weeknight meals | thai lettuce wraps
Ingredients
1 pound organic ground beef (or you can use ground chicken)
1 cup shredded sweet potato
1 can 8 oz, water chestnuts (rinsed, drained, and diced)
1 Q-Cup (or 1 cup plain cooked quinoa)
1 tablespoon Minced Garlic
1 Inch of Fresh Ginger (grated)
1⁄4 cup extra virgin olive oil
1⁄4 cup Soy Sauce (or sub coconut aminos)
1⁄4 cup rice wine vinegar
2 tablespoons Thai chili paste
1 tablespoon toasted sesame oil
1 tablespoon raw honey (or 2 tbsp if you like things sweeter)
12 butter lettuce leaves (or iceberg lettuce)
diced scallions (for garnish)
white sesame seeds (for garnish)
Red Cabbage (for garnish)
Instructions
TO MAKE THE MEAT: In a large skillet over medium-high heat, combine the ground beef, sweet potato, water chestnuts, quinoa, garlic, and ginger. Cook for about 5 minutes until the meat is browned and no pink remains.
TO MAKE THE SAUCE: In a large glass measuring cup, mix the barbecue sauce, olive oil, soy sauce, rice wine vinegar, orange juice, Thai chili paste, honey, and sesame oil. Set aside.
Once the meat is cooked, pour the sauce over and stir so everything is evenly coated. Cook for 3 minutes more until the sauce is warmed through.
Scoop a generous mixture of the meat into each lettuce leaf. Sprinkle with scallions and sesame seeds and red cabbage (if using).
Yields 4 Servings