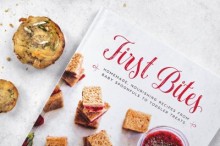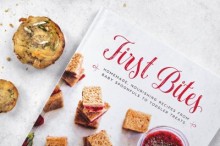 Ingredients
1 cup Unbleached All-Purpose Flour
1⁄2 teaspoon Baking Powder
1⁄2 teaspoon ground cinnamon
1⁄2 cup grated carrot (*addition from the original recipe and totally optional)
1⁄3 cup Olive Oil (or sub melted coconut oil)
1 teaspoon Vanilla Extract
Instructions
Pre-heat oven to 350 degrees. Prepare your mini muffin tray with paper liners (or spray with non-stick cooking spray),
Combine both flours, baking powder, baking soda, and cinnamon in a large bowl and whisk to combine.
In another combine grated zucchini, grated carrot* (if desired), mashed banana, oil, maple syrup, vanilla extract, and egg, and whisk until well incorporated.
Fold wet ingredients into the dry ingredients until mixed through.
Place a spoonful of batter into each muffin cup.
Bake for 12- 14 minutes, until muffins are cooked through. (You might need to bake a few minutes longer for full-size muffins than mini ones). 
Let cool and serve immediately or store in an airtight container in the fridge for up to a week.
Yields 12 Muffins