Walnut Encrusted Sea Scallops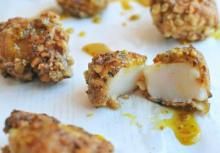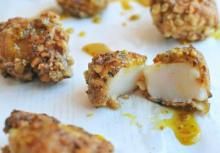 Description
Walnut Encrusted Sea Scallops -- #paleo #clean
Ingredients
12 ounces Wild Sea Scallops
2 tablespoons Coconut Oil
Instructions
Defrost Sea Scallops according to package.
Set out 3 small bowls, one with almond meal, one with eggs (stirred with fork), and one with crushed walnuts.
Melt 2 Tbsp Coconut Oil over medium high heat in a skillet. 
Coat each sea scallop with almond meal, then dip it in the egg mixture, then coat with crushed walnuts. Add into hot skillet. Repeat for 6 scallops. 
Cook for approximately 4 minutes on each side, flipping carefully with tongs to keep the coating in tact.  Scallops should be opaque white and not translucent when fully cooked.
Combine the sauce ingredients in a small bowl: yellow mustard, brown mustard, and honey. 
Dip scallops in the sauce and enjoy!
Yields 12 Scallops