Vegetarian Taco Buddha Bowls with Peach Guacamole
Description
Vegetarian Taco Buddha Bowls | Peach Guacamole | Guac with fruit | Easy Buddha Bowls |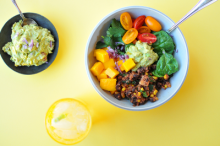 Ingredients
2 cups
Beans & Greens Taco Base*
1
mango (diced, save 1 tbsp for the guac)
1 cup
heirloom grape tomatoes
1 tablespoon
diced red onion
1 tablespoon
diced mango (or peach)
1 tablespoon
Silk Peach Almond Dairy-free Yogurt Alternative
1⁄2 tablespoon
diced red onion
1⁄2 tablespoon
diced cilantro
Instructions
Cook the beans & greens taco base. (recipe and instructions here)--- takes about 10 min. Set aside.
In a small mixing bowl, mash the avocado and then stir in the other guac ingredients: diced mango, Silk peach yogurt, salsa, cilantro, and red onion. Stir until creamy and combined. 
Assemble your buddha bowls: 1 cup beans & greens base plus 1 cup of spinach, a handful of diced tomatoes, a small handful of cilantro, 1/2 a mango, and a large dollop of peach guac.
Makes 2 bowls.
Yields 2 Servings