Vegetarian Rainbow Meal Prep Bowls
Description
Vegetarian Rainbow Meal Prep Bowls with Quinoa, Beet Hummus, and Watermelon Radishes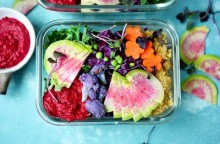 Ingredients
2 cups
baby kale (or spinach)
1
large watermelon radish
1
small purple sweet potato (roasted)
1⁄2 cup
purple cauliflower (or regular, roasted)
1⁄2 cup
finely diced red cabbage
1
large carrot (sliced into rounds)
1⁄4 cup
microgreens and peas (for garnish)
Notes
*This is the beet hummus recipe I love. Or you can do even simpler and roast a small beet and blend it up with store bought hummus.
Instructions
Preheat oven to 375 degrees. 
Dice sweet potato and cauliflower into 1 inch cubes. Transfer to sheet pan and drizzle with a bit of olive oil, salt and pepper. Roast for 20 minutes, or until fork tender. 
Assemble your bowls, starting with your quinoa and greens. Then top with finely sliced watermelon radishes, red cabbage, carrots, roasted veggies, beet hummus, and microgreens + peas. 
Can be stored in the refrigerator for up to 48 hours. 
Yields 2 Servings