{Vegetarian Double Decker Tacos}
Description
Copycat Taco Bell Double Decker Tacos -- packed with veggies, but devoured just the same!!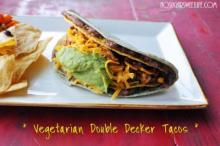 Ingredients
1 package
Morningstar Crumbles (or use your favorite meat substitute)
1⁄2 package
Frozen corn, peppers, black bean combo
1⁄2 package
Broccoli slaw (no sauce)
1 package
Grape Tomatoes (pureed)
1 package
Taco Seasoning (I used McCormick's "Fiesta" seasoning)
1 package
Corn Taco Shells
1 package
Small Flour Tortillas (I used Spinach tortillas)
1 can
Refried Black Beans
1 package
Guacamole (or make your own)
1⁄2 cup
Shredded Cheese (I used regular Cheddar)
Instructions
Saute Morningstar crumbles with frozen corn, pepper, black bean, onion combo.
Add in next 5 ingredients: broccoli slaw, lime juice, salsa, tomatoe puree, and taco seasoning (and items needed to make the taco seasoning - usually water and/or a bit of oil)
Stir until thickened/warmed through.
Heat up refried black beans.
Cut flour tortillas (if bigger than corn taco shells) into a smaller circle, so that it fits snuggly around the corn shells.
Spread a thin layer of refried black beans onto the flour tortilla.
Add corn shell.
Scoop taco mixture into corn shell.
Top with cheese and guac, and sour cream if you desire.
Chomp. Chomp. Enjoy. Repeat.
Yields 8 Tacos