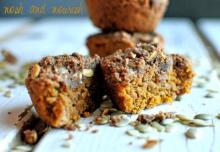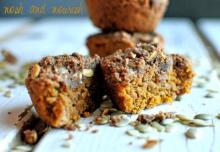 Description
Vegan Pumpkin Muffins #nodairy #noeggs #nobutter
Ingredients
2 cups Brown Rice Flour (or sub your favorite flour)
1 1⁄2 teaspoon Baking Powder
1⁄2 teaspoon Ground Ginger
1⁄4 teaspoon Ground Cloves
2 tablespoons Ground Flax
1 cup Pureed Pure Pumpkin (not pumpkin pie mix)
1⁄4 cup Coconut Oil (measured in melted form)
2 tablespoons Brown Rice Flour (for streusel topping)
2 tablespoons Coconut Sugar (for streusel topping)
2 tablespoons Coconut Oil (for streusel topping)
1 teaspoon Cinnamon (for streusel topping)
2 tablespoons Raw Pumpkin Seeds (for streusel topping)
Instructions
Mix together the 2 tbsp of flax and 4 tbsp of water in a small bowl. Stir vigorously with a fork, then refrigerate for 15 minutes while you prepare the rest of the muffins. 
Preheat oven to 400 degrees.
Add together the remaining non-streusel ingredients in a large mixing bowl (Brown Rice flour through Coconut Oil).
Stir in the flax / water combo into the muffin mixture.
Use non-stick spray to coat a muffin tin. (optional)
Spoon the muffin mixture into each muffin cup to the top.
Combine the streusel toppings in a separate bowl.
Spoon a small portion of streusel onto each muffin, being sure to press it down into the muffin.
Bake for 25 minutes.
Let cool for 5 minutes, then devour!
Yields 12 Muffins