Vegan Buffalo Cauliflower Dip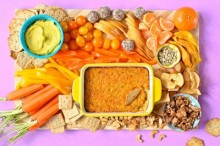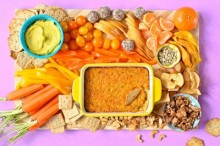 Description
Vegan Buffalo Cauliflower Dip
Ingredients
1 1⁄2 cup roughly chopped cauliflower
3⁄4 cups white beans (rinsed and drained)
1⁄2 tablespoon everything-but-the-bagel spice
2 tablespoons vegan ranch (I love the Follow Your Heart brand)
1 tablespoon buffalo sauce (or ore if you like things spicier)
1 tablespoon vegan yogurt
1 cup dairy-free cheddar shreds
Instructions
Preheat the oven to 425 degrees.
In a large skillet over medium heat, saute the cauliflower and white beans in olive oil for approximately 6 minutes, until cauliflower is softened and lightly browned. Sprinkle on everything-but-the-bagel spice.
Meanwhile, in a large mixing bowl, combine the vegan ranch, buffalo sauce, yogurt, and miso. Use a whisk to combine. 
Add in the cooked cauliflower and white beans to the buffalo mixture as well as the dairy-free cheese, then use an immersion stick blender to puree. It doesn't have to be perfectly smooth, just make sure all of the large pieces are blended.
Pour into a small baking dish and bake for 20 minutes. 
Serve with Simple Mill crackers and/or a full snack board.
Yields 8 Servings