Turkey Strawberry Pinwheels with Pistachio Pesto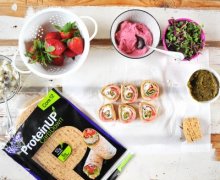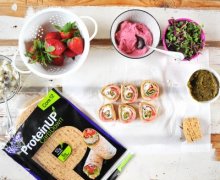 Description
easy mothers day recipes | mothers day brunch | turkey pinwheels | strawberry brunch ideas | pistachio pesto
Ingredients
2 tablespoons Basil Paste (sold in a tube in the produce section)
1 cup shelled pistachios (I use unsalted)
1⁄2 cup good quality extra virgin olive oil
handful of fresh basil leaves (~15 leaves)
1⁄2 tablespoon Coconut Sugar
1⁄2 tablespoon Minced Garlic
2 Flatout ProteinUP wraps
4 tablespoons Whipped Cream Cheese
1⁄3 cup beet hummus (you can use store-bought or homemade*)
1⁄2 cup micro greens (or sub spinach)
8 ounces black pepper turkey (or omit to keep vegetarian)
4 tablespoons Goat Cheese (optional)
Notes
*This is the recipe I like for homemade beet hummus. You could omit the thai chili paste for this particular scenario. This is the store-bought version I like.
Instructions
In a small food processor (or a blender would work), combine all of the pesto ingredients: basil paste, pistachios, olive oil, lemon juice, fresh basil, coconut sugar, garlic, and parmesan. Puree until smooth. Set aside.
Lay the Flatout wrap flat.
Add a thin layer of cream cheese to one end. Cover the remaining area with a thin layer of the pesto. (You will have leftoever pesto!)
Add a handful of the micro greens near the end farthest away from the cream cheese. Then, add 6-8 turkey slices next to that - the turkey shouldn't go too much farther than halfway. 
Add 2 tbsp of the beet hummus between the turkey and the cream cheese. 
Next, add the goat cheese and strawberries on top of the turkey.
Carefully, roll it up starting with the non-cream cheese end. Try to keep it tight, but not squished. 
Once it is rolled, use a bread knife to slice it into pinwheels. 
Repeat process with the other wrap.
Yields 6 Servings