Thai Panang Curry Bowl with Shrimp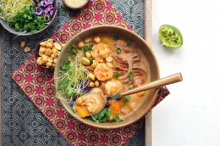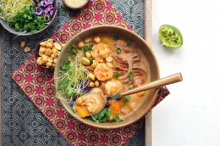 Description
easy shrimp recipes | panang curry | noodle bowls | seafood lent recipes
Ingredients
1 pound colossal shrimp from Sprouts Fish Market
2 tablespoons Sprouts' Extra Virgin Olive Oil (divided)
1 tablespoon Minced Garlic
1 tablespoon Minced Ginger
2 organic bell peppers (diced)
27 ounces Sprouts' coconut milk (~two, 13.5oz cans)
1⁄4 cup powdered peanut butter (or sub regular)
2 tablespoons Oyster Sauce (or sub fish sauce)
1 tablespoon Thai red curry paste
1 tablespoon Coconut Sugar
1⁄2 tablespoon Sprouts' soy sauce (or sub coconut aminos)
4 ounces red rice noodles
for garnish: (green onion, cilantro, broccoli sprouts, red cabbage, peanuts)
Instructions
Rinse, peel, and de-vein all of the shrimp. Then, put them in a medium mixing bowl. Stir in 1 Tbsp. olive oil and the minced garlic and ginger. Let marinate for 10 minutes.
Meanwhile, in a large deep skillet /pan, heat up the remaining 1 Tbsp. olive oil over medium heat. Then, saute the bell peppers and red onion for approximately five minutes until softened and lightly browned.
Add in the sauce ingredients: lime, water, coconut milk, powdered peanut butter, oyster sauce, curry paste, coconut sugar and soy sauce. Bring back to a boil.
Once the sauce is boiling, stir in the shrimp and rice noodles. Stir frequently while the shrimp cooks and the noodles soften, for approximately five minutes. Shrimp should be opaque and noodles should be soft.
Serve in a large noodle bowl and add the garnishes: green onion, cilantro, clover sprouts, red cabbage and peanuts.
Yields 4 Servings