Thai Meatball Tacos with Broccoli Slaw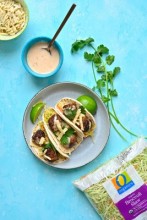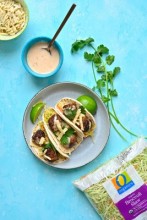 Description
Thai Meatball Tacos with Broccoli Slaw
Ingredients
6 ounces Impossible plant-based ground meat
1⁄4 cup plain breadcrumbs (unseasoned)
1 tablespoon oat milk (or sub milk of choice)
1 tablespoon Thai chile sauce
1 teaspoon O Organics coconut aminos (or sub soy sauce)
1⁄4 teaspoon Ground Ginger
1⁄2 teaspoon coarse sea salt
2 tablespoons O Organics olive oil
1 tablespoon toasted sesame oil
1⁄2 cup veganaise (or sub mayo)
2 tablespoons Thai chile sauce
3 cups O Organics' broccoli slaw
2 tablespoons Thai chile sauce
1⁄2 cup crispy Wonton strips
Notes
*1 flax egg = 1 Tbsp flax + 3 Tbsp warm water. Mix, then refrigerate for 10 minutes.
**NOTE - you can cook the meat mixture as crumbled ground instead of meatballs, and it will taste just as delicious! So if meatballs seem too finicky or time-consuming, just brown the meat mixture all at once!
Instructions
Prepare your flax egg and refrigerate for 10 minutes, while you prepare the rest of the ingredients. 
Combine the meatball ingredients in a large mixing bowl: Impossible ground, breadcrumbs, garlic, oat milk, rice vinegar, 1 Tbsp Thai chile sauce, coconut aminos, ginger, sea salt, and refrigerated flax egg.
Mix thoroughly with hands.
Form into 1.5" meatballs.
In a large saute pan, add 2 Tbsp of olive oil + 1 Tbsp of sesame oil and heat to medium high. 
Add meatballs, 6 at a time. Let them brown on each side, rotating them into the oil with tongs so that every side gets evenly browned. Repeat 3 times, for a total of 18 - 20 meatballs.
Set meatballs aside.
In a new (or clean out the original pan) pan, saute the broccoli slaw for approximately 3 - 4 minutes with 2 Tbsp of Thai chile sauce, just long enough to soften the broccoli slaw a bit.
Combine the sauce ingredients in a small bowl (veganaise, chile sauce, and lime juice). Whisk to emulsify.
Assemble your tacos: tortilla, sauteed broccoli slaw, 2 - 3 meatballs, vegan crema, wonton strips, cilantro and slivered almonds.
Yields 6 Servings