Description
Hearty Breakfast Toast: Thai Curry // via Nosh and Nourish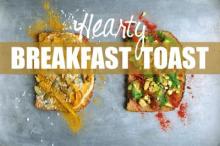 Ingredients
1 slice
hearty bread (I like Eureka's Seeds the Day bread)
2 tablespoons
garlic hummus
1⁄3
Bell Pepper (roasted)
1 tablespoon
Shredded Coconut (unsweetened)
1 tablespoon
pepitas (raw pumpkin seeds)
Instructions
Toast your bread to your desired crispiness.
Roast your pepper in a toaster oven for 15 minutes at 425 degrees (optional) -- you can also slice and eat it raw.
Spread the hummus evenly over toast.
Add the next ingredients in the following order: sliced bell pepper, shredded coconut, curry powder, then pepitas.
Devour!
Yields 1 Servings