Sweet Sticky Coconut Quinoa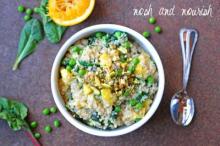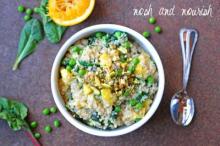 Description
Sweet Sticky Coconut Quinoa // via Nosh and Nourish #recipe #vegan #dairyfree
Ingredients
6 cups Mixed Greens (I used Newstar's Spinach plus Power Greens)
1 cup lite canned coconut milk
1 cup Silk Almond/Coconut Blend (or sub lite canned coconut milk)
1 cup frozen organic peas
1 cup diced mango (or sub pineapple if mangoes are out of season)
2 tablespoons Dark Amber Maple Syrup
1 tablespoon Soy Sauce (or sub liquid aminos)
1 teaspoon fresh minced ginger
1⁄3 cup Pistachios (shelled and coarsely chopped)
Instructions
Cook quinoa according to instructions on the box. (I used a rice cooker with 2 cups dry quinoa to 4 cups water). Takes approximately 15 minutes.
In a large deep saute pan over medium heat, melt coconut oil and saute mixed greens for approximately 5 minutes. Greens should be wilty, but not browned. 
Add in all remaining ingredients except pistachios, but including cooked quinoa.
Cook over medium heat for approximately 15 minutes to thoroughly heat/thicken, stirring frequently to prevent sticking. 
Serve hot, adorned with pistachios.
Yields 6 Servings