Sweet Spring Mason Jar Salad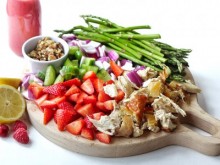 Ingredients
1⁄2 cup
red onion slices (cut into bite sized pieces)
1⁄2 bunch
asparagus spears (trimmed and blanched)
3⁄4 cups
Strawberries (quartered, or a mix of strawberries & raspberries)
1⁄4 cup
Coarsely Chopped Walnuts
2 cups
rotisserie chicken (or sub grilled or baked)
3
mini cucumbers (thinly sliced and cut in half)
4 cups
Spinach (or use whatever greens you have on hand)
4 tablespoons
raspberry vinaigrette* (recipe below)
Instructions
Place a couple tbsp of the vinaigrette in the bottom of your mason jars.
Next, place any veggies etc. that will respond to marinating well – think onions, cucumbers, etc.
Then, place chicken, additional veggies, such as your asparagus, next. • Add your greens on top – spinach, arugula, etc.
Finish off with your chopped walnuts, and a few more berries and onion slices if desired.
Cover jars and keep in refrigerator until you are ready to eat up! *I usually make these kinds of salads the morning my hubby and I (or our kiddos) will be eating them, but most salads like this will keep for about 1-3 days.
When ready to eat simply shake your salad jar (make sure your lid is on tight!) to distribute dressing. Then, enjoy straight from the jar, or pour salad onto a big plate or bowl and enjoy!
Yields 2 Salads