Sweet Potato Pie with a Maple Quinoa Crust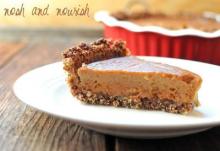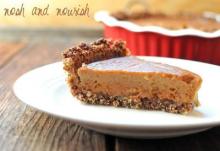 Description
Sweet Potato Pie with a Maple Quinoa Crust
Ingredients
2 cups Cooked Quinoa (for the crust)
1⁄2 cup Brown Rice Flour (for the crust, or sub all-purpose flour)
2 tablespoons Ground Flax (for the crust)
4 tablespoons Vegan Butter (for the crust, or sub regular butter)
4 tablespoons Dark Amber Maple Syrup (for the crust)
4 cups Sweet Potato (approx 2 medium sweet potatoes)
1 cup Vanilla Almond Milk
1⁄4 teaspoon Ground Cloves
1⁄4 teaspoon Ground Ginger
2 Eggs (or sub Flax Eggs (2 Tbsp ground flax + 6 Tbsp warm water) to keep vegan)
Notes
I used Earth Balance vegan butter
Instructions
Preheat the oven to 400 degrees.
Prepare the crust by stirring the cooked quinoa, brown rice flour, flax, and maple syrup together. 
Then, use a fork to fold in the room-temperature butter.  Be sure to combine evenly.
Press the quinoa crust into a pie plate that is either greased with coconut oil or sprayed with non-stick spray. 
Bake the empty pie crust for 10 minutes. 
Peel, dice, then boil the sweet potatoes in water to soften -- approximately 20 minutes. 
Drain the water and put the sweet potatoes in a medium mixing bowl. 
Add the almond milk and use an immersion blender to puree.
Add remaining ingredients. 
Pour into pre-baked quinoa crust. 
Bake for one hour, or until a knife comes out clean. 
Be sure to check on the crust partway through to make sure it's not burning. If it's browning too fast, add foil around the edges to protect it. 
Dig in!
Yields 1 Pie