Sweet Potato Muffins with Walnut Streusel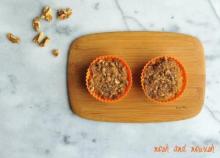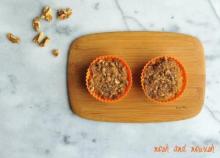 Description
Sweet Potato Muffins with Walnut Streusel // via Nosh and Nourish #superfoodsateverymeal
Ingredients
1 Large Sweet Potato (peeled, cooked and mashed)
3⁄4 cups Silk Vanilla Almondmilk
1⁄2 cup Coconut Oil (melted)
2 cups Unbleached All Purpose Flour (or sub Whole Wheat Pastry Flour)
1 tablespoon Baking Powder
2 teaspoons ground cinnamon
1⁄4 teaspoon Ground Cloves
1⁄2 teaspoon Ground Ginger
1⁄2 cup Coarsely Chopped Walnuts (for streusel topping)
2 tablespoons Coconut Sugar (for streusel topping)
2 tablespoons Coconut Oil (for streusel topping)
1 teaspoon ground cinnamon (for streusel topping)
Notes
Cooking the sweet potato: Either bake the sweet potato (sliced in half) for 1 hour in a 400°F oven or cook whole in a microwave on high for 5 minutes. Whatever you do, don't boil the sweet potato because it will retain too much water and make the muffins mushy—lesson learned from experience!
Instructions
Preheat the oven to 400°F (200°C, or gas mark 6). Spray the cups of a muffin tin with nonstick spray. 
Add the sweet potato, milk, coconut oil, and sugar to a large mixing bowl. Stir until thoroughly combined. 
In a separate bowl, combine the flour, baking powder, cinnamon, cloves, and ginger. Whisk to combine. 
Add to the wet ingredients and stir to combine. 
Pour the batter into the muffin cups, dividing it evenly. 
To make the topping: Mix together the walnuts, coconut sugar, coconut oil, and cinnamon in a small bowl. Press a small spoonful of crumble onto each muffin. 
Bake for 30 minutes, or until a toothpick inserted into the center of a muffin comes out clean.
Yields 12 Muffins