{Sweet Cherry Pork & Rice Bowl}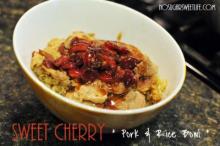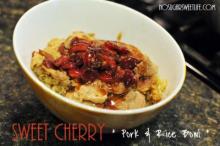 Description
Sweet pork in a cherry/wine reduction sauce, served over rice.
Ingredients
1 pound Pork Loin (thinly sliced)
1 cup Cherries (pitted and diced)
1 teaspoon Garlic (minced)
2 tablespoons Brown Sugar
Instructions
Follow instructions to cook brown rice.
Saute minced garlic, until slightly browned.
Add in wine, 1/2 cup diced cherries, garlic, soy sauce, molasses, and olive oil.
Heat through.
Add in one layer of sliced pork into sauce.
Let it cook on one side for 2 - 3 minutes, until meat starts to turn white.  Then flip and cook another 2 minutes.
Take cooked meat out, and place on a plate to the side.
Repeat with additional meat, until all is cooked.
Once all meat is cooked, add in the additional 1/2 cup of cherries and 2 Tbsp of brown sugar.  Stir continually until sauce thickens.
Serve in bowls with rice, pork, and a couple tablespoons of the sauce on top!
Yields 6 Servings