Summer Chopped Cherry Salad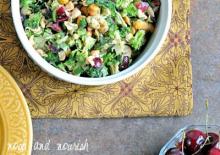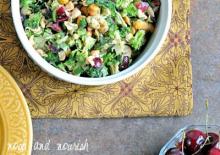 Description
Summer Chopped Cherry Salad --- with broccoli, homegrown beet greens, roasted chickpeas, sweet cherries, and cashews... topped with a sweet and spicy sauce made with tahini, dijon mustard, and dark amber maple syrup!!! Seriously, sooooo good! // via Nosh and Nourish
Ingredients
3⁄4 cups Chickpeas (rinsed and drained)
2 Florets of Broccoli (finely chopped)
3⁄4 cups beet greens (or sub spinach or kale -- basically any green leafy vegetable)
3⁄4 cups Cherries (pitted and diced)
3⁄4 cups cashews (coarsely chopped)
1⁄4 cup Dark Amber Maple Syrup
1⁄2 teaspoon Garlic Powder
Instructions
Roast the chickpeas in a toaster oven, or full-size will work, at 425 degrees for 15 minutes.
Combine all salad ingredients in a medium mixing bowl: broccoli, chickpeas, beet greens, cherries, and cashews.
In a small mixing bowl, combine all sauce ingredients: brown mustard, tahini, maple syrup, garlic powder, and sea salt.  Stir thoroughly.
Combine the sauce and the salad.
Enjoy!
Yields 4 Servings