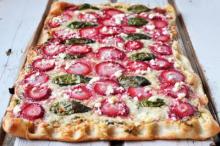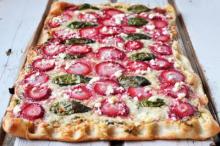 Description
Strawberry Pesto Pizza // @noshandnourish
Ingredients
1 package your favorite pizza dough (or make your own*)
1⁄2 tablespoon extra virgin olive oil
1 package Tube Basil (sold in the produce section, refrigerated)
1 package Parmesan & Romano Cheese
8 Fresh Basil Leaves (optional)
Notes
*This is my favorite dough recipe.
Instructions
Preheat oven to 350 degrees.
Roll your dough flat onto a greased cookie sheet.
Fold up 1/2 inch over each edge, to create a sort of "crust."
Combine the olive oil and tube basil in a small bowl. 
"Paint" on the pesto with a basting brush so that the dough is covered evenly.
Cover the basil and dough with the parmesan/romano cheese.
Thinly slice your strawberries, and layer them systematically over the dough/cheese.
Lay a few basil leaves & goat cheese crumbles over the top (optional).
Bake for 28 minutes, or until the edges are slightly browned.
Slice...and devour!
Yields 8 Slices