Strawberry and Mango Salsa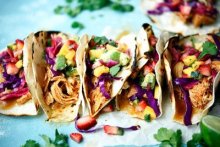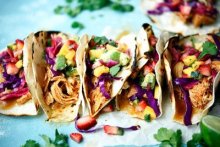 Description
Strawberry & Mango Salsa --- perfect for shredded chicken tacos!
Ingredients
1⁄2 cup Diced Strawberries
1 small, ripe avocado (diced)
1⁄2 small, jalapeno (deseeded and diced)
2 tablespoons finely diced red onion (fresh or pickled)
Instructions
Add all ingredients to a bowl and stir to coat evenly. Taste and adjust spices as needed.
Yields 4 Servings