Squash, Carrot & Apple Soup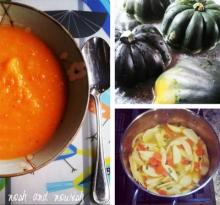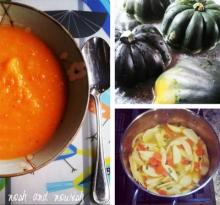 Description
Squash, Carrot & Apple Soup
Ingredients
4 Apples (peeled & sliced, I used Honeycrisp)
4 Carrots (sliced into round slivers)
32 ounces Chicken broth (or sub vegetable broth)
1⁄2 tablespoon Ground Ginger
1 tablespoon Fresh Sage (diced)
1 tablespoon Minced Garlic
11 ounces Coconut Water (I used the Naked brand)
Instructions
Preheat oven to 450 degrees.
Cut acorn squash in half and remove seeds.
Place face down in a 13 x 9 baking dish, with 1inch of water in the dish.
Bake for 45 minutes, until the squash is soft.
Saute the onion, garlic, and sliced carrots in the olive oil in a large stock pan for about 5 minutes. 
Add in sliced apples, chicken broth, and coconut water. 
Bring to a boil, cover, and simmer for 20 minutes. 
Add in squash (remove outer skin first).
Puree in a blender or with an immersion stick blender. 
Add in diced sage, ginger, and salt and pepper. 
Enjoy!
Yields 8 Servings