Spring White Bean Dip with Crudites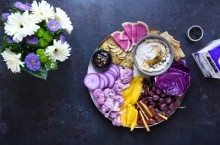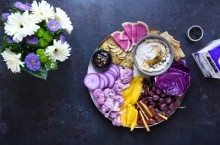 Description
Spring White Bean Dip with Crudites
Ingredients
15 ounces white cannelini beans (rinsed and drained)
1⁄3 cup So Delicious Dairy Free Coconutmilk
1 teaspoon granulated monkfruit (or sub raw cane sugar)
1⁄2 tablespoon Minced Garlic
black sesame seeds (for topping)
addtl sesame oil (for topping)
Notes
Serve with crackers and vegetables: watermelon radish, turmeric lentil crackers, daikon radishes, purple cauliflower, yellow bell pepper, purple cabbage, and almond flour crackers. Feel free to use whatever you have on hand!
Instructions
Combine all dip ingredients into a food processor. Blend until smooth. If it's too thick, add a bit more coconut milk slowly.
Serve with crudites (raw veggies + crackers). See above for some ideas.
Yields 8 Servings