Spring Frittata with Pancetta, Peas, and Asparagus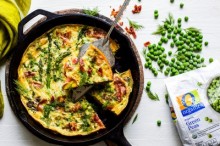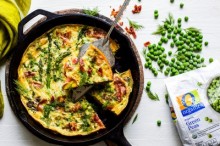 Description
Spring Frittata with Pancetta, Peas, and Asparagus
Ingredients
1⁄2 cup O Organics frozen peas
6 asparagus stalks (diced)
1⁄2 cup Cremini mushrooms (sliced and stems removed)
1 cup white cheddar cheese
Instructions
Preheat oven to 350 degrees. Heat an oven proof skillet to medium heat. (I love using a cast iron for this)
Add pancetta and cook until browned and crisp, remove from the pan.
Add leeks to the pancetta grease and season with 1/4 Teaspoon salt.
Sauté for 2 minutes until leeks begin to soften, and then add in mushrooms and sauté for another 2-3 minutes.
Add diced asparagus, peas, and pancetta to the veggies and stir to combine.
In a large bowl whisk eggs, milk, dill, shredded cheese, 1/2 teaspoon salt, and pepper until yolks and whites are combined well.
Spray the skillet with pure avocado oil spray to prevent sticking, and pour egg mixture into the pan and stir to evenly distribute veggies in the eggs.
Bake for 15-18 minutes until eggs are cooked though.
Serve immediately.
Yields 8 Servings