Spinach & Cranberry Stuffed Acorn Squash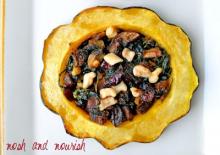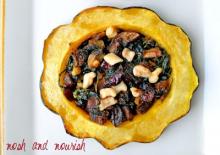 Description
Spinach & Cranberry Stuffed Acorn Squash
Ingredients
3 small acorn squash (sliced into 12 rings & de-seeded)
4 tablespoons Earth Balance Vegan Butter (or sub regular)
1 tablespoon Minced Garlic
2 tablespoons thinly sliced leek (diced )
8 ounces Portobello mushrooms (diced)
1 tablespoon Curry Powder
1⁄4 cup Dried Cranberries
5 ounces Earthbound Farm Spinach & Butter lettuce mix (or sub all spinach)
1 tablespoon extra virgin olive oil
1⁄4 cup Coarsely Chopped Walnuts
2 tablespoons extra virgin olive oil (to brush onto the squash rings)
2 tablespoons Dark Amber Maple Syrup (to brush onto the squash rings)
Instructions
Slice acorn squash into rings and remove seeds. On a parchment lined baking sheet, place the rings out in a single layer.
Preheat oven to 400 degrees.
In a small bowl, combine olive oil and maple syrup, then set aside.
In a large saute pan, melt the vegan butter. Then add in the garlic, leeks, mushrooms, quinoa, curry, and sea salt. Saute for approximately 5 minutes until mushrooms are soft. Put mushroom mixture into a large mixing bowl. Then, add 1 tbsp olive oil to the heated pan with the spinach. Saute for 5 minutes until the spinach is wilty, but not burned.
Transfer the spinach to the mixing bowl with the mushroom mixture, and stir in the dried cranberries.
Carefully spoon the mixture into each squash ring carefully. Then, top the centers with walnuts.
Brush on the olive oil / maple syrup to the acorn squash ring / flesh. 
Bake for 40 minutes. 
Use a spatula to transfer rings to plates so the stuffing doesn't fall out.
Yields 8 Rings