Spinach Basil Turkey Sliders with Sun-Dried Tomato Aioli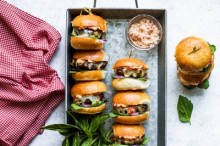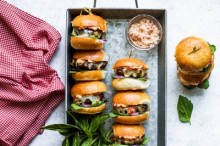 Description
Spinach Basil Turkey Sliders
Ingredients
1 pound ground lean turkey
2 cups baby spinach (+ extra for topping)
10 Fresh Basil Leaves (~ 1/4 cup)
1⁄4 cup sun-dried tomatoes
1⁄2 cup Greek Yogurt (or sub mayo)
1⁄2 teaspoon black pepper
6 slices white cheddar cheese (or cheese of choice)
red onion (for topping, optional)
Instructions
Chop spinach and basil very fine, a food processor is great for this!
Add turkey, chopped spinach and basil, garlic, olive oil, salt and pepper into a large bowl and combine throughly until the ingredients have been distributed evenly throughout the ground turkey.
Preheat grill to 400 degrees or grill pan to medium high heat.
Make the turkey mixture into 8 slider patties of equal size.
Place onto the grill for 4-5 minutes per side with the grill lid closed until turkey has cooked through. Reduce the heat if needed for flame ups.
The last minute of cooking add cheese to the top, close the lid, and let melt.
While the turkey sliders are cooking, add sun-dried tomatoes, mayo, and lemon juice to a food processor and process until smooth or feel free to leave the tomatoes slightly chunky.
Toast the buns and slather with aioli and then top with burgers and more spinach, red onion, and serve immediately.
Yields 8 Servings