Southwest Zoodle Jar Salads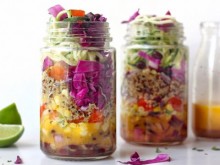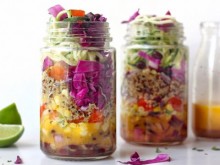 Description
Southwest Zoodle Jar Salads
Ingredients
1 1⁄2 cup zoodles (spiralized zucchini - you can do at home or buy at Whole Foods)
15 ounces can of black beans (rinsed and drained)
1⁄2 cup diced red onion (more or less depending on taste preference)
2 small tomatoes (~ 1/2 cup diced)
2 corn cobs (roasted/grilled then kernels removed ~ 1 cup)
1⁄2 head of red cabbage (sliced and chopped)
finely chopped cilantro (to taste)
1⁄4 cup Olive Oil (for dressing)
1⁄3 cup lime juice (for dressing)
1 tablespoon honey (for dressing - or sub maple syrup to keep vegan)
1⁄4 teaspoon Chili Powder (for dressing)
salt and pepper (to taste)
Notes
*I usually make these kinds of salads the morning my hubby and I (or our kiddos) will be eating them, but most salads like this will keep for about 1-3 days.
Instructions
• Start off by making your dressing. In a small bowl combine olive oil, lime juice, honey and chili powder. Whisk until well-combined. Add salt and pepper to taste.
• Place a couple of tbsp of dressing in the bottom of each of your mason jars.
• Next, start layering your ingredients, starting with items like onions first that will respond better to marinating and ending with your zoodles.
• Cover jars and keep in refrigerator until you are ready to eat up!
• When ready to eat simply shake your salad jar (make sure your lid is on tight!) to distribute dressing. Then, enjoy straight from the jar, or pour salad onto a big plate or bowl and enjoy!
• YUM!
Yields 4 Jars