Smoked Salmon Brunch Bowls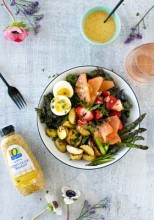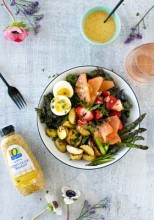 Description
Smoked Salmon Brunch Bowls
Ingredients
1 1⁄2 pound O Organics baby gold potatoes (halved or quartered into roughly equal-sized pieces)
2 pink grapefruits (trimmed of peel and sliced into half moons)
1 pint Strawberries (quartered)
4 medium or hard boiled eggs
chopped chives (for serving)
grapefruit honey dijon dressing (recipe below)
Instructions
Roast the potatoes: Toss potatoes generously with olive oil and pink salt. Spread in an even layer on a baking sheet and roast at 425F for 30-40 mins.
Grill the asparagus: Meanwhile, toss asparagus with olive oil. Heat an indoor grill pan to med-high and grill asparagus in a single layer, tossing occasionally, until charred in places. Remove to a plate and set aside until cool.
Prepare dressing according to recipe below. Remove tough stems from kale and tear into bite-sized pieces. Toss kale generously with about half the dressing, reserving the rest.
Assemble the bowls: Divide dressed kale evenly between four bowls. Top with roasted potatoes, grilled asparagus, smoked salmon, grapefruit, berries and eggs. Drizzle with additional dressing, scatter with chives and serve. Enjoy!
Yields 4 Servings