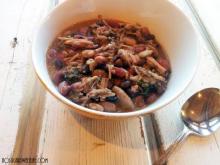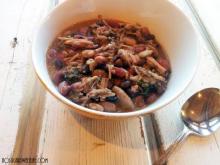 Description
Slow Cooker Pork & Beans // @noshandnourish
Ingredients
1 tablespoon Worcestershire Sauce
1 tablespoon Montreal Steak Seasoning
20 ounces Dry Bean Soup Mix (throw away flavor package)
Instructions
Preheat the oven to 350 degrees.
Mix first 5 ingredients (bbq thru honey) and coat the pork tenderloin with it in a glass baking dish.
Bake the pork for 30 minutes.
While the pork is baking, cut the kale into bite size pieces, removing any large stems.
Saute the kale in a skillet, adding the bacon partway through. 
Once the pork has cooked for 30 minutes, take it out of the oven and cut it into 1.5 inch slices.
Combine everything into a slow cooker and cook on high for 4 hours.
Before serving the soup, remove the large pieces of pork and shred it, then add it back into the soup and stir.
Serve with yummy bread (optional).
Yields 8 Servings