Shrimp Pineapple Sheet Pan Tacos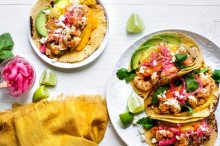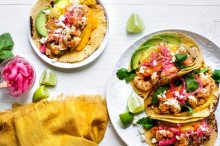 Description
Easy Shrimp and Pineapple Sheet Pan Tacos
Ingredients
2 tablespoons avocado oil
1⁄4 cup chopped fresh cilantro (plus more for serving)
2 pounds shrimp (peeled and deveined)
2 yellow bell peppers (sliced into strips)
1 cup yellow grape tomatoes
pickled onions (optional)
Instructions
Preheat oven to 425 degrees.
Mix together oil, lime juice, garlic, cilantro, salt, and pepper in a bowl and whisk to combine.
Pour the marinade over the shrimp and let sit for 15 minutes.
While shrimp marinate slice peppers, pineapple, and onion.
Line a baking sheet with parchment paper.
Take shrimp out of marinade and place onto the baking sheet.
Layer veggies and pineapple around the shrimp and season and toss to coat the veggies with some of the marinade.
Spread into a single layer, sprinkle with a little more salt and pepper and bake for 15 minutes until shrimp are cooked through. Switch oven to broil for the last 2 minutes of cooking.
Layer ingredients into tacos and serve with desired toppings.
Yields 6 Servings