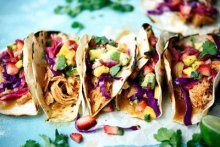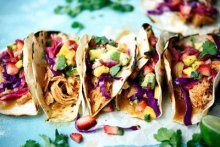 Description
Shredded Chicken Tacos with Strawberry Mango Salsa
Ingredients
1 1⁄2 pound boneless skinless chicken breast (~4 small breasts)
3 chipotle peppers in adobo sauce (plus 2 tbsp of adobo sauce from can)
1 teaspoon taco spice blend
1⁄2 teaspoon Garlic Powder
8 Siete tortillas (or sub your favorite)
1 cup cabbage and watermelon radish slaw* (recipe below)
1 cup strawberry mango salsa* (recipe below)
Notes
*if you have small kiddos, you could make this a little more kid-friendly by subbing in mild salsa for the chipotle peppers + adobo sauce.
Instructions
For the chicken:
Lightly coat chicken breasts with taco seasoning, salt and garlic powder. Dice chipotle peppers - you definitely won't want to get a whole pepper in your taco! Add chicken to pressure cooker with broth and chipotles + adobo sauce. Turn pressure cooker to highest setting and let cook for 10 minutes. Once pressure is reduced, remove lid and shred chicken using two forks. If not using right away, store in airtight container in fridge for up to 3 days.
Taco assembly:
Lightly char each tortilla for about 30 seconds over an open flame set to medium low. Alternatively, simply heat in a skillet. (No cold tortillas here!) Pile up each tortilla with shredded chicken, cabbage slaw and salsa. Enjoy!
Yields 4 Servings