Sesame Shrimp Sushi Bowls
Description
Sesame Shrimp Sushi Bowls -- beautifully assembled bowls featuring umeboshi sushi rice, loads of fresh veggies, grilled sesame shrimp skewers and a miso tahini dressing. An impressive meal for date-night in.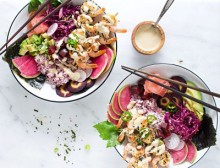 Ingredients
3⁄4 pounds
uncooked, tail-on shrimp (31-40 count)
1⁄2 teaspoon
pink sea salt
---FOR THE PICKLED CABBAGE---
1⁄4
head of red cabbage (very thinly sliced/shredded)
2 tablespoons
ume vinegar*
---FOR THE UMEBOSHI RICE---
1 1⁄2 cup
short grain white rice
shiso fumi furikake* (see note)
nori sheets (~4-6 per bowl)
french breakfast radishes (thinly sliced)
watermelon radishes (thinly sliced)
colorful carrots (thinly sliced, or peeled into strips)
Avocado (sliced or diced)
scallions (thinly sliced)
any other favorite veggies
2 tablespoons
mellow white miso paste (heaping Tbsp)
2 tablespoons
tahini (heaping Tbsp)
1⁄4 cup
hot water (plus more, if needed... for consistency)
Notes
*Note: The ume vinegar (pickled plum vinegar) and the shiso fumi furikake (a pickled plum rice seasoning) can be found online or in most Japanese markets. They can be replaced by seasoned rice vinegar and any other variety of furikake, respectively, if you're having trouble tracking them down. The flavor will still be great -- the only thing you'll sacrifice is the bright hue.
Instructions
In a medium bowl, combine shrimp, sesame oil, pink salt + a few grinds black pepper and toss to combine. Allow to marinate for one hour.
While shrimp marinates, make the Pickled Cabbage. Combine shredded red cabbage and ume vinegar in a small bowl. Stir to combine thoroughly. Allow to marinate until ready to serve (or covered in the fridge for up to 3 days).
While shrimp marinates, also prepare the Umeboshi Rice. Prepare 1 1/2 cups short-grain rice in a rice cooker or following package instructions. In a small saucepan, heat ume vinegar and sugar until sugar is just dissolved. When rice is finished cooking, turn out into a large bowl or rimmed baking pan, spread out as much as possible, and drizzle ume vinegar mixture over. Gently fold vinegar into hot rice. Sprinkle generously with Shiso Fumi Furikake (or your favorite frikake blend); then gently fold into rice again. Spread rice out again to cool slightly while you prepare remaining ingredients.
Thinly slice/chop veggies to top the bowls. Set aside.
Whisk together Miso Tahini Dressing ingredients, adding a little more water, if needed, to achieve a drizzleable consistency.
Heat grill pan over a med-high flame. Thread four shrimp onto each skewer; repeat until all shrimp are skewered. Place shrimp skewers directly onto grill pan and sear for about 1 minute per side. Set aside to cool slightly.
To assemble, load up bowls with Umeboshi Rice, pickled cabbage, pickled ginger, thinly sliced veggies, avocado and sliced scallions. Top with 2-3 shrimp skewers per person. Serve Miso Tahini Dressing over the top, along with a sprinkle of furikake, if desired. Enjoy!
Yields 4 Servings